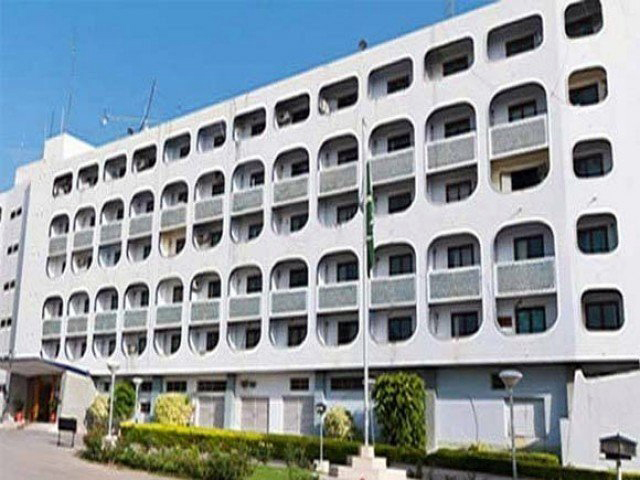 ---
ISLAMABAD:
Pakistan has conveyed its serious concerns to the Western diplomatic missions, which used social media platforms to issue a joint statement urging Islamabad to condemn Russian blitzkrieg of Ukraine.
Earlier this week, diplomats from 22 western countries including many members of the European Union (EU) issued a joint public statement asking Pakistan to take a clear stance against Russia.
The joint statement was also endorsed by the US Embassy in Islamabad through its official Twitter handle. It was unprecedented on part of the diplomatic missions to issue such a public statement against the host country.
At a weekly news briefing on Friday, Foreign Office spokesperson Asim Iftikhar confirmed that Pakistan did take up the issue with a group of ambassadors, who had signed the joint statement.
"We took note of that and in a subsequent meeting with a group of ambassadors, we expressed our concern about it, because as I said that is not the way diplomacy should be practiced, and I think they have realised it," he added. Some of the European envoys who shared the joint statement on Twitter later deleted it.
The spokesperson said using the social media platform was a tricky tool and one has to be careful while using it.
"Our ambassadors also use Twitter abroad, but I think we use that in a responsible manner and the important thing is that there are always certain diplomatic norms and protocols that we understand are to be followed. It is not usual diplomatic practice to say such things through the media, and we have made that clear," he further said.
To a question, the spokesperson made it clear that Pakistan's "foreign policy priorities are clear and consistent".
"It is a well-thought-out approach. We want friendly relations with all neighbours and beyond the region, especially with the big powers, the important countries and international community, we want balanced, productive and mutually beneficial broad-based relations and I think this is true for our relations, as you mentioned, with the US and the European Union," he said.
Read: 1,463 Pakistanis evacuated from war-hit Ukraine
"We have excellent relations with them, we are committed to take this relationship forward in an objective, balanced and fair manner to further expand the scope of our bilateral cooperation. As you are aware of our various engagements with both the US and the European Union, particularly with the European Union, the foreign minister has been engaged very closely – the recent visit to Brussels and as I just mentioned to you the telephonic conversation with Josep Borrell the other night. So, this is all moving in a very positive way and we look forward to further strengthening these relations."
But contrary to the upbeat assessment, it appears that Pakistan's stance on the Ukraine crisis already has a negative fallout as a planned visit by National Security Adviser Dr Moeed Yusuf to the United Kingdom (UK) has been postponed.
Sources confirmed to The Express Tribune that the visit was postponed but no reason was cited. It is believed that the visit was postponed due to Pakistan's stance on the Russia-Ukraine conflict. Western countries and their allies have been pushing Pakistan to take a clear stance against Russia. But Pakistan has so far maintained neutrality, something the West thinks is tantamount to endorsing Russian blitzkrieg of Ukraine.
When contacted, Yusuf dismissed the impression that the postponement of the visit had anything to do with Pakistan's stance on Russia-Ukraine conflict. "Not true. I am speaking at LSE (London School of Economics) virtually instead of physically. So, not going," he replied when asked to comment whether his visit was called off due to Pakistan's stance on the Ukrainian conflict.
The development came as Pakistan abstained from voting at the UN Human Rights Council that passed a resolution, seeking inquiry against Russia for "human rights abuses" in Ukraine.
Earlier, Pakistan also abstained from voting on a resolution condemning Russia at the UN General Assembly session. China and India were other countries that also abstained from voting both at the UNGA session and at the UN Human Rights Council.
But Pakistan's efforts to stay "neutral" are being severely tested as many Western countries are publically asking Islamabad to condemn Russia.
Some retired diplomats believe that Pakistan needs to explain its position more clearly instead of being vague.
Former ambassador to the US, the UK and the UN Maleeha Lodhi thinks that Pakistan has to state in clear terms that it does not support blitzkrieg of a sovereign country. "Yes, the country's interests are important but you need to take a principle stance irrespective of what the West says," she added.
Maleeha was of the view that Pakistan needed to think whether its relationship with the West was as important as with Russia and China.
COMMENTS
Comments are moderated and generally will be posted if they are on-topic and not abusive.
For more information, please see our Comments FAQ