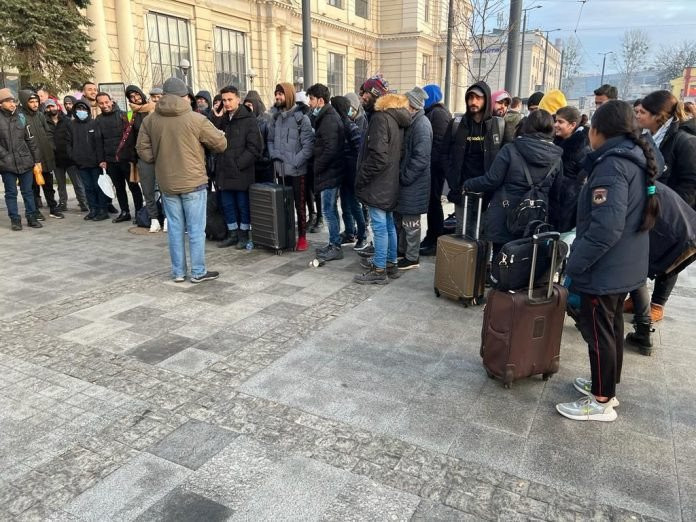 ---
The Pakistan Embassy in Ukraine said on Friday that 1,463 Pakistanis have been safely evacuated from the war-hit country.
In a tweet, the embassy said that eight citizens were at the Ukraine-Hungary border waiting for the evacuation whereas approximately 30 Pakistanis were in Kyiv, Kharkiv, Mariupol, Sumy and Kherson.
Earlier in another tweet, the embassy had said that it had evacuated 98 per cent Pakistanis from Ukraine. "Now only those few (around 30) Pakistanis are left in Ukraine who are stuck in areas of intense fight," it added.
It also said that the embassy had approached both Ukraine and Russia for opening up a humanitarian corridor that will enable it to evacuate the remaining Pakistanis.
It further said that the embassy of Pakistan continues to function from Ternopil, Ukraine and is providing all services.
Read: First PIA evacuation flights to depart for Poland today
Earlier, Ambassador Dr Noel Khokhar met with the deputy internal affairs minister of Ukraine to discuss the facilitation of evacuation for Pakistani citizens from the war-hit country.
A statement released by the embassy stated that they had requested a meeting with the commander of border points for the Ukraine-Poland border to highlight the issue of Pakistanis stuck on the Ukrainian side awaiting exit.
As the Russia-Ukraine conflict escalates, the embassy has provided updates regarding their evacuation efforts. The body stated that 125 Pakistani citizens have been successfully evacuated so far, while 376 have reached the Ukraine-Poland border, four are at the Ukraine-Romania border and nine at the Ukraine-Hungary border.
COMMENTS
Comments are moderated and generally will be posted if they are on-topic and not abusive.
For more information, please see our Comments FAQ