 ---
In a shocking turn of events, the Lahore High Court (LHC) on Monday acquitted the prime suspect and brother of model Qandeel Baloch in her murder case, abolishing the life imprisonment awarded to him by a sessions court.
The LHC's Multan bench cancelled life imprisonment of the accused after witnesses deviated from their statements in the trial court and Qandeel's mother submitted a reconciliation agreement stipulating parental pardon.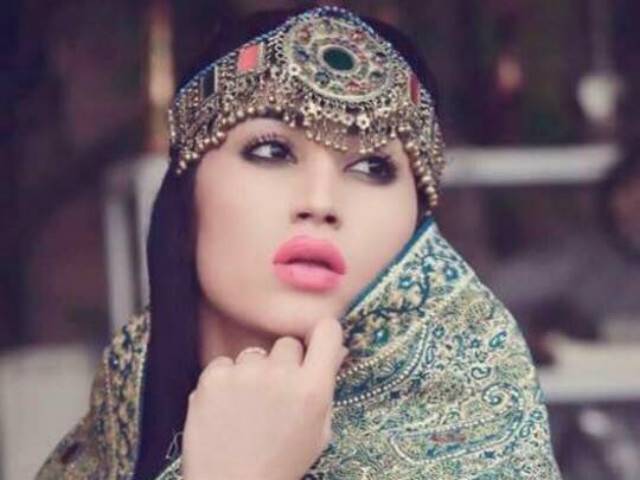 Qandeel Baloch. PHOTO: FACEBOOK
Waseem was accused of strangulating his sister in the name of honour. He was arrested in July 2016 and awarded life imprisonment on September 27, 2019, by a court in Multan. At a news conference in 2016, Waseem had admitted that he strangled his 26-year-old sister due to her social media activities. He is expected to be released later this week.
Soon after the news went viral, many - among celebs - took to social media and expressed shock over the court's ruling and condemned Waseem's release.
Actor Osman Khalid Butt shared his two cents on the matter. Taking to Twitter, the Balu Mahi star penned, "Qandeel Baloch's murderer walks free today after serving less than six years of his life sentence. He is on record admitting to drugging and murdering his sister. Someone please make this make sense to me."
He went on to comment, "We are in the concluding stages of a high-profile and incredibly brutal murder case even now - how does this ruling inspire any confidence (except to the guilty) in our judicial system? Six years - and an anti-honour killing Bill - later, we're back to square one."
Butt concluded with, "This is not the first time sentences for heinous crimes have been reduced or overturned. Why do these loopholes still exist in our judicial system whereby murderers can eventually walk free?"
Singer Meesha Shafi, too, spoke about Waseem's acquittal. "So Qandeel Baloch killed in cold blood," the popular singer tweeted, adding, "Her father, who tried to pursue justice above and beyond his means.. passed away. Her murderer, her brother, alive and roaming free once again. We're living in the opposite world."
Activist and lawyer Nighat Dad shared, "This man who confessed to killing Qandeel, his own sister, is a free man today in the same country where Qandeel couldn't live her life freely and was honour killed for the choices she made as a free citizen of this country."
Another tweep added, "Qandeel Baloch's brother who killed her for honour is acquitted by a Multan court today after the parents forgave their son. Shame on those who loved to consume Qandeel Baloch's content but also justified her murder. Taking hypocrisy to the next level!"
Qandeel's killing sent shockwaves across the country and triggered an outpouring of grief on social media, spurring the government to tighten laws dealing with men who would kill a close relative in the name of family honour. During the hearing on Monday, defending lawyer Sardar Mehboob argued before LHC Justice Sohail Nasir that the father of the model and complainant had passed away, adding that the witnesses had also deviated from their statements in the trial court.
He said the sessions court had ignored the settlement reached between the parties. After hearing the arguments, the court acquitted Waseem by cancelling his life imprisonment. "He has been fully acquitted", his lawyer Mehboob told AFP, without giving further details. The court order has yet to be made public.
Have something to add to the story? Share it in the comments below.
COMMENTS
Comments are moderated and generally will be posted if they are on-topic and not abusive.
For more information, please see our Comments FAQ