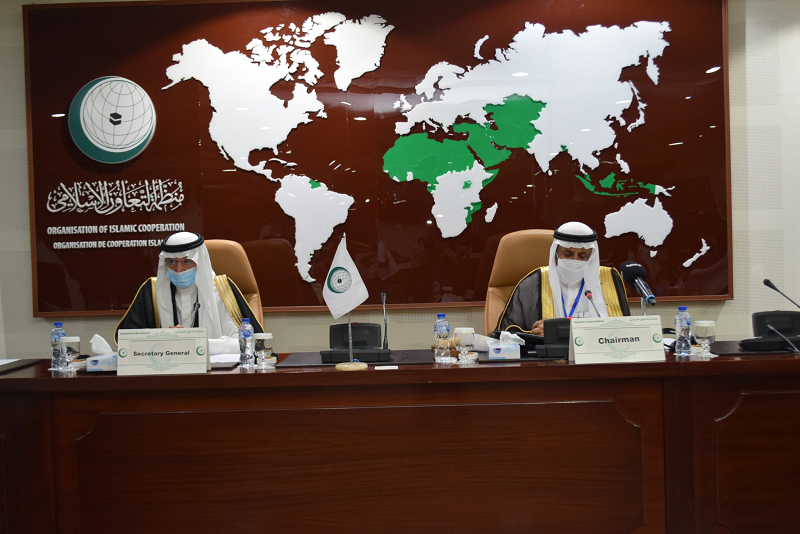 ---
The Organisation of Islamic Cooperation (OIC) has voiced serious concerns over the continued attacks on Muslims in India and called upon the international community, including the United Nations, to take steps to stop hate crimes against the minority community.
The General Secretariat of the OIC expressed deep concern over recent public calls for genocide of Muslims by the 'Hindutva' proponents in Haridwar in the state of Uttarakhand and reported incidents of harassment of Muslim women on social media sites as well as banning of Muslim girl students from wearing hijab in Karnataka, read an official statement.
The continued attacks targeting Muslims and their places of worship, the recent trend of anti-Muslim legislations in different Indian states and rising incidents of violence against Muslims on flimsy pretexts by 'Hindutva' groups with impunity, are indicative of the growing trend of Islamophobia, it added.
The OIC General Secretariat called upon the international community, especially the UN mechanisms and Special Procedures of the Human Rights Council, to take necessary measures in this regard.
Also read: India has turned Muslims into 'persecuted minority': Chomsky
The OIC General Secretariat also urged India to ensure the safety, security and wellbeing of the Muslim community while protecting the way of life of its members and to bring the instigators and perpetrators of acts of violence and hate crimes against them to justice.
Calls across India for anti-Muslim violence – even genocide – are moving from the fringes to the mainstream, while Hindu nationalist Prime Minister Narendra Modi and his top leaders keep silent, warned a recent report published in The New York Times.
"The hate speech is stoking communal tensions in India where small triggers have incited mass-death tragedies," the report written by a team of Times' reporters said, pointing out that Hindu monks' agenda already resonates with increasingly emboldened vigilante groups.
"Vigilantes have beaten people accused of disrespecting cows, dragged couples out of trains, cafes and homes on suspicion that Hindu women might be seduced by Muslim men; and barged into religious gatherings where they suspect people are being converted," Times' correspondents — Mujib Mashal, Suhasini Raj and Hari Kumar — wrote.
Gregory Stanton, the founder of Genocide Watch, a non-profit group, who raised similar warnings ahead of the massacres in Rwanda in the 1990s, told a US congressional briefing that the demonising and discriminatory "processes" that lead to genocide have been well underway in India.
COMMENTS
Comments are moderated and generally will be posted if they are on-topic and not abusive.
For more information, please see our Comments FAQ