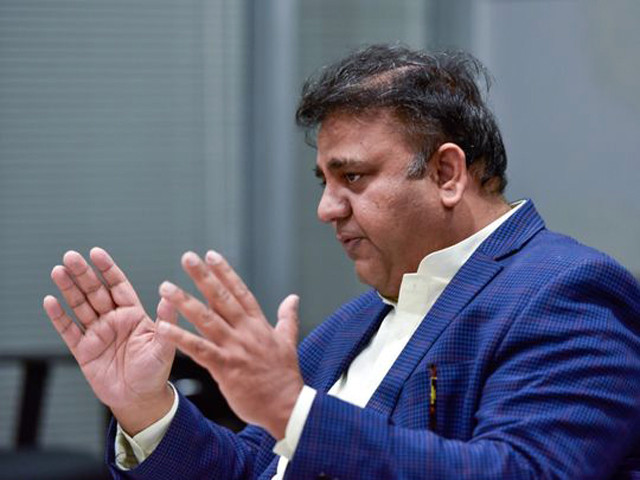 ---
Information Minister Fawad Chaudhry has come down hard on Pakistan People's Party (PPP) chairman Bilawal Bhutto Zardari once again, saying he was incapable to lead even a 'short march' let alone a long one in a bid to topple the government of Prime Minister Imran Khan.
Addressing the media in Islamabad on Sunday, Fawad said, "The situation for the opposition will deteriorate even further because no conspiracy against Prime Minister Imran will ever succeed."
He went on to add that, "ties between them [opposition factions] have deepened ever since billions of rupees unearthed from the bank account of Maqsood chaprasi. Bilawal is under the wrong impression… he can't launch a short march, let alone a long one."
The minister reiterated that the opposition joined hands on Saturday to celebrate their "Youm-e-Yakjehti-e-Choran (day of solidarity of the thieves)", as he referred to Kashmir Solidarity Day marked on February 5.
The broadside at the opposition didn't go unnoticed, as PPP leader Saeed Ghani responded, saying, "Fawad Chaudhry's turbulent breaths reveal a lot; media persons should read his face, they won't need to ask him how he is doing".
"As far as long march is concerned, it will set precedence of how a long march should be held," he maintained.
Also read: PPP, PML-N vow to go all out against Imran govt
The PPP stalwart then sarcastically asked Fawad about the "fourth political party" that he will switch to in future.
"We don't just have the long march in the offing, but a no-confidence motion is also on the cards," Ghani remarked.
Concluding, he said, "[Prime Minister] Imran Khan came to power through back-door and will depart from a patli gali."
The information minister earlier took the opposition to task, calling them a gang of criminals that had united against the premier, after the latter announced to join hands to topple the Pakistan Tehreek-e-Insaf-led government.
COMMENTS
Comments are moderated and generally will be posted if they are on-topic and not abusive.
For more information, please see our Comments FAQ