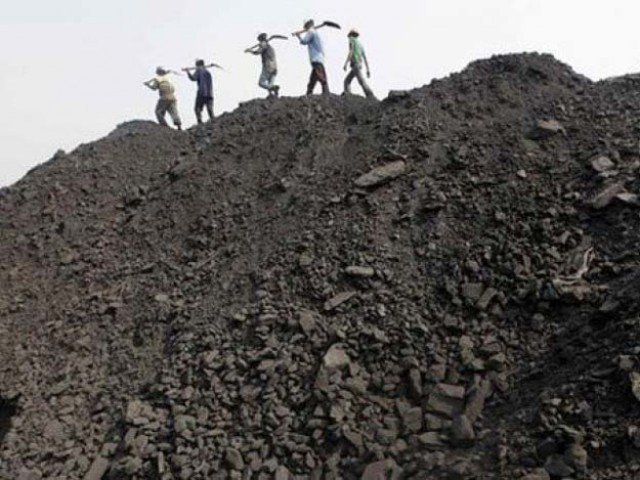 ---
MACHH:
Coal miners on Monday staged a protest rally in front of Machh Press Club against the transfer of the town's coal depot.
The protesters, who rallied from the coal depot, chanted slogans and marched through Machh Bazar. The rally was attended by a large number of local contractors and leaders of trade unions and local dignitaries.
The demonstration was addressed by local mine owner Haji Taj Muhammad Sumalani, former JUI district president Haji Mange Khan Rahija, Mach Mining Labour Union President Muhammad Iqbal Yousafzai, contractors Manda Khan Sumalani, Malik Wilayat Hussain Sumalani, Abdul Salam Kurd and others.
The speakers said that they "respected the decision regarding transfer of depots but the land mafia has been planning to relocate them to their desired location since 2014," adding that "the land mafia is involved in extortion on Oil Chhalia Road and wants to shift the depots and make thousands of workers unemployed."
The protestors noted that the transfer of coal depots was tantamount to economic murder of the coal miners.
Read More: Coal, wood prices go up amidst gas shortage
"The depots had been set up along the railway tracks before the creation of Pakistan so that coal could be transported inside the country by rail."
They alleged that the environment department intended to relocate the railway coal depot to a place where the workers did not have access to drinking water and other facilities.
"As far as the environment department's report on the transfer of dumps is concerned it is ridiculous because these workers [colliers] have been connected with this [coal] business for generations and have been part of this environment."
The speakers highlighted that other commercial activities in Machh also depended on coal business.
Published in The Express Tribune, January 11th, 2022.
COMMENTS
Comments are moderated and generally will be posted if they are on-topic and not abusive.
For more information, please see our Comments FAQ