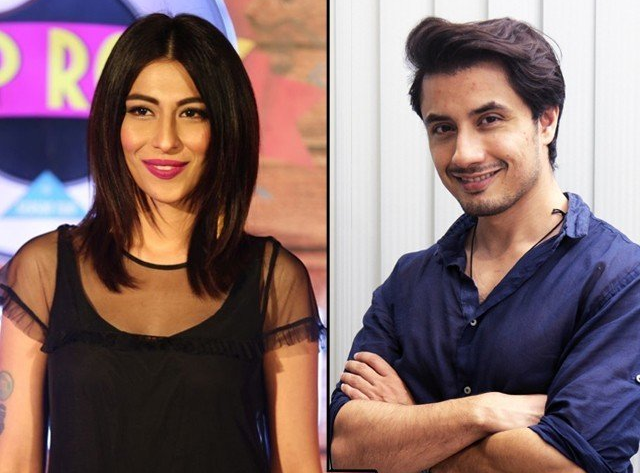 ---
LAHORE:
Singer Meesha Shafi who accused actor-cum-singer Ali Zafar of sexual harassment said on Tuesday that she did not see the harassment incident, but felt it.
During the second day of the cross-examination pertaining to a defamation case filed by Ali Zafar, Meesha said Zafar "groped" her during a rehearsal in December 2017. When asked was it correct that there were no eyewitnesses to the incident, she said: "Yes, even I myself am not an eye witness to this incident. I felt it [but] I did not see it."
"Did you look behind to see if it was the plaintiff's hand," the counsel asked her about the "groping" incident. "There was no other hand near me and it certainly was not my hand," she responded.
"Is it correct that there was a drummer sitting behind you and the plaintiff," the lawyer further questioned. She said the drummer was quite far away at least "4-5 feet away".
A video clip of that jamming session was then brought forth, where Zafar's counsel put to her that the drummer was within a three-foot proximity.
Earlier, all nine eye witnesses from the "Jam session" had refuted Shafi's claims of being harassed by Zafar. Two vocalists, Kanza Munir and Aqsa Ali, said they were "shocked" at Shafi's allegations and thought they were "obligated to speak up as women".
All of the witnesses maintained that Shafi and Zafar stood at a distance of two to three feet and that Shafi even hugged Zafar to show her gratitude before she left.
Shafi was also confronted by her colleagues in two Facebook posts, one by Fahad Rehman, her ex-manager. "I have had the misfortune of working with Meesha. Other than her terrible temper and tantrums, on one occasion, I was blackmailed by her five minutes before a show to give up my share of the commission my agency was making, otherwise she will not perform. After returning from the trip back to Pakistan and firing her as a client, I was made aware that Meesha was telling friends and colleagues that I stole her performance fee," he wrote on the social media site.
"Now I don't know what happened between Ali and her, but what I do know is that she has the capability to blackmail and malign ones reputation," he added.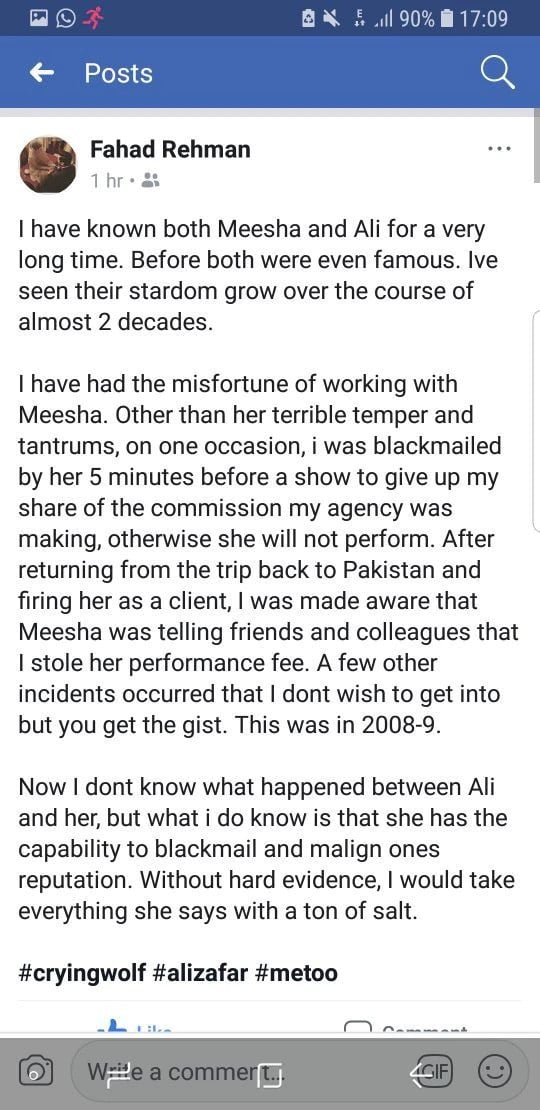 She was then confronted by another Facebook post by her academic peer Talia Mirza, who wrote, "I have personal experience of dealing with false rumours generated by Meesha Shafi. Meesha apparently used to sit with the cast and call us sluts and claimed that I and this other woman had sexual relations with the producer/director."
During the court proceedings, Shafi was also confronted with a WhatsApp message she sent Zafar post the jamming session, which read: "Had a great time jamming."
To which Sahfi replied, "I said that in courtesy".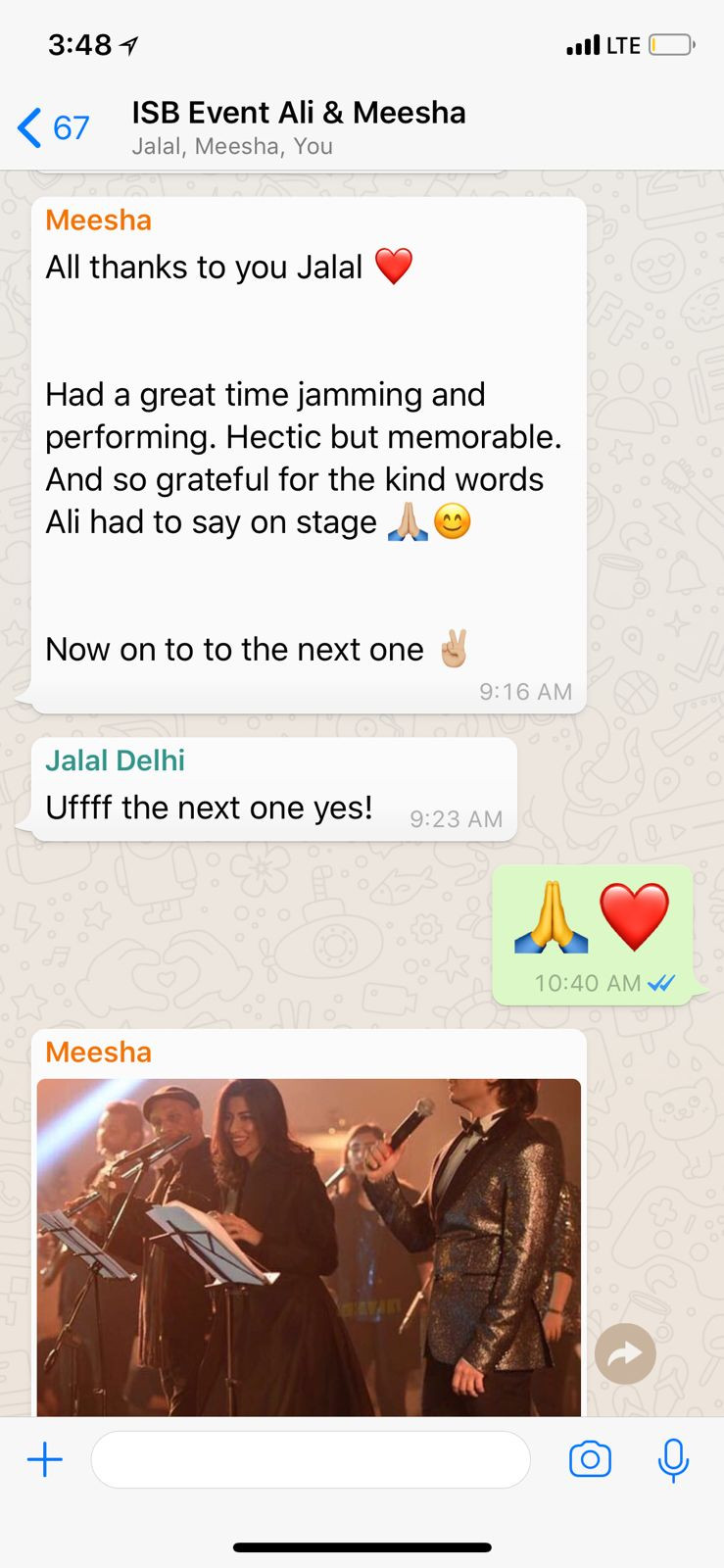 She was asked, "Is it correct that many people make false allegations publicly and on social media without evidence?" to which Shafi agreed.
Regarding the incident of harassment allegations against Bollywood director Sajid Khan, Zafar's lawyer asked Shafi, "The incident of Sajid Khan occurred in October 2018, how did you mention the incident in August 2018?" Meesha Shafi said, "I basically told the future."
"This was drafted not by my hand and I did not do this research all on my own so you will have to address this legal question to my counsel," she added.
The singer also maintained that she received legal advice before posting her tweet regarding the alleged harassment.
She wanted to resolve the matter privately but was forced to go public after it became clear to her that private resolution was not an option.
According to Meesha, this private settlement would have meant an "apology" from Zafar about his past behaviour.
Read: Understanding the Meesha Shafi-Ali Zafar squabble
Meesha said that the tweet was drafted less than five days prior to her tweeting it. "I cannot remember [sharing the draft with anyone else]." According to the singer, "I was very nervous and scared about the possible implications and cost of making such a choice. So, I did speak to friends and family and legal counsels" for moral and legal support.
The singer said there were "all too many [incidents of harassment] and they were all needless and uncalled for as the plaintiff and I have never shared an affectionate dynamic".
At this, counsel representing Zafar asked her if she at "any time object[ed] to the plaintiff when these 'touches' made you feel uncomfortable".
She said she didn't confront Zafar, adding: "These touches were fleeting and discrete as harassment often is."
In a question about the harmless intention of Zafar, she said: "Since I had already had a previous experience of harassment at the hands of the plaintiff giving the benefit of doubt becomes harder as a behaviour pattern reveals itself."
The lawyer also questioned her about the alleged harassment at the house of Zafar's father-in-law. "Is it your evidence that there are no witnesses to the incident alleged by you at the gathering at the house of the father-in-law of the plaintiff," he asked. To this, Meesha responded in affirmative.
COMMENTS
Comments are moderated and generally will be posted if they are on-topic and not abusive.
For more information, please see our Comments FAQ