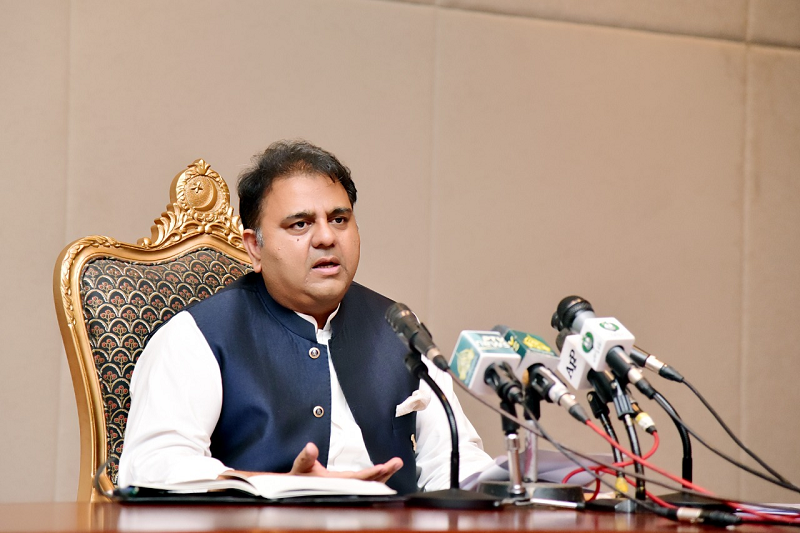 ---
Terming the victory of Jamiat Ulema-e-Islam-Fazl (JUI-F) in Khyber-Pakhtunkhwa (K-P) local bodies elections "unfortunate", Information Minister Fawad Chaudhry has said that he is dismayed at the development, a day after the stunning defeat of the ruling party in the LG polls.
"I am dismayed at Maulana Fazlur Rehman's Jamiat Ulema-e-Islam's win in K-P... it was our mistakes that led to their victory," he said, adding, "The country will plunge deeper into turmoil in the absence of PTI and if parties like Tehreek-e-Labbaik Pakistan (TLP) and JUI-F come into power."
Fawad made the remarks during a media talk following a briefing of the federal cabinet, in Islamabad on Tuesday.
He hoped that the leadership and workers of PTI will take heed from the failure and reorganise themselves.
Calling Pakistan Muslim League-Nawaz (PML-N) Vice-President Maryam Nawaz, JUI-F chief Fazl and Pakistan Peoples Party (PPP) co-chairman Asif Ali Zardari "political dwarfs", the minister said, "The PML-N and the PPP don't have political roots among the people."
He went on to say that, "Maryam Nawaz " has always spoken "foolishly".
Also read: Fawad says Imran, PTI's popularity in K-P still intact
"It seems from Asif Ali Zardari's talk that he hasn't yet been able to strike a deal; he rushes to please [the powers that be] when he sees any hope but resorts to allegations at his rallies when this isn't the case," Fawad said.
He further noted that "political dwarfs were making attempts to become taller by criticising Imran Khan."
The federal minister advised PTI workers to strengthen Premier Imran. "A competition within the party will only result in the party's defeat," he said and took to Twitter to suggest the same to the workers.
اگر JUI جیسی شدت پسند جماعتیں PTI کا متبادل ہیں تو واقعی آپ کی بات درست ہے ، PTI کی لیڈرشپ اور کارکنان اس صورتحال میں ذاتی اختلافات کو پس پشت ڈالیں اور عمران خان کی قیادت میں خود کو منظم کریں اس وقت اگر PTI کمزور ہوئ تو ملک بھیڑیوں کے ہاتھ لگ جائیگا https://t.co/3tIXzSzStZ

— Ch Fawad Hussain (@fawadchaudhry) December 21, 2021
Earlier in the day, Prime Minister Imran Khan said that the PTI made 'mistakes' in the first phase of K-P local government elections.
He took to his official Twitter handle to admit that his party "made mistakes" and subsequently "paid the price", attributing the PTI's loss to "wrong candidate selection".
"Wrong candidate selection was a major cause," he added.
The premier further said that he will "personally" be overseeing the PTI's LG election strategy in the second phase of K-P's local body polls and LG elections across Pakistan.
He hoped that the PTI "will come out stronger".
PTI made mistakes in 1st phase of KP LG elections & paid the price. Wrong candidate selection was a major cause. From now on I will personally be overseeing PTI's LG election strategy in 2nd phase of KP LG elections & LG elections across Pak. InshaAllah PTI will come out stronger

— Imran Khan (@ImranKhanPTI) December 21, 2021
COMMENTS
Comments are moderated and generally will be posted if they are on-topic and not abusive.
For more information, please see our Comments FAQ