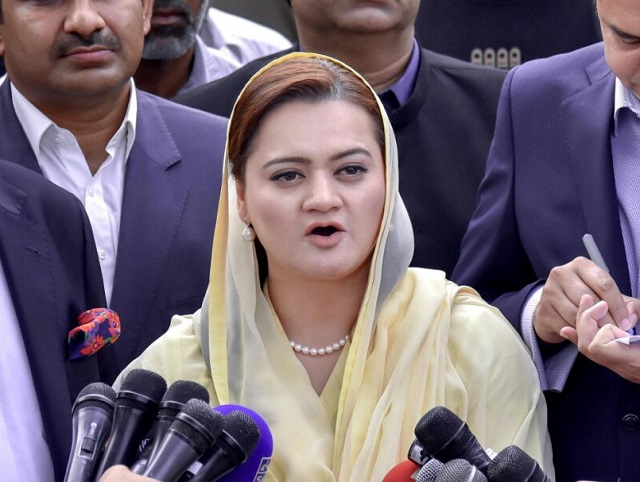 ---
Pakistan Muslim League-Nawaz (PML-N) spokesperson Marriyum Aurangzeb has claimed that Prime Minister Imran Khan was behind the "fabricated story" published against the party president, Shehbaz Sharif, in a British daily back in 2019.
Addressing a press conference in Islamabad on Tuesday, Aurangzeb lashed out the premier saying, "Selected prime minister [Imran Khan] planted that story against Shehbaz through his 'tout' Shehzad Akbar".
She claimed that Daily Mail reporter David Rose had failed to submit any evidence against Shehbaz Sharif before the London court in the defamation law suit filed by the latter last year. Sheh said Roase has obtained an extension from the court for the fifth time.
On July 14, 2019, the story appeared in the British newspaper accused former Punjab chief minister Shehbaz and his family of embezzling millions of pounds out of £500 million aid lent by the Department for International Development (DFID) for 2005 earthquake victims.
Also read: Shehbaz moves London court against Daily Mail for 'fabricated', 'defamatory' story
Soon after the report stated making headlines, PM's aide on accountability Shahzad Akbar endorsed the Daily Mail story and challenged Shehbaz to file a lawsuit against him in the London court.
Subsequently, Shehbaz in in January last year filed a case in the London High Court against Daily Mail and its reporter for publishing a "fabricated and defamatory" report against him.
Terming PM Imran "ring leader of mafia," Aurangzeb in today's presser said his accountability aide at the behest of the former levelled corruption allegations against PML-N leaders.
Referring to former FIA chief Bashir Memon explosive claims, the spokesperson said PM Imran had also pressured him into filing false cases against the party leadership.
She added that the people of Khyber-Paktunkhwa had "signalled" a departure of PM Imran-led government after as the ruling party faced major upset in the local body elections.
COMMENTS (1)
Comments are moderated and generally will be posted if they are on-topic and not abusive.
For more information, please see our Comments FAQ