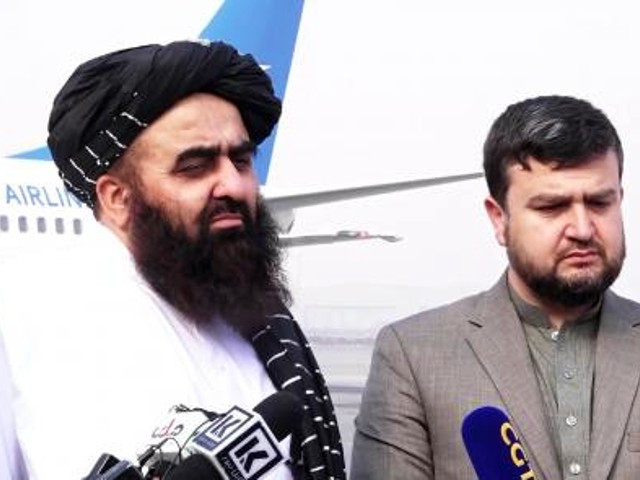 ---
Responding to Afghanistan's former president Hamid Karzai, Acting Foreign Minister Amir Khan Muttaqi on Monday said that Prime Minister Imran Khan's remarks during the Organisation of Islamic Countries (OIC) summit in Islamabad "were not an insult to Afghanistan".
PM Imran, during his address at the summit on Sunday, had said that due to years of corruption in the Afghan government, poverty was widespread in the neighbouring country even before the former government's collapse.
Stressing on the need to stabilise Afghanistan, the premier also said that Dai'sh threatened Pakistan from the war-ravaged country. "We have had attacks from (the) Afghan border, from Dai'sh, into Pakistan," he said.
Read more: OIC sets up 'humanitarian fund' for Afghanistan
Reacting to this, Karzai, in a Facebook post, called the prime minister's remarks "an attempt to sow discord among Afghans, and an insult to the Afghan people".
Hamid Karzai, former President of #Afghanistan, has called Pakistani Prime Minister Imran Khan's @PakPMO remarks at the Extraordinary Session of OIC @OIC_OCI Council of Foreign Ministers an attempt to sow discord among Afghans, and an insult to the Afghan people. Moreover, …

— Hamid Karzai (@KarzaiH) December 20, 2021
"Allegation that ISIS is active in Afghanistan, threatening Pakistan from Afghanistan is clear propaganda as the reality has been the opposite," he claimed.
Karzai said that Pakistan should avoid speaking on behalf of Afghanistan at international fora and should work towards creating positive and civilised relations between the two countries.
However, according to Afghanistan's Tolo News, Muttaqi, while responding to former Afghan president during a press conference in Kabul, said that he believed remarks made by PM Imran were not an insult to Afghanistan.
Also read: Saudi FM announces 1 billion in aid for Afghanistan
He also said that Imran Khan's remarks were critical of the former governments, which may have therefore caused former government officials to feel compelled to show a reaction.
"It was a summit, everyone has an opinion," Muttaqi told reporters when asked about his stance towards PM Imran's remarks. "Imran Khan criticised the former (Afghan) governments. I think officials of the former governments felt obligated to react, I don't see (Imran Khan's remarks) as insulting."
Muttaqi, during the media interaction held on returning from Islamabad, also underscored the importance of the OIC summit, saying that the Islamic Emirate called for the establishment of a trust fund for Afghanistan and the OIC members agreed.
COMMENTS
Comments are moderated and generally will be posted if they are on-topic and not abusive.
For more information, please see our Comments FAQ