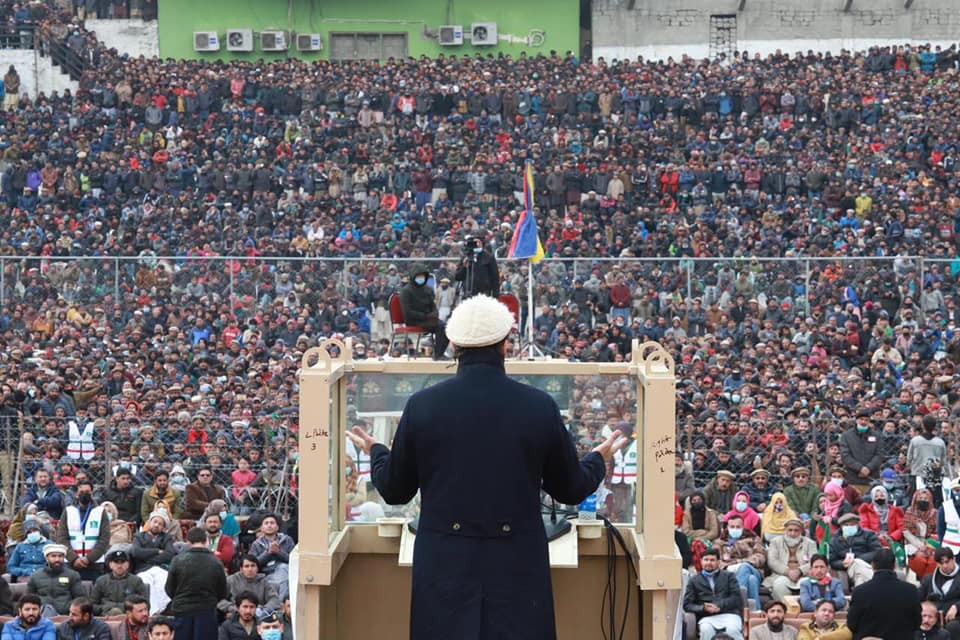 ---
GILGIT/SKARDU:
Prime Minister Imran Khan on Thursday said that with improved road connectivity and the Skardu International Airport, Gilgit-Baltistan (G-B) will turn into a top tourist destination, ensuring economic prosperity for the region.
"The people of G-B will soon witness an unprecedented era of economic prosperity with revenue generation through tourism and employment opportunities," the premier maintained in his address to locals at a jam-packed Municipal Stadium in Skardu.
PM Imran, who earlier inaugurated the Skardu International Airport and the 164-km Jaglot-Skardu strategic road, noted that a significantly improved infrastructure would boost tourism in the region.
The Jaglot–Skardu is a major link between Karakorum Highway and Skardu.
The upgradation of Jaglot-Skardu road will enhance the comfortable road ride to locals as well as tourists by increasing its width from 3.6 metres to 7.3 metres and reducing the sharp curves.
In his address, the premier observed that the initiative would promote both summer and winter tourism in G-B and announced establishing luxury resorts to attract more foreign tourists.
He recalled that he had travelled the world but had never seen a splendid mountainous range like that in G-B.
"If Switzerland can earn annual revenue of $70 billion, G-B has natural resources to exploit its potential," he said.
Read: Will never let down survivors, parents of martyred APS children: PM Imran
PM Imran stressed that Pakistan could earn billions from tourism through the scenic northern areas and diverse religious sites. He, however, cautioned the locals to safeguard their interests as outsiders would be eying their property and land in view of the area's tourism potential.
He hailed the National Highway Authority and FWO for working tirelessly in improving the connectivity of roads in G-B.
He said connecting G-B with Azad Kashmir through roads would also bring improvement in the lives of locals, adding that hydroelectricity projects had been set up in G-B to meet the water requirements.
He reiterated that a country could not progress unless it uplifted its neglected and unprivileged segments of the society.
The premier said he was prioritising the development of the areas that lacked facilities of communication and health, including G-B, Balochistan, erstwhile tribal areas, and southern Punjab.
"My vision of a prosper Pakistan is inclusive development that caters to the needs of poor and weak," he added.
PM Imran said his government had taken several steps for the progress of people and expressed the desire to witness a major improvement in the lives of the underprivileged on completion of his tenure.
He hoped that Pakistan would see a time when people would come here to fetch jobs, adding that every household of G-B would have an insurance of Rs1 million similar to that of Khyber-Pakhtunkhwa.
He emphasised that a country cannot rise until its poor segment is elevated.
"In Pakistan the rich got richer and the poor got poorer. This is economic injustice."
The prime minister hoped that Skardu International Airport would boost mountain tourism in G-B and generate foreign exchange for the country besides uplifting the living standard of the local population.
COMMENTS
Comments are moderated and generally will be posted if they are on-topic and not abusive.
For more information, please see our Comments FAQ