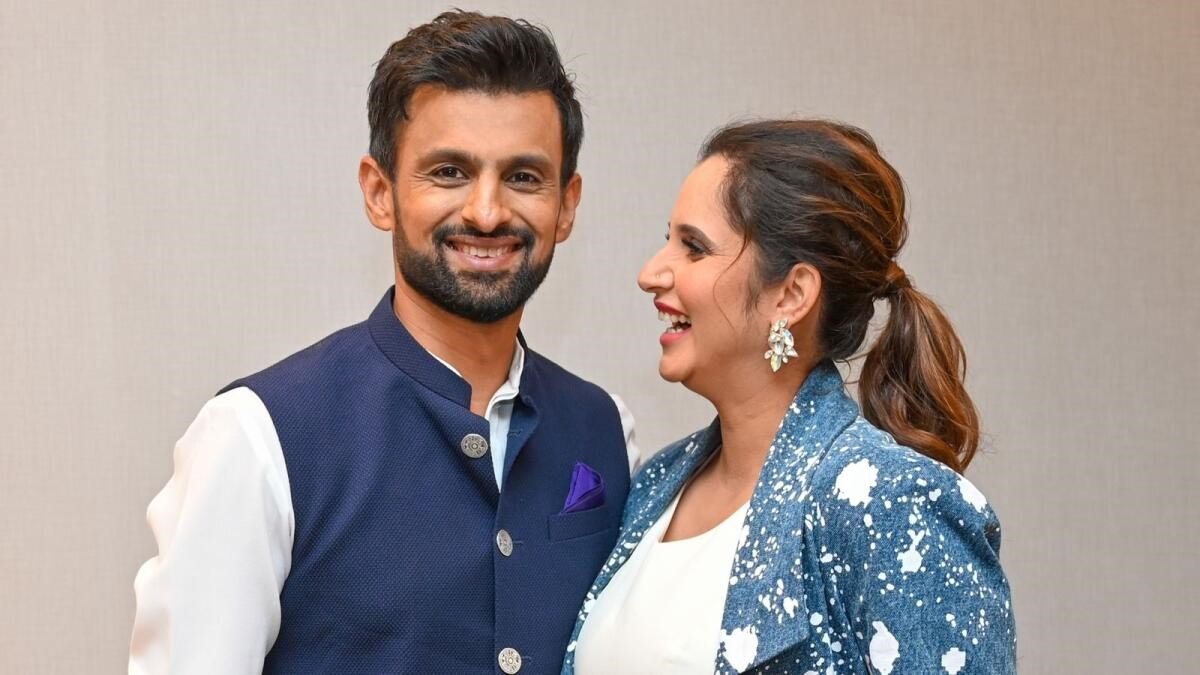 ---
The athletic star couple, Sania Mirza and Shoaib Malik are taking games to another level. During a press conference at the Dubai World Trade Center, the couple announced their own chat called The Shoaib & Sania Show. Tipped to be premiered on Pakistan's first OTT platform, Urduflix, the celebrity husband-wife will host a string of popular cultural icons from both India and Pakistan.
According to Mirza, unlike other talk shows, theirs will not be a "catty" one and will focus more on the fun and breezy affair of engaging personalities and cultures across the border, devoid of any dirty games. The poster to their new venture exudes a zany partner-in-crime vibe.
In an interview with Gulf News, the couple shared the show will not be controversial in any way and aims to spread the cross-cultural love they experience in disguise. "It will be a whole lot of love and laughter. I think those two things are very important to us, even as people," revealed Mizra, explaining the concept. "Everybody that we know, knows that we deal with most things with humour and that is something that helps us a lot."
Both ace sportsmen, with their demanding careers, deal with a high emotional quotient on a daily basis and the couple shared that their collective coping mechanism is humour and that will be evident in the show as well "The goal is to try to bring that laughter, love and joy, not just to the audience but also to the guests that are going to come on the show," shared Mirza. "We don't want to reveal everything. It's not a comedy show but it is a show where we are going to try to have as much fun as possible and still try to find meaning in it."
Malik sheepishly shared how Mirza has been coaching him on acting and hosting given her past appearances in many talk shows, including the most-talked-about notorious chat show, Koffee With Karan. "I have been taking classes from her as she's good! It's going to be great fun for me. I've done some shows, but it was only on a social media platform and all those shows were with my friends. I had so much fun while doing them (interviews), and a lot of people enjoyed it also. I always wanted to do a show from the studio and that's what is going to happen," shared the cricketer.
The pair claimed the identities of the guests and other details are still a work in progress, however, Mirza revealed that the ones who have made the initial list are friends and colleagues from both sides of the border with whom they share a personal quirky dynamic. The duo is famously friends with celebrities like Ayesha Omar, Farah Khan, Parineeti Chopra, Salman Khan, Mahira Khan, Sanam Saeed and the list goes on, and this vague statement definitely gave away enough for fans to dig deeper while eagerly waiting for the yet-to-be-produced show.
In another interview with Khaleej Times, Sania revealed that the Shoaib & Sania Show is not an attempt to extend their social media following. "We do have a large presence (on social media) but I take it with a fist of salt, not even a pinch of salt, for the good and the bad! I think we can definitely reach out to more people through our social media following but it is separate at the end of the day," Mirza shared.

With the two of them being champions in their respective sports, it's rather amusing that they attempt to create a diversified collective brand through such fun ventures. "This show that we're doing is very different to what we've ever done so we're both more excited and nervous for that. It was probably something that we never thought we would do," retorted Mirza.

"We do a lot of endorsement and ads [advertisements] together and we just launched our new perfume too. At this stage of our lives and our careers, we've been doing what we do for a very long time and we've reached a stage where we would love to explore new things as well. We have fun (together)," said Mirza, whilst talking about their work relationship.

They recently toured Pakistan for the launch of their own perfumes and made an appearance on actor Ahsan Khan's chat show too. "Our relationship now has reached the stage of friendship! So right now, it's not like working with your spouse, but it's more like working with your friend as well," confessed Mirza. "There's no better person you can have chemistry with than someone you've been with for a long time."

The publication asked them if they're happy with the decision of debuting on an OTT platform. "I think today everything is about OTT right? I can't remember the last time I went to watch a movie in the cinema but it's been a long time, obviously because of Covid and everything else, this will help people from different parts of the world to have access to us and this show," concluded Mirza.
COMMENTS
Comments are moderated and generally will be posted if they are on-topic and not abusive.
For more information, please see our Comments FAQ