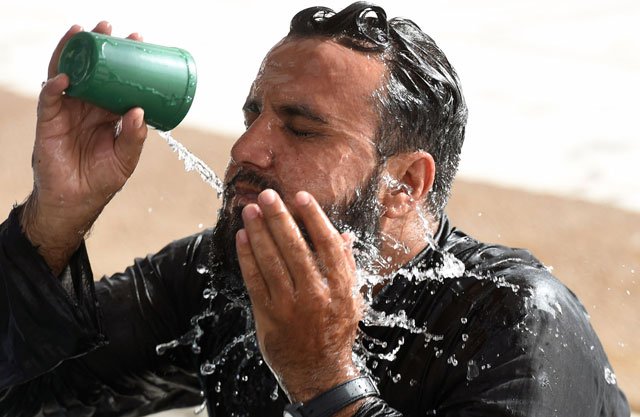 ---
KARACHI:
Ghulam Hussain is one of the residents of the port city whose life was devastated, disturbed, and changed after the heatwave of 2015.
He lost his beloved wife, Razia Bano. Hussain, by profession a fisherman, is one of the victims and witnesses of the climate change that has affected everyone everywhere in the metropolis.
He spent all his life with this profession like other residents of Ibrahim Haidery - one of the earliest settlements of Karachi.
Bano, Hussain's wife, was among the over 2,500 people who died of heatstroke in the 2015 killer heatwave. "It devastated the life of my family," Hussain said. "Fishing is my profession. All my golden years were spent in the sea," he said. "This is a different time now. People hardly earn something," he narrated.
Hussain said that a fisherman goes for work about 10 days a month. The father of eight children, Hussain understands the impact of poverty on his family. "I try my best but cannot afford," he added. "I allowed her [his wife] to go to work to support the family," he remembered.
The death of Bano and the destruction of her family cannot be undone, but there may be ways we can prevent similar tragedies in the future.
Experts predict the rise in temperature in the coming years. Rainfalls will occur frequently and their intensity will increase drastically. Karachi with its estimated population 25 million is Pakistan's largest city, financial hub and major center to rural to urban migration.
Set to become the seventh-largest city in the world by the end of this decade, Karachi was ranked one of the tenth least livable cities in the world by the Economist Magazine. "Karachi needs 1.4 million trees to counteract the amount of heat that is being dissipated by the urban environment," said Architect Shahid Syed Khan.
"All of us have to be involved in the reduction of carbon," said Khan. Khan sees a looming threat in Karachi's densely populated areas. "I did a study of the Punjab Colony locality of Karachi," he said.
Read Karachi weathers hottest day of April since 1947
"And you see these buildings so close to each other. The rooms look into each other. These are eight-storey building and ten and some of them 12-storey high," he pointed out. "Because they built close to each other and there is very little ventilation that is going through. And because you are using concrete it's very hot living inside these buildings," he explained.
Khan said that the reason for having heatwaves is climate change. "The climate is changing. Cities like Karachi become heat sinks because of all the concert elements that are here," he explained.
Realizing the restricted social environment provided to women, Hussain said that men often leave their homes and find a better place when there is hot weather and no electricity. "What about these women? Where should they go," he questioned.
Talking about the marginalised groups especially women in Pakistan, environmental journalist Afia Salam said that women suffer more because of the space they have been given in society. She pointed out that women did not go outside their homes when heatwaves hit the city.
"They do not have such space," she said. Urban planners like Farhan Anwer said that the communities living in the city are physically exposed to a major climatic event like urban flooding. People have health-related issues and many have no shelter in this city.
Reminiscing past, Hussain said that there were houses which had cross ventilation. "But now we have no space for ventilation," he said, adding that the power outage makes the life too difficult for the residents. "Power outage is another major issue," he smiled wryly. "People cannot sleep and come out of their houses." We have very difficult times." Like other people of Karachi, Hussain has been advised by the authorities to take precautionary measures during hot days.
"I am aware of the precautions but there is continuous load shedding." And, life is very tough for at least 10 million people in Karachi without access to running water, proper sanitation or reliable electricity and gas.
The film titled 'Collision Course on the heatwave in Karachi' aired on Express TV on Sunday disclosed how climate change has affected people in the port city. He has pointed out various impacts of climate change, including heatwave, urban flooding, water scarcity and other such issues.
Water scarcity Water is a fundamental human right. Every state must provide safe, sufficient and affordable water to its citizens. The United Nations also says that the cost of water should not exceed 3 per cent of its household's income. The city's water-providing body, KWSB, is unable to provide water to roughly 10 million people. More than 50 per cent people in Karachi do not have access to tap water at home. Climate change will only make it worst.
According to the World Economic Forum, Faqeer Colony located in Korangi town is named as one of the five biggest slums in the world. Noor Jahan, one of the residents of this area, also complained that that was a shortage of potable water.
"The challenge to arrange water is for women only- not for men," she said. "Every woman in this area has to do it. It's very painful but we have to do it." Noor Jahan and her brother collectively earn about Rs17,500/month and they spend 30 per cent of their income on water.
Read more Army called in to deal with urban flooding situation in Karachi
Salaam suggests that the people who were spending their income on water could use that amount on the education and health of their kids. "Hundreds of thousands of people going down of poverty line each year," she explained.
"The same money I could use for my daughters' education, on their clothes," Noor Jahan realised. Urban flooding Anwar urged that the cities [like Karachi] needed to be conceptualized, designed and planned according to changing the weather pattern.
Given the recent rains in the United States, Anwar said that such flooding will occur. "But we will have to see response mechanism that how you can recover," he added. He said that Karachi had a natural mechanism in the shape of nullahs - natural drains. "People have encroached upon them," he said, adding that they [people] were not responsible for such encroachments.
"It will happen because the government is not facilitating them with low-income housing schemes," he said. "We have ill-planned growth," he said that because of this kind of development the chances of inundation will increase.
When record-breaking monsoon rains hit Karachi in 2020, the flooding destroyed homes and civic infrastructure. About 41 people died at that time. "It will continue until you bring here sewage system, affordable housing to people and introduce a proper solid waste management system," he urged.
COMMENTS
Comments are moderated and generally will be posted if they are on-topic and not abusive.
For more information, please see our Comments FAQ