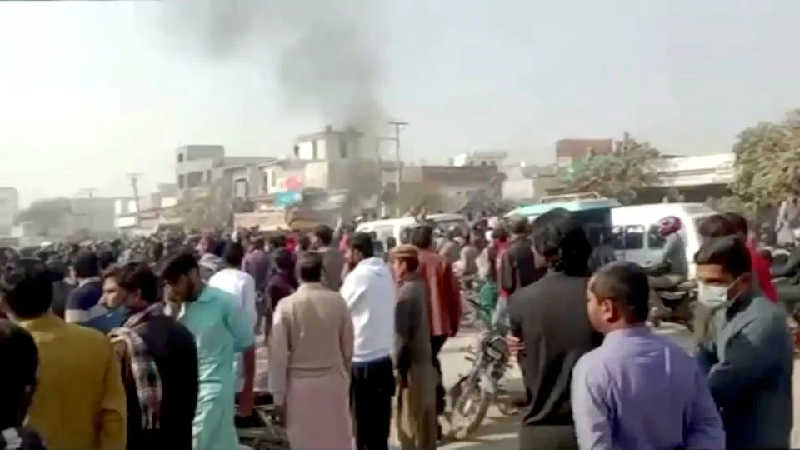 ---
Punjab Police on Sunday said that they have arrested six more accused for their primary role in the lynching of the Sri Lankan national in Sialkot over blasphemy allegations on Friday.
پنجاب پولیس نےCCTV فوٹیج اور موبائل کالز ڈیٹا سے گزشتہ 12گھنٹے میں مزید 6 مرکزی کرداروں کا تعین کرکے گرفتار کرلیا ہے۔ملزمان اپنے دوستوں اور رشتے داروں کے گھروں میں چھپے ہوئے تھےابتک کی تحقیقات کے مطابق124 زیرحراست افراد میں سے 19 ملزمان کا مرکزی کرادر سامنے آیا ہے@UsmanAKBuzdar https://t.co/lWuxBzmXVb

— Punjab Police Official (@OfficialDPRPP) December 5, 2021
In a tweet, the Punjab Police said that the police used CCTV footage and mobile call data to identify these suspects over the past 12 hours. These suspects were hiding in their relatives' homes, they added.
The police said as per the initial investigations, out of 124 suspects, 19 accused played a primary role in the lynching.
Read: Nation outraged at Sri Lankan's lynching by mob
On Saturday, the police had said that at least 120 people were arrested in connection with the brutal killing of Priyantha Kumara Diyawadanage by a mob comprising hundreds of people.
The police had booked at least 800 people under Anti-Terrorism Act (AT) for their involvement in the lynching.
'Nation is ashamed'
In a press conference, Information Minister Fawad Chaudhry said the murder of the Sri Lankan national in the name of blasphemy was shameful for the entire country.
He said Pakistan was a progressive country and its institutions were strong, adding that the issue of extremism doesn't concern one party alone.
According to the minister, the rule of law was essential for democracy in Pakistan and all political parties needed to be on the same page regarding this issue.
In a separate press conference alongside the leaders of the religious minority communities in Lahore, Pakistan Ulema Council Hafiz Tahir Ashrafi said the police were still making arrests in the case. He said all the accused in the case will be tried in the anti-terrorism courts and justice will be served in the case.
Ashrafi, who is PM's aide on inter-faith harmony, said there were anti-blasphemy laws in Pakistan and no one was allowed to take the law into their own hands. He added all the religious leaders of Pakistan, including the Tehreek-i-Labbaik Pakistan (TLP), condemned the lynching.
In a comment on the incident, Ashrafi said it was a "collective behaviour" as the "extremist attitude" could be seen everywhere.
"We will sit together to chalk out a strategy to put an end to such behaviour," he said while terming the lynching in Sialkot an act of individuals.
He said "administrative issues" led to the lynching of the Sri Lankan national, adding that it couldn't be a religious issue because the deceased was living in Pakistan for the past 10 years.