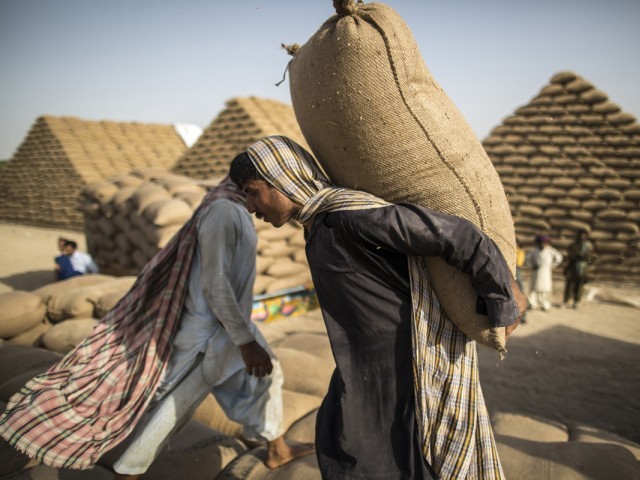 ---
ISLAMABAD:
Pakistan and India on Friday reached a compromise on the mode of transportation of wheat donated by the latter to Afghanistan.
According to the understanding reached between the two countries, Afghan trucks would carry 50,000 metric tonnes of wheat through the Wagah border crossing.
Earlier, Islamabad, as per modalities, had proposed that the wheat should be transported through Pakistani trucks under the banner of the UN. But New Delhi made a counter proposal, suggesting the wheat be carried either by Afghan or Indian trucks.
Pakistan rejected the Indian proposal of using the Indian trucks but after consideration, agreed to allow Afghan trucks for the purpose.
"With a view to further facilitate Pakistan's decision to allow transportation of 50,000MT of wheat and life-saving medicines from India to Afghanistan via the Wagah border on an exceptional basis for humanitarian purposes, it has been decided to also allow the use of Afghan trucks for transportation from Wagah border to Torkham," a statement issued by the Foreign Office said.
Diplomatic sources said Pakistani trucks might end up transporting the wheat to Afghanistan and India proposed that the shipment should be carried out either by Afghan trucks or arranged by them. This leaves a window for the Afghans to give contracts to Pakistani trucks.
"This demonstrates the commitment and seriousness of the Government of Pakistan to facilitate the proposed humanitarian assistance," the Foreign Office statement added.
Read Islamabad snubs Delhi's wheat transit proposal
The decision was conveyed to the Charge d' Affaires of India on Friday at the Ministry of Foreign Affairs. The Indian government was also urged to proceed quickly to take necessary steps to expeditiously undertake the delivery of humanitarian assistance to Afghanistan.
Diplomatic sources said both sides reached a compromise in order to help the people of Afghanistan, who are in desperate need of help.
Islamabad is now waiting for the official response from New Delhi before the humanitarian assistance starts flowing to Afghanistan from India.
India in October announced 50,000 metric tonnes of wheat for Afghanistan as humanitarian assistance and sought Pakistan permission to transport the same through the Wagah border.
Pakistan agreed to allow India to use the Wagah border to transport wheat to Afghanistan as otherwise, it does not allow two-way trade between Afghanistan and India. It only permits Afghanistan to export goods to India using the Wagah border.
Islamabad allowed Indian wheat to pass through its land route after the Taliban government also made a request.
Foreign Office spokesperson Asim Itikhar told reporters last week that the decision of allowing India to transport wheat was taken keeping in view the humanitarian situation in Afghanistan and must not serve as a precedent for future transshipments.
COMMENTS (2)
Comments are moderated and generally will be posted if they are on-topic and not abusive.
For more information, please see our Comments FAQ