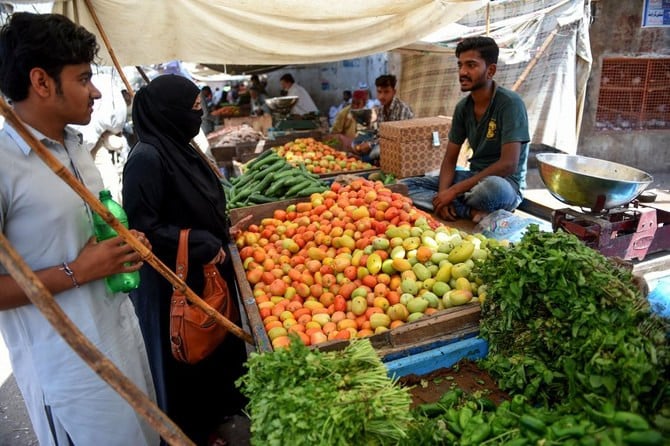 ---
ISLAMABAD:
The inflation skyrocketed to 11.5% in November 2021 – the fastest pace in 21 months – due to government's administrative decisions coupled with steep currency depreciation, which was making food, electricity and transport unaffordable for the common man.
The Consumer Price Index (CPI), on a month-on-month basis, jumped 3% - the highest monthly reading in the past 13-and-a-half years, reflecting a massive increase in prices.
The uncontrolled prices compelled on Tuesday the government employees to stage a sit-in in front of parliament. They demanded a further increase in their salaries to offset the impact of soaring prices.
The inflation rate surged 11.5% in November compared to the same month of previous year, the Pakistan Bureau of Statistics (PBS) reported on Tuesday – a day earlier than its periodic release. However, it subsequently removed the statement from its website.
The 11.5% annual inflation rate was the highest since February 2020, showed the statistics, dashing government expectations of keeping the index below 10%.
Last week, the central bank increased interest rate by 1.5 percentage point to 8.75% amid expectations that the rate would go up further in the next monetary policy meeting that the State Bank of Pakistan has convened on December 14.
More worryingly, the Wholesale Price Index (WPI) skyrocketed 27% in November, indicating that prices would remain very high in the coming months.
The WPI rose mainly because of a massive increase in prices of textile and apparels, metal products, transport goods, food, beverages and leather products.
A major criticism against former finance minister Dr Abdul Hafeez Shaikh was that he failed to control inflation.
The latest inflation reading suggests that prices have gone out of the control of the government, which has not yet fulfilled its promise to reduce ghee prices by Rs45 to Rs290 per kg by slashing duties and taxes.
Finance Adviser Tarin and Planning Minister Asad Umar had announced that taxes and duties would be reduced to cut the boiling cooking oil and ghee prices. Instead, the ghee prices have shot up to Rs390 to Rs400 per kg.
The CPI-based inflation accelerated to 12% in urban areas – the highest level since January 2020. The inflation rate swelled to 10.9% in villages and towns – the highest reading since March 2020, according to the PBS.
It was mainly because of increase in prices of non-food items owing to the government's decision to increase prices of electricity and petroleum products. However, the government on Tuesday kept the petroleum product prices unchanged for the next 15 days.
Non-food inflation surged to 12% in urban areas and 13% in rural areas in November, according to the national data collecting agency.
The pace of food inflation accelerated to 11.9% in cities and to 8.6% in villages and towns. Prices of non-perishable goods jumped significantly as people still awaited the government's decision to reduce prices of cooking oil, sugar and wheat flour.
The surge in prices came amid a sharp fall in the rupee's value over the past three months to around Rs176 to a dollar. On May 3, the rupee had traded at Rs153.36 to a dollar, which lost Rs23, or 15% of its value, in just six months.
The reduction in the rupee's value is pushing up the cost of every imported commodity including wheat, sugar, cooking oil, crude oil and raw material for industries.
Core inflation – calculated by excluding food and energy items –increased significantly to 7.6% in urban areas and 8.2% in rural areas last month, reported the national data collecting agency.
The core inflation-adjusted central bank's real interest rate is still positive by 0.6%.
The food group saw 10.5% increase in prices in November compared to the same month a year ago despite 3.6% reduction in prices of perishable goods. Prices of non-perishable food items soared 13.6%.
PBS stated that vegetable ghee prices increased over 58%, mustard oil 57%, cooking oil 54%, meat 20%, wheat flour 19%, milk 12%, vegetables and butter 11% and wheat 10%.
Inflation rate for the housing, water, electricity, gas and fuel group – having one-fourth weight in the basket – increased 15% last month – a double-digit increase due to the government's decision to increase prices of electricity by 48%.
Household requirement group prices increased 10.4% and transport group prices rose 24.4%, according to the PBS. Similarly, the dining cost at restaurants increased over 11%.
Shahid Kardar, former State Bank governor, said last week that inflation would be on average 11% in the current fiscal year and 14% during the remainder of the fiscal year after implementation of IMF's prior actions.
The IMF is asking to introduce a mini-budget, increase electricity prices and enhance petroleum levy by another Rs20 per litre.
Average inflation during first five months (July-November) remained at 9.3% - far higher than the government's target and projection made by the State Bank of Pakistan.
Published in The Express Tribune, December 1st, 2021.
Like Business on Facebook, follow @TribuneBiz on Twitter to stay informed and join in the conversation.
COMMENTS
Comments are moderated and generally will be posted if they are on-topic and not abusive.
For more information, please see our Comments FAQ