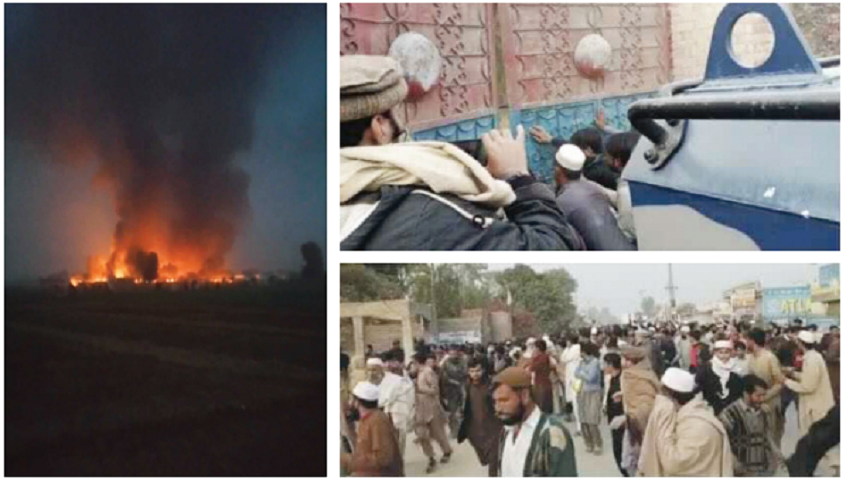 ---
CHARSADDA:
Police on Monday arrested at least a dozen protesters who had gathered outside Mandani police station in Khyber-Pakhtunkhwa's Charsadda district demanding authorities to hand over a blasphemy suspect arrested over the weekend.
On Monday morning, scores of angry people re-entered Mandani police station and began demolishing the police station building after it was set on fire and severely damaged already.
Police used batons and tear gas along with aerial firing to disperse the protesters.
The angry mob of locals blocked the Charsadda Road for all kinds of traffic. Due to the prevailing tense situation, all public and private institutions in the area remained closed on Monday because of security concerns.
Furious protestors continued demanding that authorities hand them over the blasphemy suspect but police remained firm that the accused person will strictly be dealt with according to law.
Speaking to The Express Tribune, District Police Officer Asif Bahadur said mischievous elements disguised as protestors damaged government property.
He appealed to the public to cooperate in identifying the elements that ransacked and set the police station on fire.
"The public will be given details of the incident and be informed about the real situation after a thorough investigation has been carried out," DPO Bahadur added.
Meanwhile, DIG Mardan Yaseen Farooq visited Mandani and held talks with MPA Khalid Khan.
He appealed to them for cooperation in ensuring the rule of law.
Former JUI-F MNA Maulana Syed Gohar Shah appealed to the public to stop challenging the writ of state.
Religious leaders urged public to provide evidence in court regarding the arrested accused person if they wanted justice to be meted out to him.
Sources familiar with the matter said the blasphemy suspect was shifted to a safer location. "The suspect who has been arrested will be proceeded against in accordance with the law," he said.
Published in The Express Tribune, November 30th, 2021.
COMMENTS
Comments are moderated and generally will be posted if they are on-topic and not abusive.
For more information, please see our Comments FAQ