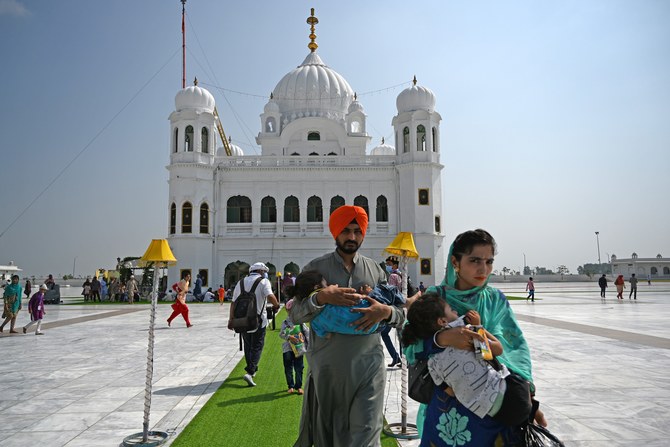 ---
LAHORE:
After what seems like an eternity of denying the Sikhs at home and the Muslims in Pakistan the right to perform their religious obligations at their respective holy sites, the supposed virus related travel restrictions have been relaxed by the Indian government.
Even when Covid-19 was wreaking havoc in both countries, the Pakistani administration remained open to the idea of allowing Sikhs to visit Kartarpur, the final resting place of Baba Guru Nanak, but the Indian government deprived them of performing their religious rites for over two years.
Taranjeet Singh, a pilgrim from India, while talking to The Express Tribune, acknowledged the Pakistani government's efforts in keeping the Kartarpur corridor open. "Pakistan has never closed its doors for my community. I am aware that relations between India and Pakistan are not good but Pakistan is our second home," he remarked.
Now, although the tensions between the two nations remain at a high, the Narendra Modi led government has decided to follow in Pakistan's footsteps and show leniency by opening up its side of the visa free corridor and allowing religious tourists from across the border by granting them visas.
Last week, nearly 3,000 Indian Sikh pilgrims returned home after celebrating Baba Guru Nanak's birthday while at the same time a 60-member delegation of Pakistani pilgrims who attended the Urs of Hazrat Nizamuddin Auliya at his shrine in New Delhi returned to Pakistan.
Read Pakistan issues 3,000 visas to India's Sikh pilgrims for Guru Nanak anniversary
Sardar Rajinder Singh, who was amongst the pilgrims at Kartarpur, was overjoyed when he was allowed to visit Pakistan. "The opening of the corridor at the birth anniversary of Baba Guru Nanak is a big step for both countries," Rajinder said. Despite his jubilation, he had a request to make: "I appeal to the Indian government to issue more visas to Pakistani visitors so they too can visit the shrines of Sufi saints in India."
Muhammad Abbas, one of the few lucky pilgrims who has just returned from India, informed The Express Tribune that he did not expect the Indian government to issue him a visa to attend the Urs of Hazrat Nizamuddin Auliya.
"My previous visa applications were rejected; therefore, I could not attend the anniversaries of Hazrat Mu'in al-Din Chishti at Ajmer Sharif and Hazrat Alauddin Sabir at Kalliyar Sharif," he said.
However, the past did not damper his mood as according to him the love and affection he got from residents of Delhi was overwhelming. "People on both sides of the border want to meet each other but the Kashmir dispute has turned things sour," a visibly sad Abbas remarked.
Syed Majid Hussain, another pilgrim, concurred with Abbas's views, stating that the treatment they had got in India was wonderful and his heart yearned to go back. "However, it is incredibly hard to get an Indian visa," he lamented.
Former Pakistani ambassador Jalil Abbas Jilani while talking to The Express Tribune said that the visas issued by India to Pakistani visitors were the result of moral pressure because Pakistan had opened the Kartarpur Corridor a while back.
"The issuance of religious tourist visas, however, will do little to de-escalate the tensions between the two rivals," he predicted. Jilani said that the only route to improve ties between the two countries was a reversal of India's decision, taken in 2019, to end Occupied Jammu and Kashmir's special status.
Read Religious idol damaged in accident, not attack: Sanghar Police
However, Dr Devika Mittal, who heads a non-governmental organisation that advocates for improving Pak-India relations, welcomed the move of allowing religious tourism stating that mutual public relations provided an opportunity to think and understand how to solve our problems.
"Due to border closures and tensions between the two countries, many families have suffered. So, Pakistan and India promoting religious and cultural tourism is a step in the right direction," she told The Express Tribune.
COMMENTS
Comments are moderated and generally will be posted if they are on-topic and not abusive.
For more information, please see our Comments FAQ