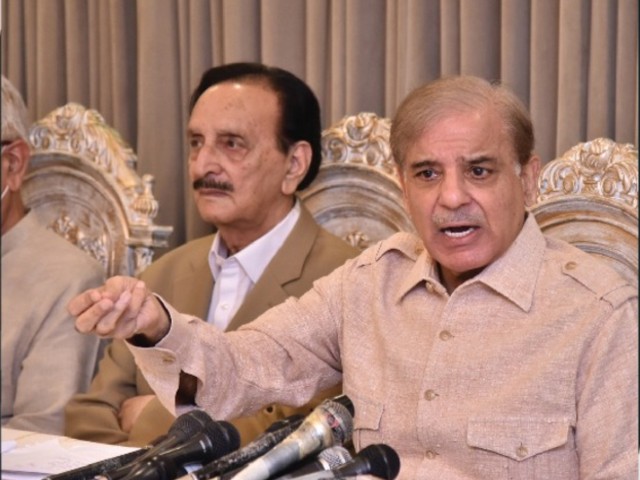 ---
LAHORE:
Pakistan Muslim League-Nawaz (PML-N) President and National Assembly Opposition Leader Shehbaz has urged the Election Commission of Pakistan (ECP) to initiate legal action against the officers involved in the Daska by-election fraud.
In a letter written to Chief Election Commissioner (CEC) Sikandar Sultan Raja, the opposition leader demanded immediate action over the report regarding blatant rigging in the Daska by-poll.
Referring to the damning fact-finding inquiry reports released by the electoral watchdog earlier this month, Shehbaz stressed that both reports contained "compelling, indisputable facts", adding that they "constitute a damning indictment of the Punjab government for pre-meditated and systematic rigging of the by-election in NA 75 on 19th February 2021".
"Investigate and take action against those responsible at the federal and provincial levels," he said.
He pointed out that overwhelming evidence of the rigging was available immediately after the by-election, claiming it was one of the most controversial by-polls in the country's history.
"Violations such as the sudden disappearance of 20 presiding officers, aerial firing to terrorise voters, killing of two persons, deliberate slowing down of polling, law and order situation, are all proofs that corroborate the concerns that rigging had indeed taken place," he noted in the letter.
Also read: More startling revelations in second Daska by-poll report
He recalled that the contentious by-poll had been declared null and void by the commission on 25 February, 2021, and a fresh re-poll was ordered. The decision was upheld by the Supreme Court of Pakistan on 2 April, 2021, he added.
"Both reports, in effect, confirm the widespread view that the illegal events on the polling day were pre-planned and executed in connivance and with the active collaboration of the district authorities at the behest of the Punjab government."
The Election Commission of Pakistan had earlier this month formally released two inquiry reports about the mysterious disappearance of 20 presiding officers during the February by-election in Daska, stating that the senior officials of the police and the district administration were "already in the knowledge of what was going on and they allowed to let the things happen as per planning."
According to the report, the election officials and other government functionaries "did not play their designated role in a requisite manner [and] they were found puppets in the hands of their unlawful masters".
The fact-finding team gathered details from official records obtained from Pakistan Telecommunication Authority, Islamabad; Intelligence Bureau, Islamabad; District Police, Sialkot; Elite Police Force; written statements and supplementary question and answer sessions of the presiding officers (POs), senior assistant presiding officers, naib qasids, drivers, and police personnel, etc, the report said.
COMMENTS
Comments are moderated and generally will be posted if they are on-topic and not abusive.
For more information, please see our Comments FAQ