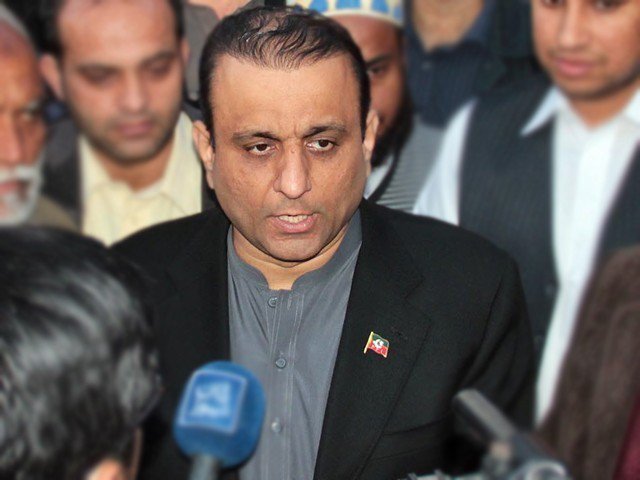 ---
Prime Minister Imran Khan on Friday accepted Pakistan Tehreek-e-Insaaf's (PTI) senior leader Abdul Aleem Khan's resignation from his post of minister of food in the Punjab government.
Aleem took to his official Twitter handle to make the announcement regarding his resignation.
During a meeting with the premier, the former minister persuaded PM Imran to accept his resignation so that he could "maintain neutrality" while running his news channel.
وزیراعظم عمران خان سے آج ھونے والی ملاقات میں اُنہیں قائل کیا ھے اپنے نیوز چینل سماء نیوز کے حوالے سے غیر جانبداری قائم رکھنے کے لئے ضروری ھے میرے پاس کوئی حکومتی عہدہ نہ ھو لہذا وہ بطور سینئر وزیر/وزیر خوراک حکومت پنجاب اب میرا استعفی قبول فرما لیں۔ 1/2

— Abdul Aleem Khan (@aleemkhan_pti) November 26, 2021
Read PTI leaders express solidarity with PM following 'Tareen group' formation
"In order to maintain neutrality, it is important for me to not hold any government post," Aleem wrote, adding that he hoped that the Punjab government also accepts his resignation.
میں اُن کا ممنون ھوں اُنہوں نے میری یہ گزارش تسلیم فرما لی ھے۔ میں اپنا استعفی وزیراعلی پنجاب کو بھجوا رہا ھوں 2/2

— Abdul Aleem Khan (@aleemkhan_pti) November 26, 2021
He further stated that he was "grateful" that the premier accepted his request, and that he will now send his resignation to the chief minister of Punjab.
The PTI leader was assigned the portfolio of food ministry and designated as Senior Minister of Punjab in April last year.
A notification stated that Chief Minister Sardar Usman Buzdar had given the food ministry to the re-inducted cabinet member who had taken oath at the Governor House.
Punjab Governor Chaudhry Muhammad Sarwar had administered the oath to the former local government minister who had stepped down from his post after facing detention by the National Accountability Bureau (NAB) for an investigation into allegations of corruption.
COMMENTS
Comments are moderated and generally will be posted if they are on-topic and not abusive.
For more information, please see our Comments FAQ