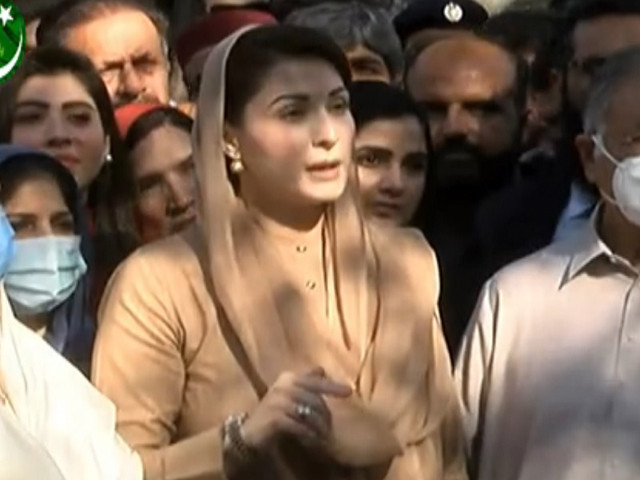 ---
ISLAMABAD:
Pakistan Muslim League-Nawaz (PML-N) Vice President Maryam Nawaz on Wednesday confirmed the authenticity of a viral audio clip in which she could be heard issuing instructions to someone to stop advertisements to certain TV channels.
During a press conference earlier in the day, as Maryam took to address the issue of audio clip former chief justice, a reporter asked her if the audio clip doing rounds that contained her voice was authentic.
Ironically, the confirmation about her own audio clip was made in the same breath as her incrimination about the alleged audio clip of former chief justice of Pakistan Mian Saqib Nisar, which the PML-N leader has keenly picked as a new battle line against the ruling Pakistan Tehreek-i-Insaf.
"I am not saying it has been compiled from different [separate] occasions. It is my voice," Maryam admitted as she maintained that it was an "old" clip from the time she was managing the PML-N's media cell.
However, she refused to shed further light on the matter, downplaying it on the account that it was not the subject of her presser today and added the issue of her audio clip merited another press conference.
"I was running the party's media cell at that time and it is an old audio clip," she added.
In the audio that went viral on social media, Maryam can be heard instructing someone that no advertisement will go to certain channels that she named.
Read Ex-CJ should tell nation who 'pressured' him: Maryam
Maryam was talking about party advertisements
However, the issue spiralled into yet another political controversy and gave new intensity to political tussles, serving as a tool for the ruling party to hit back at the rival party for its usage of the CJP's alleged audio clip as a rallying cry against the legitimacy of Prime Minister Imran Khan's government.
Giving clarifications for the audio clip, PML-N spokesperson Marriyum Aurangzeb stressed that the PML-N vice president was only talking about party advertisements in the audio clip.
"Decisions related to party advertisements are taken by the party," she said, urging media not to create an issue out of this.
Aurangzeb said that Maryam bravely admitted the truth regarding the audio clip, as "there is nothing to hide in this".
"When a person has done nothing wrong, they openly admit it," she said, adding that people should instead talk about the audio clip that has "triggered inflation, unemployment, etc".
COMMENTS (1)
Comments are moderated and generally will be posted if they are on-topic and not abusive.
For more information, please see our Comments FAQ