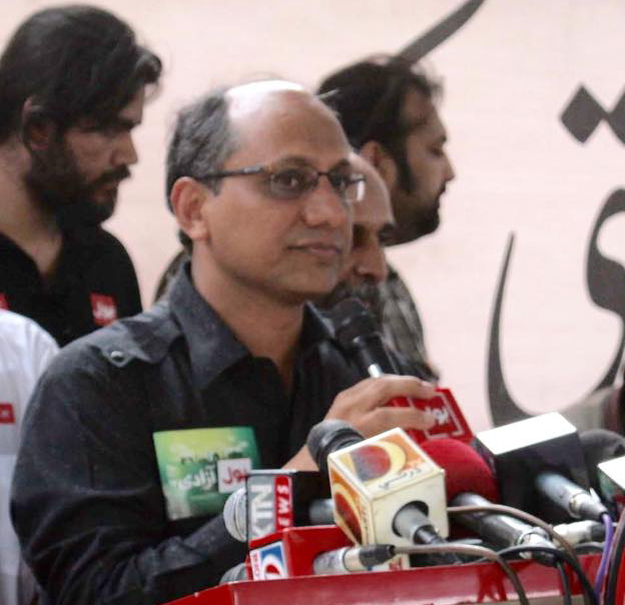 ---
KARACHI:
The Sindh Information Minister Saeed Ghani on Wednesday said he would rather resign than follow anti-people order of the Supreme Court.
Replying to a question of the media persons he said the government was bound to act upon the directives of the honourable judiciary. "But, personally, I will prefer to leave my post and join my people if in case I was asked to act upon any such judgment whose implementation will result in rendering people homeless."
Talking to media persons here at the Sindh Assembly building, the said the proposal of the federal government to transfer seven senior officials of the Police Service of Pakistan (PSP) was not acceptable to the provincial government as the maintenance of the law and order situation was fully its responsibility.
Ghani reminded that Sindh CM Murad Ali Shah has asked the Establishment Division in Islamabad not to bother the senior police officers posted in the province on account of the row between the federal and provincial governments.
He told media persons that Sindh had 26 posts of grade-20 police officers as against them 22 PSP officers have been working in the province.
The Information minister said that the Centre had transferred eight officers as the province would accept four of them while four would be repatriated to Islamabad keeping in view the vacant positions in the province.
Sindh still faced a shortage of 44 officers of Pakistan Administrative Service (PAS) despite that the federal government had sent four more PAS officials.
Ghani said it was highly deplorable that the federal government was not ready to talk to Sindh CM despite the fact that he was the chief executive of one of the provinces of Pakistan.
Answering a query, the Sindh Information Minister said that MQM had been involved in the land grabbing in the past to illegally occupy amenity land in the province.
Published in The Express Tribune, November 25th, 2021.
COMMENTS
Comments are moderated and generally will be posted if they are on-topic and not abusive.
For more information, please see our Comments FAQ