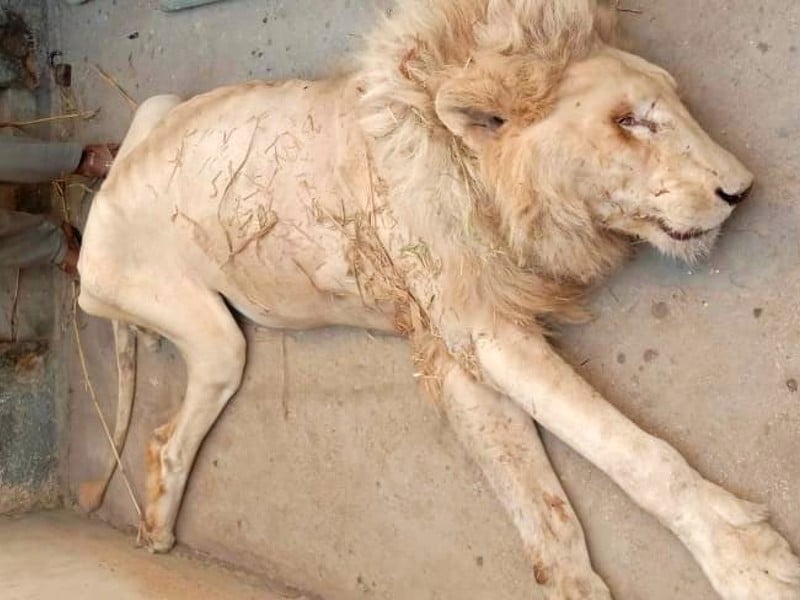 ---
KARACHI:
A rare white lion died after its lungs stopped functioning due to tuberculosis in the Zoological Garden on Wednesday morning.
The lion was suffering from multiple diseases, including tuberculosis, Zoo official disclosed.
"The lion was ill for the last 13 days," said Karachi Metropolitan Corporation's spokesperson Ali Hassan Sajid. He said that the animal was suffering from Pulmonary TB which was being treated by veterinarians but the lion could not recover and died.
The age of the animal was said as between 14 to 15 years. It was brought to the Zoo in 2012 from Africa
A team of veterinarians performed autopsy of the lion and found that animal had pneumonia as a result of which its lungs had stopped working.
Though the officials of the zoo tried to justify that the life expectancy of lion is about up to 15 to 16 years but some wildlife experts did not agree to it. "The life of a wild lion in captivity could be double means almost 30 years," a senior wildlife expert told The Express Tribune.
Speaking to The Express Tribune, Sajid said that the administration was aware of the illness of the animal. "The lion was being given proper treatment," he said.
He also denied that the lion died because of the hunger. "We have always enough food stock for zoo animals," he claimed, saying the administration stores food for big cats for seven days.
"The video that went viral was three years old," Sajid claimed. He said that the lion was separated from other animals on doctors' recommendations.
It was also learnt that the sick white lion was being treated in the zoo. "Where could we shift sick animals," Sajid questioned. "We do not have hospitals that treat such kind of sick animals," he explained.
"The disease discloses that the lion was placed in unhygienic conditions," a senior wildlife conservator commented. "It got infected because of a bad environment he was kept in," he added.
Taking notice of the death of the lion, city's Administrator Barrister Murtaza Wahab said that he was saddened to learn of the death of a rare breed of white lion at Karachi Zoo as such species are rare in the world.
"Strict disciplinary action will be taken against the zoo management if any negligence is found behind the death of the lion, he said.
In 2012, a new glass enclosure was built on the occasion of the arrival so that the citizens visiting Karachi Zoo can fully see the lion.
Published in The Express Tribune, November 25th, 2021.
COMMENTS
Comments are moderated and generally will be posted if they are on-topic and not abusive.
For more information, please see our Comments FAQ