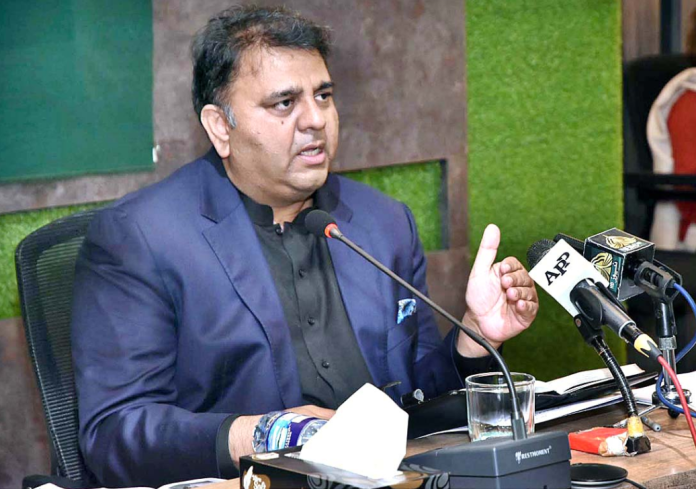 ---
ISLAMABAD:
Federal Minister for Information and Broadcasting Fawad Chaudhry on Sunday chose not to attend the Asma Jahangir Conference in protest against PML-N supremo Nawaz Sharif's address, saying that allowing an absconder to speak along with Chief Justice Gulzar Ahmed and other judges is akin to contempt of judges and judiciary.
Fawad took to microblogging website to announce recusing from the Asma Jahangir Conference being held in Lahore, which a day before had been addressed by CJ Gulzar and several key judges, saying concluding the conference with the speech of an absconder was contempt of judges and the judiciary.
Sharif's speech was not without its drama. Sharif was scheduled to address the conference via video streaming application. However, during his speech, the internet services blacked out. Resultantly, after much struggling, Sharif managed to address via telephone. This act was widely condemned by the organisers and participants alike.
Advised SCBA that they should remain neutral only than Lawyers can contribute! Conference addressed by CJP and senior Judges is concluding with speech by an absconder it's nothing but a contempt of Judges and Judiciary ……

— Ch Fawad Hussain (@fawadchaudhry) November 21, 2021
"[A] conference addressed by [the] chief justice and senior judges is concluding with the speech by an absconder. It is nothing but contempt of judges and judiciary," the federal information minister tweeted, advising the Supreme Court Bar Association (SCBA) to remain "neutral".
آج عاصمہ جہانگیر کانفرنس میں مجھے مدعو کیا گیا تھا مجھے بتایا گیا ہے کہ کانفرنس کا اختتام ایک مفرور ملزم کی تقریر سے ہو گا، ظاہر ہے یہ ملک اور آئین کا مذاق آڑانے کے مترادف ہے میں نے کانفرنس میں شرکت سے معذرت کر لی ہے

— Ch Fawad Hussain (@fawadchaudhry) November 21, 2021
The minister said that he was invited to the conference but abstained from attending it when he was told that it would conclude with "the speech of a man wanted by the courts". "Obviously, this is tantamount to making a mockery of the country and Constitution," Fawad said.
Read Moeed disagrees with Fawad over TLP remark
Sharif via phone from London, said that the only way to stop Pakistan from further advancing towards abyss was to form a national narrative based upon upholding the sanctity of Constitution.
"Today, Pakistan is passing through its defining times. Despair and disappointment in our nation is growing deeper. History is a witness to the fact that whenever nations get stuck in quagmire of despair and disappointment, its survival is at stake. We need to do what time tells us that if we do not address our ways, our future could be very bleak," the PML-N supremo said.
"The ugly games of playing with the survival of this country should be stopped," Sharif said, adding that this nation had already fallen victim to many accidents in the past.
He said nations that defined their goals were able to surmount any hurdle that came their way.
"One national narrative should be chalked out that should be based on supremacy of the law and Constitution," he said, urging the lawyer fraternity, media and civil society to play their vibrant role for the future of the 220 million people.
In light of the suggestions that have come forward in the two-day conference, he said, an action plan should be put together that can lead to a practical movement.
"We do not have time to spare.
"This regressive and oppressive regime has created a stifling environment. Those who dare to ask questions, have their tongues pulled out … but does that resolve any problem."
He said cutting wires to stop my speech was also akin to pulling someone's tongue out.
Read More: PM Imran's 'day of reckoning' has come: Nawaz
He said the country was passing through its darkest epoch in history in terms of human rights and freedom of speech. "Those who write and speak the truth get punished, imprisoned, shot, their programmes off aired and even fired from jobs. Black laws have been prepared to stop the truth from coming out."
He said that from Constitution to courts, nothing was off limits. "Even favourable decisions are obtained from courts."
He said, "Dictators are given legitimacy. A state above the state is created, political engineering factories are set up, dharnas are organised against governments, governments are made and brought down at whims. A parliament is sovereign but dozens of laws are bulldozed through it. These are the reasons of our downfall, and this is why the world holds us accountable and raises questions on our character.
"Today, if a judge speaks the truth, he would lose his job. Judges are blackmailed and pressured into giving favourable decisions. Judges are told on phone to give decisions against political opponents."
He said shouldn't the judges think about where Pakistan is on the international index of justice. "It were the judges who allowed dictators to amend the Constitution to legitimise their rule. Have they ever restored a parliament, dissolved by a dictator?
"Is it written in our destiny that we should go round in circles? Should we allow to be herded like sheep?" he said, adding that the Constitution should reign supreme.
"Only those who respect the Constitution should be sacred. Anyone breaching its sanctity should be treated like a traitor," he said. "When we said to bring our house in order, Dawn leaks was staged against us. Cases were made against us. We were punished. But now, the time has come to stand for the rule of law."
Sharif paid rich tribute to the services of Asma Jahangir for fighting for the poor and standing by the supremacy of law and constitutional rights.
He said that the movement for supremacy of law that she started was still alive. "She was ever-ready to help the needy and oppressed."
He said she used to stand against tyranny and oppression with all her might. "Her absence is being badly felt.
Read More: CJ dismisses notion of judiciary being 'under pressure'
The organisers of the Asma Jahangir Conference regretted the state's highhandedness after it blocked the three-time elected former PM's speech at the closing ceremony.
As per a statement, the internet provider was restrained from providing the organisers internet services for the conference two hours before the closing and start of Sharif's speech.
This included cutting off of cellular internet services two hours before the closing session.
The organisers of the conference which include the Supreme Court Bar Association, Pakistan Bar Council, and the AGHS, strongly condemned the act and considered it an onslaught on the freedom of expression. "These steps can never deter our resolve to give voice to the marginalised communities," the statement added.
After the video call was cut off, the organisers arranged for a telephonic address, during which Sharif condemned the present government for censoring freedom of speech and expression.
COMMENTS
Comments are moderated and generally will be posted if they are on-topic and not abusive.
For more information, please see our Comments FAQ