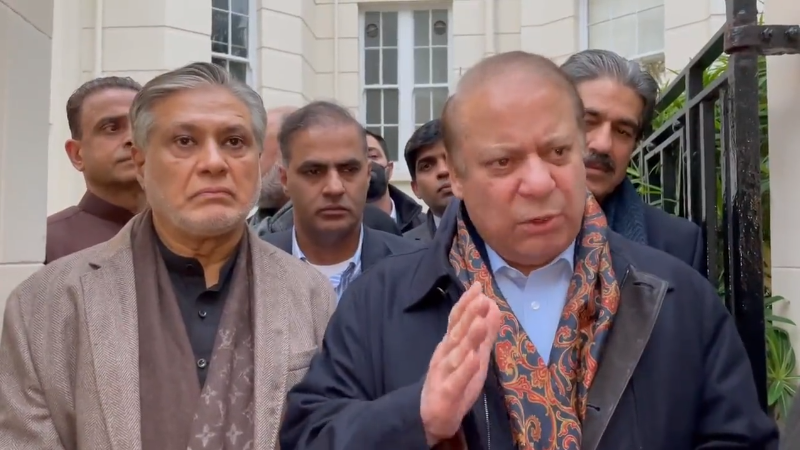 ---
Former prime minister and Pakistan Muslim League-Nawaz (PML-N) supremo Nawaz Sharif hit back at Premier Imran Khan for accusing opposition leaders of corruption and siphoning off national wealth.
In a short video statement on Friday shared by his daughter Maryam Nawaz on his official Twitter handle, Nawaz said: "He [PM Imran] accuses others of corruption but in reality, he himself is surrounded by corrupt people."
"In my view, the incumbent prime minister [Imran Khan] is the most corrupt person whose household expenses are even borne by others," he added.
Nawaz, who has been in London since 2019, said that PM Imran's "day of reckoning" has come and added that his party will hold him accountable.
The PML-N stalwart urged the people to participate in rallies being held by the multi-party opposition alliance – Pakistan Democratic Movement (PDM) – across the country to protest against the rising inflation and food prices.
Also read: 'Judge PTI's performance after five years': PM defends petrol price hike
Nawaz said that the people in the country are unable to make their ends meet while asking them to take to the streets "to save their future".
Responding to the statement of the party's chief, Maryam said: "Clarion call at a time when the entire country is racked by unprecedented price hike. I am ready MNS! [Mian Nawaz Sharif]"
Meanwhile, a senior PML-N leader said on the condition of anonymity told The Express Tribune that PML-N has not yet finalised its proposal pertaining to the next "plan of action" that will be placed before the PDM leadership in the upcoming meeting.
He added that the PML-N was also not yet clear if they will agree to the proposal of other parties in the alliance regarding road caravans and a possible long march.
Talking to The Express Tribune, the PML-N leader said the main role of the opposition parties is not to dislodge the government and ascend to the throne. "There is a bigger responsibility of keeping the government on the right track."
COMMENTS
Comments are moderated and generally will be posted if they are on-topic and not abusive.
For more information, please see our Comments FAQ