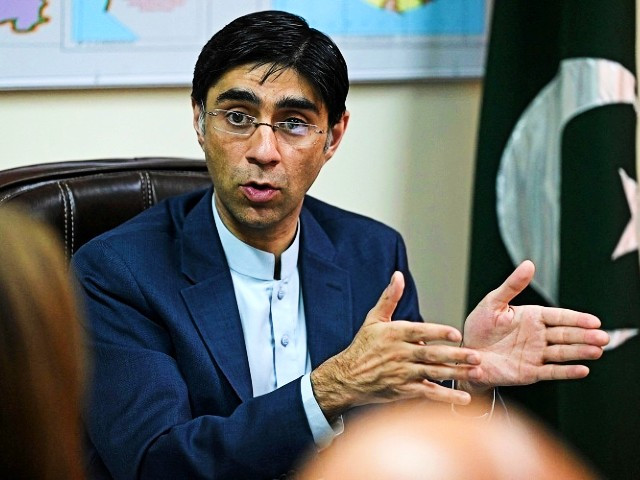 ---
ISLAMABAD:
National Security Adviser (NSA) Moeed Yusuf said that no decision had been taken yet to grant amnesty to members of the Tehreek-e-Taliban Pakistan (TTP), emphasising that the state was "very clear and sensitive" on the issue.
He was talking to a news anchor on a televised interview on Wednesday.
At the outset, Yusuf talked about the government's decision to hold talks with the TTP, saying the militant group had been receiving support from India and Afghan intelligence for the last 10-15 years.
Pakistan had repeatedly told the international community that the Pakistani Taliban had fled to Afghanistan following the Zarb-i-Azb military operation, received sanctuary and were launching attacks from the neighbouring country, the NSA said.
"The Afghan Taliban are not as antagonistic towards Pakistan as former president Ashraf Ghani," he said. Now the discussion started that the TTP does not have the support base that they (Ghani's government) and India provided.
Read Pakistan needs to share narrative with world: Moeed
He said the government was aware that agreements with the TTP in the past had not held, adding that at the present stage, talks were being held and the government would see if the TTP was serious.
When the host asked him whether TTP would be offered an amnesty, the NSA responded by saying that no such decision had been taken yet. "I don't know where this talk started from — that a decision has been made. There is no such decision [of a general amnesty]."
Talking about the need to hold talks with the TTP, Yusuf said world history, data and statistics showed that an overwhelming majority of conflicts ended with dialogue. "If you take the position to look at their past, then talks cannot be held. You have to fight till the end," he added.
Yusuf also defended the controversial agreement between the government and the Tehreek-e-Labbaik Pakistan (TLP), saying avoiding bloodshed was the foremost priority of the government.
On the subject of Afghanistan's new rulers, Yusuf said Pakistan did not hold much control over the Afghan Taliban, adding that Afghanistan was an independent country and its government had its own way of running affairs.
The NSA warned the international community that a humanitarian crisis in Afghanistan would not hurt just the Taliban but also the common man, whom the United States and the West wanted to save and rescue. "The world must come to help Afghans beyond the rhetoric of the international community recognizing Afghanistan," he remarked.
COMMENTS
Comments are moderated and generally will be posted if they are on-topic and not abusive.
For more information, please see our Comments FAQ