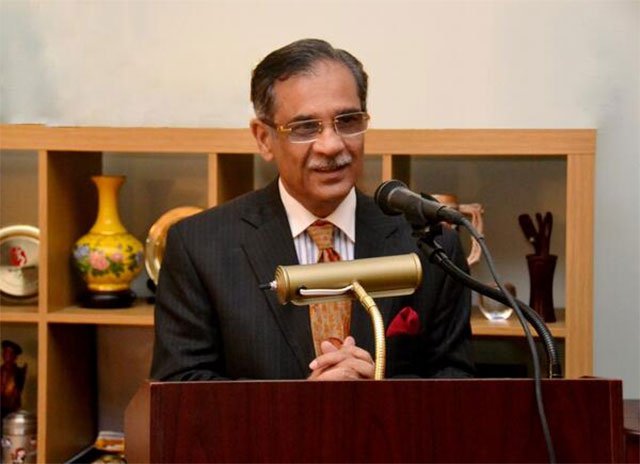 ---
ISLAMABAD:
Former Chief Justice of Pakistan Saqib Nisar has said that entire fund collected for the construction of water reservoirs in the country and the Water and Power Development Authority (Wapda) was in the custody of "safe hands".
Speaking to journalists after delivering a keynote address at a private event, the former CJP said people need not worry about the money they donated to the project, adding the amount has been deposited in a State Bank of Pakistan account.
He claimed the money was also generating profit. "People should be assured. I and my team are keeping guard on the dam project."
Justice Nisar assured that the work on Mohmand Dam was progressing at a rapid speed but added that the process to materialise the final construction of the dam required some time. He said WAPDA's chairman furnishes a monthly report regarding the progress in this regard.
Read More: Punjab govt submits report on Dadhocha Dam to SC
Commenting on inflation, he said the surge in prices was a global phenomenon. However, he added, the government should take steps to control it.
The fund was originally set up in July 2018, to collect funds for the Diamer-Bhasha and Mohmand dams, and the website of the Supreme Court specifically solicited donations for the construction of these reservoirs.
Later, Prime Minister Imran Khan also threw weight behind Justice Nisar's call for donations and urged overseas Pakistanis to contribute to the effort to raise funds via voluntary donations.
The infrastructure building enterprise was slated to cost upwards of Rs1.4tr for the Diamer-Bhasha dam.
COMMENTS
Comments are moderated and generally will be posted if they are on-topic and not abusive.
For more information, please see our Comments FAQ