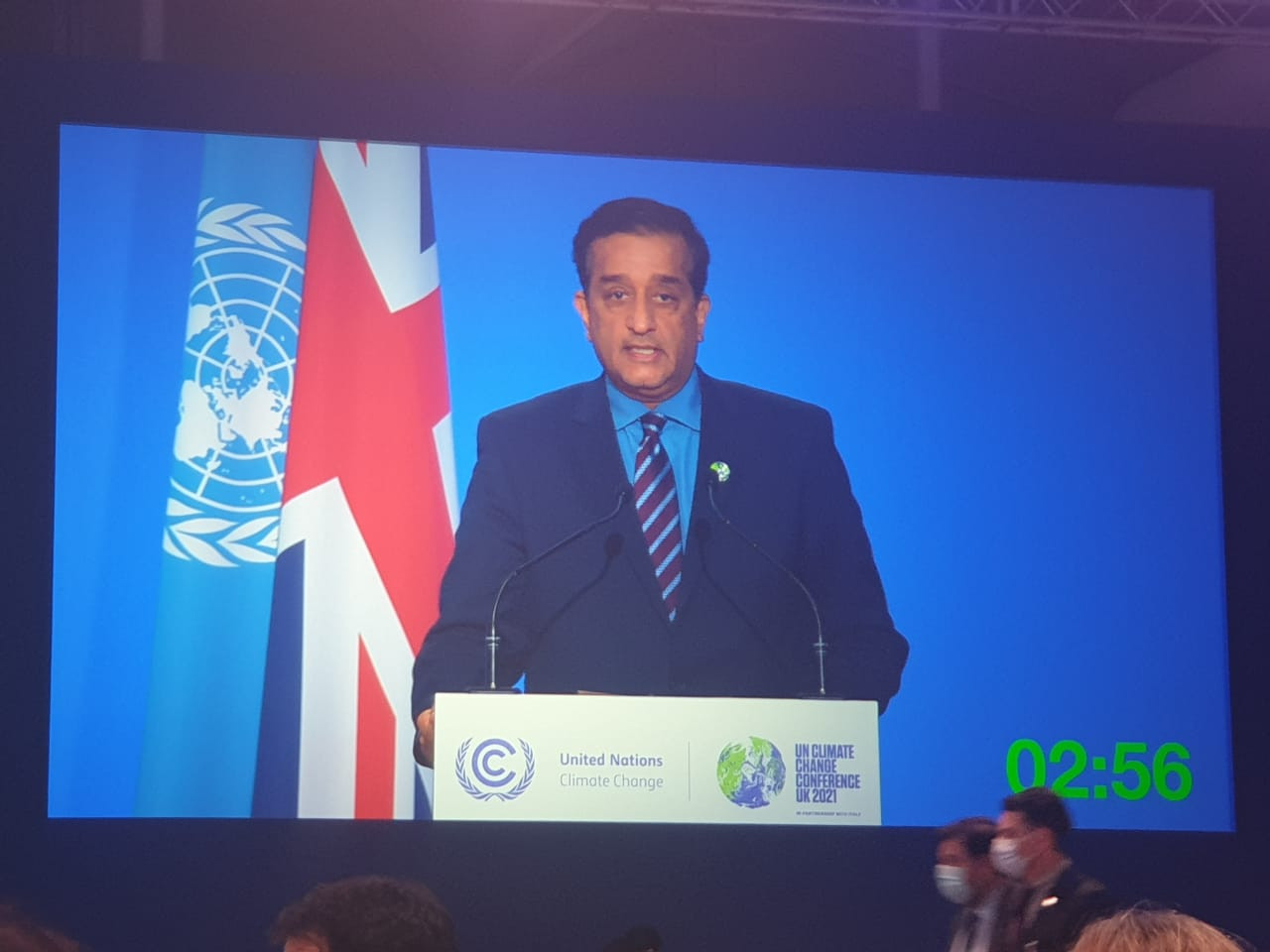 ---
GLASGOW:
It is high time that countries stopped "playing jokes with climate change" and trivialising the matter by taking token actions, Special Assistant to the Prime Minister on Climate Change Malik Amin Aslam said in his hard-hitting speech at the COP26 climate summit in Glasgow.
In an apparent reference to India, the PM's aide, who is leading the Pakistani delegation to COP26, asserted that the crisis of climate change cannot be remedied by merely "throwing pennies into the Trevi Fountain nor by announcing net-zero scams pushing into 2070".
India, the world's third-biggest emitter, is aiming for net-zero emissions by 2070.
Earlier on Tuesday, the Climate Action Tracker (CAT), the world's most respected climate analysis coalition warned that temperature rises will top 2.4C by the end of this century, based on the short-term goals countries have set out.
That would far exceed the 2C upper limit the Paris accord said the world needed to stay "well below", and the much safer 1.5C limit aimed for at the Cop26 talks.
'Pakistan walking the talk'
Pakistan's statements, for its part, highlighted the country's efforts towards a decarbonized world. "The Covid-19 crisis has shown us that a better world is out there and possible. This is the world that the youth, out on the streets, is crying out for. This is the future that all of us in here need to be fighting for… It is a decarbonized and a natural positive world".
Mr Aslam noted that under PM Imran Khan's green leadership, "our climate vision is built on these two pillars - shifting 60% of our energy mix towards clean energy by 2030 and 30% of our transport on EV by 2030 and of putting our trust and investment in "Nature-Based Solutions".
Read Pakistan signs US led Global Methane Pledge at COP26
We have announced to completely shift out of imported coal projects and are turning the CPEC into a China Pakistan Green Economic Corridor. Three financially closed coal projects of 2500 MW have been shelved in the last year and shifted to zero-carbon hydropower of 3700 MW".
He said that Pakistan's "Ten Billion Tree Tsunami" has now become a global brand for successful ecosystem restoration through natural regeneration and forest plantations - all sequestering carbon for the world. He added that the Protected Areas Initiative in Pakistan, with 15 new national parks announced during the COVID time, is rapidly expanding and protecting the wilderness areas in the country.
He also stated that the "Recharge Pakistan" initiative is turning "the crisis of floods into an opportunity by using it to restore our wetlands and recharge our groundwater aquifers". All these initiatives are now part of Pakistan's updated Nationally Determined Contribution (NDC) document recently submitted to the UNFCCC.
He explained that Pakistan has dropped its emissions 9% below business in 2020 and has developed a pathway to reach 15% below business by 2030 utilizing its own resources.
He emphasised that if the world delivers Pakistan $100bn over the next decade, it will drop its emissions to 50% below business as usual.
He noted that with less than 1% of the global emissions, Pakistan is not a part of the problem of climate change. "However, we have chosen to be a part of the solution. Our NDC shows what is possible if a clear climate vision and strategic planning get positively aligned.
Also read Pakistan, UAE ink MoU for 'Green Cooperation'
The World Bank recently affirmed that 44% of our mainstream development finance is on a climate-friendly pathway and it is the highest for any country in the world".
'Pakistan braving natural disasters'
The minister highlighted that Pakistan was not merely making lofty claims but was taking substantial steps to tackle climate change and counter its fallouts. As one of the most impacted countries, Pakistan has found itself on the front lines. "Pakistan is braving disastrous floods, unliveable heatwaves and bursting glaciers."
He said that this was climate injustice and Pakistan's forced climate adaptation needs to remain at between $7 to $14 billion per annum and almost 70% of these fall in the loss and damage category. "This adaptation finance is forced upon us today and presents a simple choice - between life and death".
The minister ended his speech by calling upon other countries to do more, pointing out that, "Climate change is about action today and can no longer afford futuristic IOUs. This has to be the decisive decade for de-carbonization and nature positive development".
COMMENTS
Comments are moderated and generally will be posted if they are on-topic and not abusive.
For more information, please see our Comments FAQ