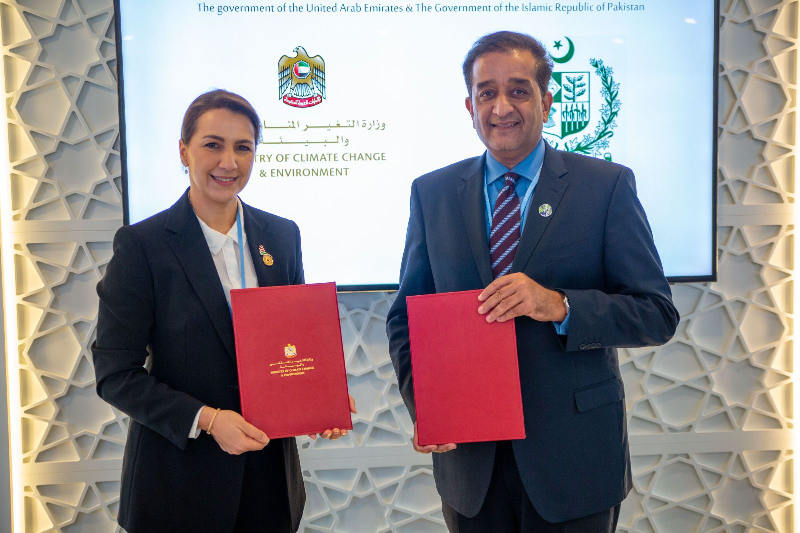 ---
GLASGOW:
Pakistan and the United Arab Emirates (UAE) on Monday signed a memorandum of understanding (MoU) to promote clean energy and nature-based solutions on the sidelines of COP26, which is being held in Glasgow.
Mariam bint Mohammed Almheiri, the UAE's Minister of Climate Change and Environment, and Malik Amin Aslam, Special Assistant to the Prime Minister of Pakistan on Climate Change, signed the agreement.
The MoU aimed at enhancing cooperation in the fields of climate change mitigation and adaptation and environmental protection in line with the national legislations of the two countries.
Irfan Tariq, the DG (Environment & Climate Change) at the Ministry of Climate Change who is attending COP26 as a member of the official Pakistani delegation, said, "the parameters are broad, it will include renewable energy, educational initiatives, climate smart agriculture and nature based solutions. After this COP we will finalise the details".
Pakistan is currently chairing the Asia Pacific group and as chair it has also facilitated the UAE's bid to host the 2023 COP.
Also read: UAE announces 'golden visas' for frontline workers, families
The Emirati official said the UAE and Pakistan enjoy long standing collaboration across multiple sectors, such as education, health, energy, infrastructure development, food security, and the environment.
"The new MoU will help us tackle climate change together through boosting mitigation and adaptation capabilities and conserving environmental resources and biodiversity," she added.
SPAM Amin Aslam said: "We are pleased to take our already strong bilateral ties with the UAE to new heights. Through the agreement, we hope to drive joint efforts in safeguarding terrestrial and marine environments and fight climate change through up-scaling mitigation and adaptation measures."
The two countries agreed to jointly launch new and expand existing ecosystem restoration initiatives in a way that promotes the objectives of the UN Decade on Ecosystem Restoration.
In addition, they will facilitate the adoption of climate-smart agricultural practices and renewable energy solutions, develop drought management plans, promote ecotourism and desert tourism, run training programs for environmental and climate specialists, and roll out marine ecosystem conservation and blue carbon initiatives.

The UAE and Pakistan will also initiate exchange of information on climate change between their educational institutions, support the implementation of innovative ideas and projects stemming from academia, and conduct joint environmental research.
COMMENTS
Comments are moderated and generally will be posted if they are on-topic and not abusive.
For more information, please see our Comments FAQ