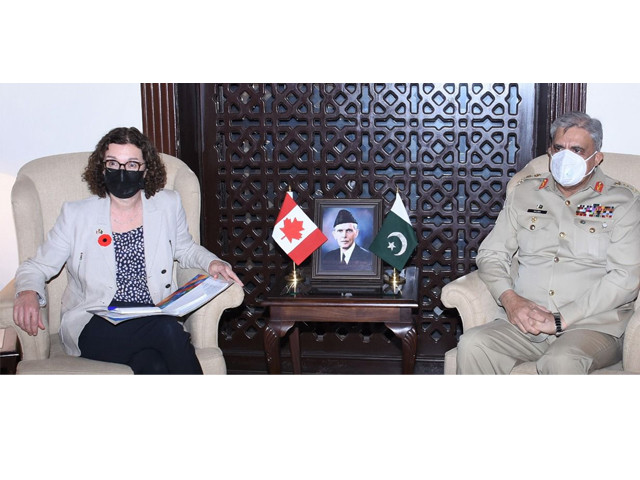 ---
Chief of Army Staff (COAS) General Qamar Javed Bajwa has reiterated the dire need for global convergence on Afghanistan to avoid a humanitarian crisis in the war-torn country, the military said.
The army chief expressed these remarks during a meeting with Deputy Foreign Minister of Canada Marta Morgan at the General Headquarters (GHQ) in Rawalpindi on Monday.
The Inter-Services Public Relations (ISPR) said in a statement that during the meeting matters of mutual interest, bilateral cooperation in various fields, overall regional situation and collaboration in humanitarian measures in Afghanistan were discussed.
Read more: Pakistan, Canada reaffirm commitment to boost ties
The COAS said that Pakistan desires to maintain the tradition of bilateral engagement and wish for long term and multi-domain enduring relationship with Canada. He reiterated the dire need for global convergence on Afghanistan to avoid a humanitarian crisis.
According to the ISPR, the visiting dignitary appreciated Pakistan's role in evacuation operation in Afghanistan, regional stability and pledged to play her role for further improvement in diplomatic cooperation with Pakistan at all levels.
Earlier, during the '4th Round of Bilateral Political Consultations' held between Pakistan and Canada in Karachi, both countries reaffirmed their commitment to remain engaged to further boost bilateral relations, which has been increased with the passage of time in different spheres of cooperation.
Foreign Secretary Sohail Mahmood led the Pakistan delegation while the Canadian side was led by Marta Morgan.
"The two sides affirmed their commitment to remain constructively and meaningfully engaged to further reinforce Pakistan-Canada bilateral relations," a statement shared by the Office of the spokesperson Ministry of Foreign Affairs read.
Also read: Canada refuses entry to its citizen with 'natural immunity' against Covid
A wide range of bilateral relations, as well as regional and multilateral issues of mutual interest, were discussed during the meeting.
"The Canadian deputy foreign minister noted that Pakistan is a longstanding friend and reaffirmed Canada's desire to build a multifaceted relationship with Pakistan with increased people-to-people exchanges," it read.
She appreciated Pakistan's assistance in the evacuation of Canadian nationals from Afghanistan and lauded Pakistan's role in efforts for bringing stability to Afghanistan.
COMMENTS
Comments are moderated and generally will be posted if they are on-topic and not abusive.
For more information, please see our Comments FAQ