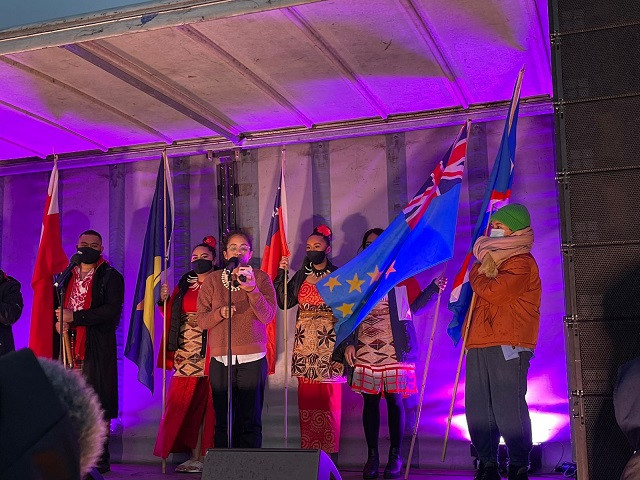 ---
GLASGOW:
Two large climate marches were held in Glasgow this weekend, halfway through COP26, and two Pakistan-born climate activists, veteran Asad Rehman and 22-year-old Ayisha Siddiqa, took centre stage during the speeches along with Greta Thunberg.
Rehman is a climate justice campaigner who is the spokesperson for the COP26 Coalition that organised the Global Day for Climate Justice on Saturday. Over 100,000 people braved the cold and the rain and marched through the streets of Glasgow in the afternoon.
Rehman welcomed the marchers, which included several COP delegates from the Global South, and a large contingent of indigenous groups from South America, Canada and the Pacific islands along with thousands of Scots, young and old, to the event at Glasgow Green Park after the march.
Despite the terrible weather, the atmosphere was electric and there was live music and chants such as "system change, not climate change" and "what do we want: climate justice! When do we want it: now!".
The rain clouds had parted by the time the crowds of marchers entered the green expanse of Glasgow Green, still singing, chanting and playing music.
The Palestinian flag was held up high as the climate movement claims to be essentially anti-fascist, anti-colonialist, anti-war and pro-human rights.
Rehman pointed out that a new, covered stage had hastily been prepared for the thousands who had braved the weather in Glasgow and said that at least half a million people were marching across the UK on Saturday, saying that the "era of injustice is over!"
He stated: "We are taking to the streets across the world this weekend to push governments from climate inaction to climate justice. We won't tolerate warm words and long-term targets anymore, we want action now."
Read At UN, Pakistan urges developed countries to deliver on climate action
Rehman said that this had been the "least accessible climate summit ever – with so many people sidelined at the talks or not able to make it in the first place. Today those people are having their voices heard".
Greta Thunberg chose not to speak on Saturday. Instead, youth activist Vanessa Nakate, her fellow Fridays For Future climate activist from Uganda, spoke about the dangers of climate change in Africa where people who did not cause climate change are suffering immensely from it.
Many indigenous leaders spoke as well about their suffering, especially those from the Amazon where they are brutally being murdered.
A day earlier at the Friday Climate Strike, Greta had termed COP26 a "global greenwash festival".
Before she spoke a number of activists from climate impacted countries like Uganda, Colombia, Brazil and Afghanistan spoke about how climate justice is social justice.
A young Pakistani activist, Ayisha Siddiqa, who co-founded Polluters Out, a group dedicated to removing fossil fuel industry presence from climate negotiations, also spoke on the stage as an invited speaker.
Ayisha, who now lives in the US, spoke about climate impacts on her family growing up in Pakistan where even the drinking water is heavily polluted in many places.
In Ayisha's view, the COP would not be where it is at without pressure from civil society. "The only group that is treating the climate crisis as an emergency is the youth," she said.
COMMENTS
Comments are moderated and generally will be posted if they are on-topic and not abusive.
For more information, please see our Comments FAQ