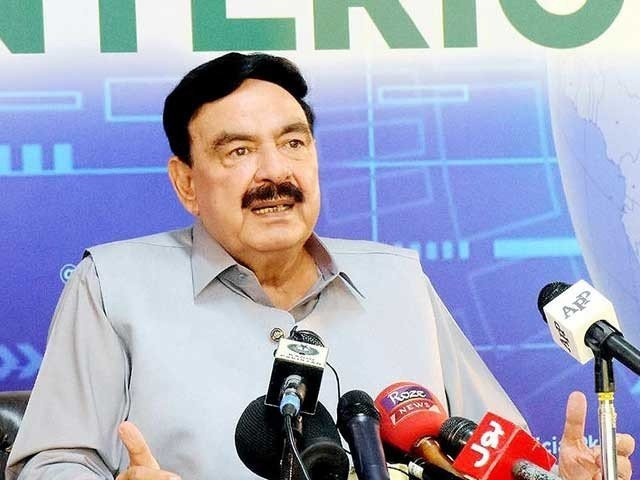 ---
LAHORE:
Interior Minister Sheikh Rashid on Thursday revealed that Tehreek-e-Labbaik Pakistan (TLP) chief Saad Rizvi was adamant on the closure of the French embassy in the country during negotiations with him during the party's long march.
His statement comes days after remarks attributed to prominent cleric Mufti Muneebur Rehman had suggested that the TLP had not demanded closure of the French embassy. However, Mufti Muneeb said in an interview that they never backed out from the demand for the expulsion of the French envoy.
Addressing a ceremony in Lahore, the interior minister claimed he had convinced the TLP chief that the issue of the French ambassador's expulsion would be taken up in parliament. "I signed [an agreement], which I stand by," Rashid said, adding that he had no idea about what talks took place in his absence.
"As for the rest of the issues, two ministers have been appointed [for the matter] and they will respond to your questions," Rashid said. He added that the government was committed to implementing the agreement reached with the TLP.
In an interview with an Urdu language news website, Mufti Muneeb, who was among the clerics, who had facilitated talks between the government and the TLP, also said that they had not given up their demand for the closure of the French embassy and expulsion of the ambassador.
Read: TLP withdraws application on Saad Rizvi's release
On October 31, the government had successfully reached an agreement with the TLP, putting an end to a 10-day protest. Mufti Muneeb was among the clerics, who had facilitated talks, helping both sides reach the agreement after an impasse of three weeks.
Mufti Muneeb said that he was asked to holds the talks between the government and TLP, adding that he accepted the offer for the sake of national interest and peace and stability. As a result of the agreement, He said a committee led by State Minister Ali Muhammad Khan had been formed, he said.
Responding to a question about the demand for sending back the French ambassador, Mufti Muneeb said: "We are not giving up on this demand. Asked about remarks attributed to him earlier, he clarified that but the media was "misinterpreting our words" in this regard.
He emphasised that the agreement to send the French ambassador back was made by the government, which did not abide by it, which led to the turmoil. He said the deportation of the French ambassador had been referred to parliament and the government had accepted this demand.
(WITH INPUT FROM NEWS DESK)
COMMENTS
Comments are moderated and generally will be posted if they are on-topic and not abusive.
For more information, please see our Comments FAQ