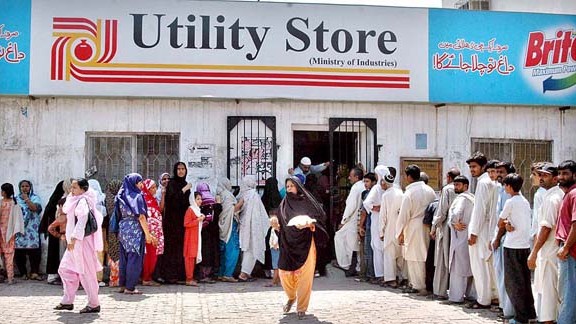 ---
ISLAMABAD:
The Utility Stores Corporation (USC) on Wednesday revoked its notification of increasing the prices of cooking oil and ghee.
A spokesperson for the USC said the decision to increase the prices of cooking oil and ghee at Utility Stores was made following the manufacturers jacking up their rates.
"No increase has been made in the prices of essential commodities to provide relief to the people," he added.
The USC's notification was issued earlier in the day in the wake of Prime Minister Imran Khan announcing the "biggest welfare package in the country's history" to mitigate the impact of the rising inflation on the common man.
Read more: PM announces Rs120b subsidy programme amid rising inflation
As per the notification, the prices of cooking oil and ghee had been increased by Rs65 per litre and Rs53 per kg respectively.
The USC had recently increased the prices of various items, including tea, oil, coffee, mixed pudding, and custard.
According to a notification issued on Saturday, the price of 950 grams of tea of various brands was tagged at Rs210 from Rs100. The price of a 100-gram jar of coffee has been increased to Rs50.
Similarly, the price of 500 grams of formula milk for children has gone up to Rs60 and the price of washing powder has surged by Rs10 per kg.
Likewise, the rate of 300 grams of custard and cornflour was also increased by Rs5 and Rs20 respectively. The price of 250 grams jar of honey surged to Rs95.
As per the notification, which will take effect immediately, dairy products, including milk, will also be sold at an increased rate at the Utility Stores.
The surge at the government stores comes amid rocketing prices of everyday conveniences and products in the retail market.
Also read: Dollar falls below Rs170 in intra-day trading
In September, the prices of various brands of ghee and oil at Utility Stores had already been increased.
The price of ghee was raised by Rs90 to Rs1,720 per five kilogrammes from the earlier Rs1,630.
The price of cooking oil was increased by Rs70 to Rs1,720 per 5kg as compared to Rs1,650. The price of mixed pudding also increased by Rs10 to Rs162 per 310 grammes.
The price of pepper pack increased by Rs10 from Rs109 to Rs119 per 50 grammes.
The rate of ketchup had also increased by Rs52 per 3.5kg to Rs630 as against the earlier price of Rs578. The price of custard went up by Rs10 to Rs55 per 120 grammes from Rs45.
In addition, the prices of various brands of tissue paper, soap and spices had also been increased.
In July, the federal government had decided to increase prices of wheat flour, sugar and cooking oil in the range of 19% to 53% at Utility Stores by reducing subsidies for the poor.
COMMENTS
Comments are moderated and generally will be posted if they are on-topic and not abusive.
For more information, please see our Comments FAQ