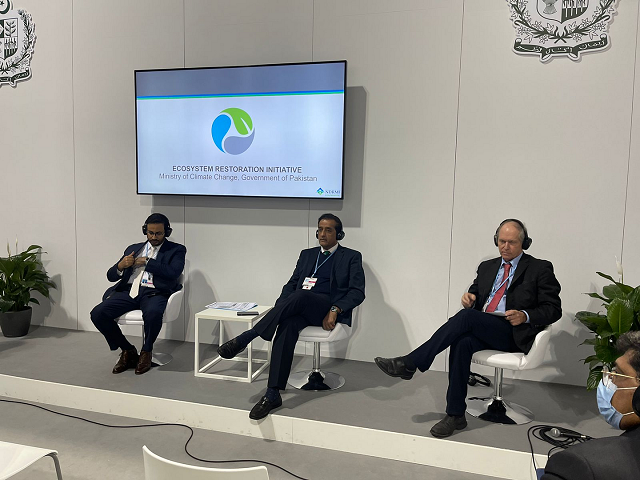 ---
GLASGOW:
Pakistan on Wednesday unveiled its innovative Ecosystem Restoration Initiative (ESRI), initiated with a $180 million support from the World Bank, at the COP26 climate summit in Glasgow.
The details were revealed at the Pakistan pavilion at the event, organised to bring parties together to accelerate action towards the goals of the Paris Agreement and the UN Framework Convention on Climate Change.

Pakistan's initiative was launched at the COP25 held in Madrid in 2019, and it is now operational with interventions like honey production and marketing, green jobs, mangrove restoration, expansion of protected areas, and transition to electric vehicles.
ESRI has been placed under National Disaster Risk Management Fund (NDRMF) to align the country with the global climate change agenda through supporting initiatives and projects, and financial and technical requirements.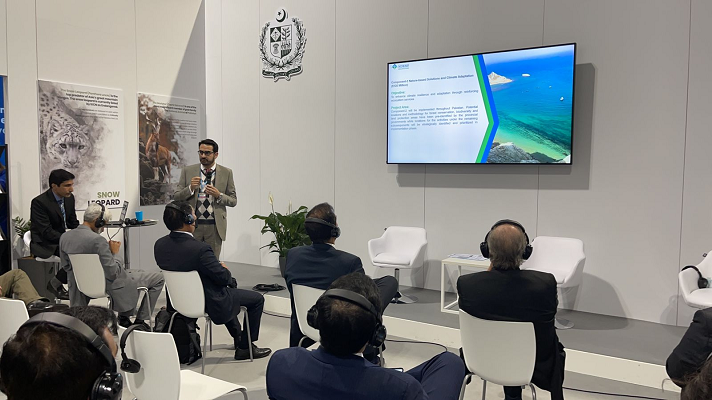 PHOTO: EXPRESS
According to Fawad Hayat, who is leading the initiative through NDRMF, Pakistan will now contribute its share in ecosystem restoration in the next three years by planting 188.88 million trees, providing 79,746 green jobs, managing 60 protected areas, and giving employment to 6,000 nehgaibans (watchers) from the local communities.
Hayat observed that the unique project emerged during the pandemic when people started losing their jobs.
"Inspired by President Johnson's initiative during the Great Depression, we started the 'Green Stimulus' in Pakistan and the World Bank showed great flexibility in re-purposing funds for the nature's protection. The idea was to protect nature and give jobs and we will be fully rolling out the project in the next month," Malik Amin remarked.
In his remarks during a visit to the pavilion, VP Sustainable Development, World Bank Juergen Voegele, said: "Kudos to the government of Pakistan, which is evolving as a leader by focusing on both climate and Covid."
"This is the way to do it, this is the future, this is green thinking with a comprehensive approach to restoring ecosystems," he added.
Also read: Pakistan signs US led Global Methane Pledge at COP26
Under the project, 15,000 beekeepers will be trained and the honey industry will be established producing abundant export quality honey. The aim is to create over 6,000 eco-tourism jobs for local communities and restore 55,000 acres of mangroves forest along with promoting a shift towards electric public transport in all major cities of Pakistan.
The pilot project for the Billion Tree Honey Project has already proven to be successful with beekeepers producing 40 per cent more honey and better marketing of the honey will now start.
Aside from expanding the mangrove area, an eco-tourism is hoped to kick off in Pakistan, involving local communities. Further, electric vehicles will be introduced at the hospitals and schools to reduce local emissions, being 60 per cent cheaper to operate.

Pakistan is today one of the few countries that are investing in natural capital and post-Covid initiatives, creating jobs and protecting nature.
COMMENTS
Comments are moderated and generally will be posted if they are on-topic and not abusive.
For more information, please see our Comments FAQ