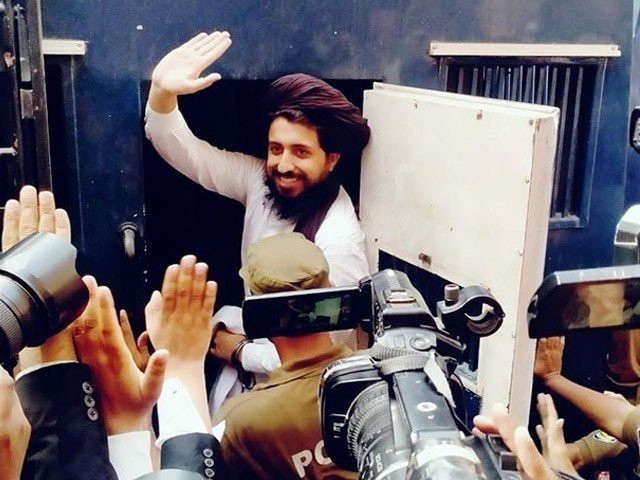 ---
LAHORE:
The lawyer representing Tehreek-e-Labbaik Pakistan (TLP) chief Saad Rizvi on Wednesday requested the Lahore High Court (LHC) to adjourn the hearing of the plea against Rizvi's detention in light of the agreement signed with the government.
The high court had taken up TLP's plea against the government's decision to keep Rizvi in jail despite court orders for his release.
During the hearing, Mian Pervaiz, who represented Saad Rizvi, said that his client wanted an adjournment of the case because "progress was taking place on the issue" between the government and the TLP.
However, LHC Chief Justice Ameer Bhatti said the case had nothing to do with the agreement signed between the two parties, but it was about the maintainability of the petition filed by the TLP against the government's order to keep Rizvi detained.
Read TLP will be treated as 'militant outfit'
Justice Bhatti said the notification challenged by the TLP was already expired so how could the petitioner expect the court to continue hearing the case.
"You should have challenged the fresh order of detention," Justice Tariq Saleem Shiekh, another member of the bench chipped in.
The LHC chief justice was visibly irked when the lawyer mentioned the agreement again, saying that the high court was not concerned with "agreements" but the legality of the plea.
At this, the counsel said he wanted more time to prepare the case and asked for an adjournment. CJ Bhatti subsequently adjourned the case till November 4.
Rizvi, who became the chief of the TLP after the death of his father Khadim Rizvi, was detained by the Punjab government in April this year under the Maintainance of Public Order (MPO).
On Oct 1, the LHC had ordered the government to release Rizvi, but the government had challenged the order in another petition. However, now it is being said that as per the secret agreement signed with the TLP a few days ago, Rizvi will be released from jail.
COMMENTS
Comments are moderated and generally will be posted if they are on-topic and not abusive.
For more information, please see our Comments FAQ