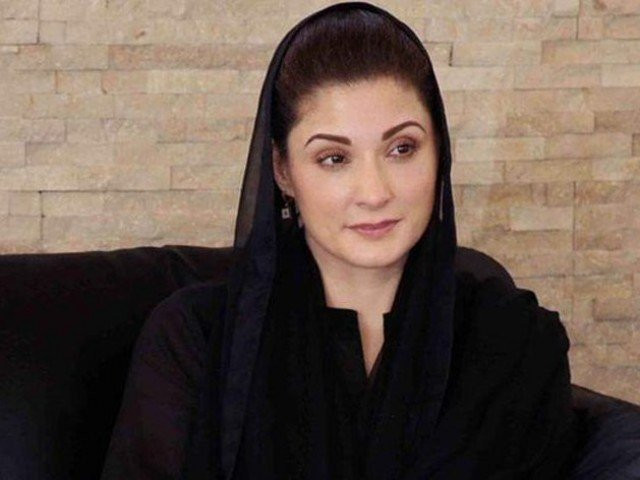 ---
Pakistan Muslim League-Nawaz (PML-N) Vice President Maryam Nawaz Sharif on Saturday shared a two-year-old video of a 50-over World Cup encounter in 2019 between Pakistan and Afghanistan at Leeds.
In the video, a plane can be seen flying over the Headingley cricket ground in Leeds, England with a banner reading 'Justice for Balochistan'. It was reported at that time that the campaign was launched by India to malign Pakistan at the international stage.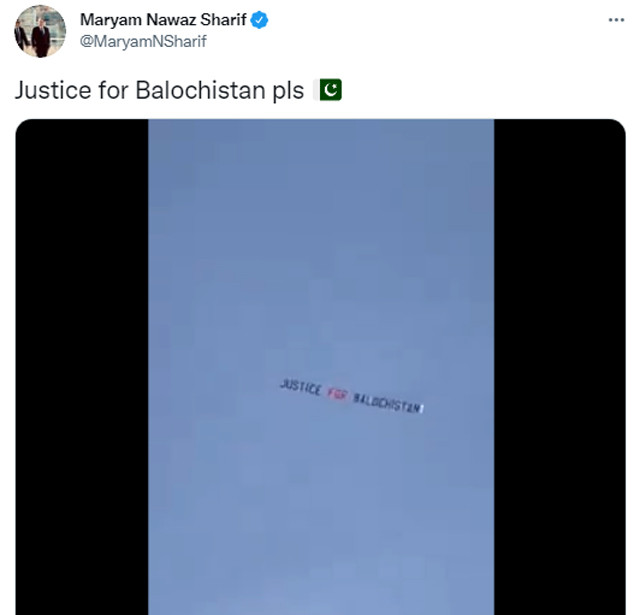 The video was shared a day after Pakistan downed Afghanistan in a thrilling T20 World Cup encounter, sparking a debate on social media whether the daughter of former prime minister Nawaz Sharif thinks the incident happened during Friday's match.
The PML-N VC deleted her tweet later but by that time many had shared the tweet on their timelines.
"I believe it's an old video and if I'm not wrong it was done by Indian lobbyists," said a user Qasim, replying to Maryam's tweet.
"Madam this was displayed by India and Indian funded Baloch leaders. I myself am from Balochistan. But that was just a political tactic," said Meer Hamayoun.
This message was displayed from another perspective which was not correct. The reference you shared is not in this message," tweeted Suhail M Khattak.
Some pointed out that the PML-N leader should've shared the video which had the banner stating "India stop genocide & free Kashmir."
This is not the first time Maryam had an "ill-timed" tweet. On Friday, she mistook Asif Ali for "Muhammad Asif" and lauded him for his match-winning innings against the neighbouring country.
"Wow! Muhammad Asif!! What an exhibition of power hitting!! What an innings! Thank you for another glorious victory Team Pakistan," she wrote.
However, the player who won the game for Pakistan was middle-order batsman Asif Ali, not Muhammad Asif, a former fast bowler who represented Pakistan in 23 Tests, 38 ODIs and 11 T20Is.
Realising her mistake, she corrected her earlier tweet.
Later, the ruling PTI on its official Twitter handle stated: "This tweet is extremely shameful, even for Maryam Safdar's own low standards."
Minister of State for Information & Broadcasting Farrukh Habib said it was Indian propaganda whose video is being tweeted. "There is no doubt that Modi has appointed Maryam Safdar as in-charge of anti-Pakistan propaganda," he added. "I have never seen a tweet [from Maryam] tagged to Modi on justice for Kashmiris."
Salman Raza said that in frustration, this woman has gone so mad that she is openly promoting Indian-sponsored Balochistan separatist movement. He said that Maryam tweeted a two-year-old video which India had sponsored during a world cup match.
After deleting her earlier message, in another Tweet, Maryam said that she deleted it because some known elements were "misconstruing" her tweet. "I stand for the rights of all those marginalised in my beloved Pakistan and will continue to do so. Balochistan is close to my heart. No amount of propaganda can change that," she wrote.
She ended the tweet with the same message as in the earlier tweet "Justice for Balochistan".
The original video
Earlier this month, in a fresh petition submitted before the Islamabad High Court (IHC), Maryam Nawaz alleged the country's premier intelligence agency's role in the conviction of former prime minister Nawaz Sharif, herself as well as her husband Captain (retd) Safdar in assets beyond means case.
Already notorious for her bloopers including "Qatari letter" and "Calibri font", the PML-N leader drew flak of the Twitterati who termed her accusations as 'anti-Pakistan' and tantamount to fanning the Indian narrative.
COMMENTS
Comments are moderated and generally will be posted if they are on-topic and not abusive.
For more information, please see our Comments FAQ