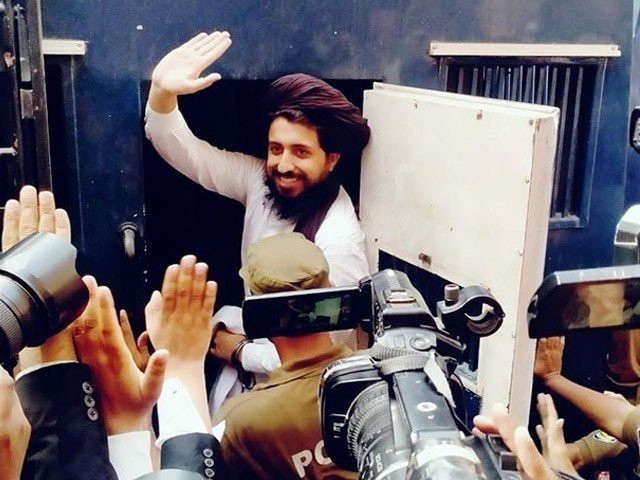 ---
LAHORE:
Lahore High Court's Chief Justice Muhammad Ameer Bhatti turned down the request of advocate general Punjab to detach Justice Tariq Saleem Sheikh from the division bench hearing a matter of alleged illegal detention of Tehreek-e-Labbaik Pakistan's leader Hafiz Saad Rizvi.
As proceedings commenced, the Punjab advocate-general Ahmad Awais told the court that the bench was constituted late night and they were informed late about the proceedings so the court is requested to award them some time to fully prepare the case.
The province's top judge Bhatti remarked that he also took notice upon why the case file reached late.
Meanwhile, advocate general Punjab Ahmed Awais requested the CJ Bhatti to detach Justice Tariq Saleem Sheikh from the bench as he is the author of the judgment which the Supreme Court's Lahore Registry setting aside had remanded the matter back to the LHC.
Read Punjab moves against LHC order for Rizvi's release
At which CJ Bhatti remarked the Supreme Court did not dismiss the matter on merit adding SC raised some points which the division bench had to see. The second member of this bench should remain the member of its bench, CJ Bhatti observed.
The petitioner's counsel Mian Pervaz Hussain argued that neither the review board extended the detention nor the Supreme Court did the same so why his client Hafiz Saad Hussain Rizvi had been kept in illegal detention.
He argued that the extension in detention could only be made by the review board but in this case it was not done so.
At which the province's top judge Bhatti observed that if your stance is that the time of alleged detention has lapsed then you should file a new petition? At which the counsel responded that they are thinking on it and will decide till the next date.
However, the CJ Bhatti adjourned the proceedings for November 3 for preparation on maintainability of the petition.
Published in The Express Tribune, October 29th, 2021.
COMMENTS
Comments are moderated and generally will be posted if they are on-topic and not abusive.
For more information, please see our Comments FAQ