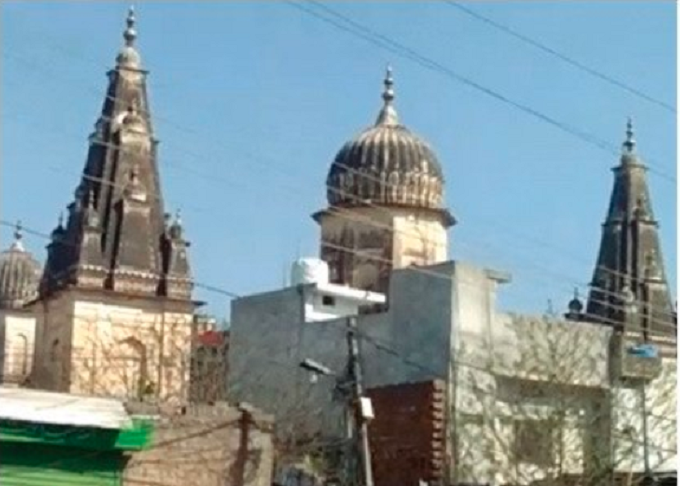 ---
KARAK:
The district administration has served notices on Jamait Ulema-e-Islam Fazal (JUI-F) district Amir Maulana Mir Zaqeem, former district nazim Karak Rehmat Salam Khattak and Maulana Sharifullah along with 123 other accused of temple attack to pay and bear the reconstruction cost of the Hindu temple and Samadai in the Karak district of Khyber-Pakhtunkhwa (K-P).
The temple was vandalized by a mob led by Maulana Sharifullah and other clerics in December 2020. In the recovery notices they have been directed to pay the amount within three days as directed by the Supreme Court of Pakistan.
And all the details of their moveable and immovable properties have also been collected by the authorities. The total cost of the reconstruction has been estimated at Rs30.30 million.
"All the 123 accused have to pay the amount equally. Each has been issued notice to pay Rs268,000 otherwise their properties would be seized by the government to bear the expenses of reconstruction," said a local resident while talking to the Express Tribune.
It is worth mentioning here that the Hindu community had pardoned the attackers on the condition that no problems will be created for them during the reconstruction of the temple and prayers.
Read CJP for resolving temples' land issue
The provincial government had also announced the reconstruction of the temple by the government but the Deputy Commissioner and DPO failed to control the local clerics and residents who started objecting to the expansion of the building soon after an agreement was reached.
A local cleric objected to the word Mandir on the building, calling it a violation of the agreement. He also objected to the expansion of the building and forced the district administration and the contractor to construct a wall inside the premises of the building just to irk the Hindu community.
On this the Hindu community notified the court about the violations of the agreement and court ordered the recovery of the sum required for the reconstruction of the building from the 123 accused despite the objection of the K-P government.
Published in The Express Tribune, October 27th, 2021.
COMMENTS
Comments are moderated and generally will be posted if they are on-topic and not abusive.
For more information, please see our Comments FAQ