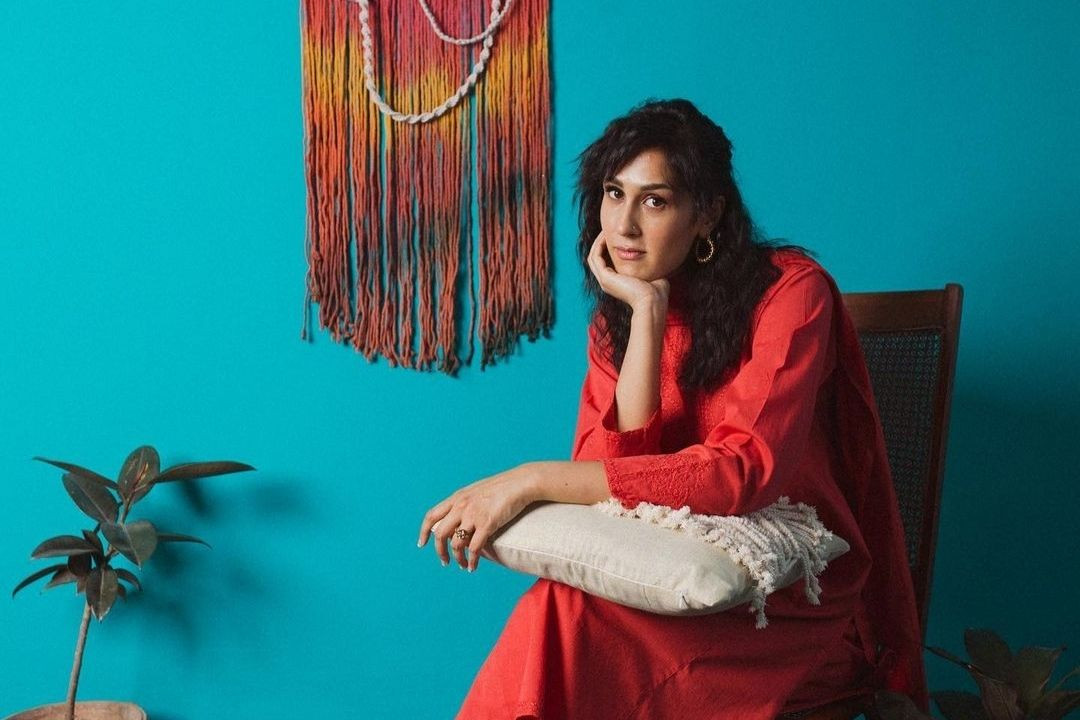 ---
Author and actor Mira Sethi recently sat down for a promotional interview for her book Are You Enjoying? with a local publication, shedding light on the stories in the book and their broader place in society.
Elaborating on how it contains stories that present a clash between tradition and modernity, Mira shared that the book is a compendium of her own experiences and observations. She explained, "I am interested in the suffocation we suffer from in our society. Why is it there, how do we feel it and how can it be diminished? My characters are trying to make space for themselves, which is why they often suffer, but they make it through in the end."
The book, which is written in English, has certain lines left untranslated, with Mira choosing to write them in the Roman script instead. On the decision to retain the Urdu words and expressions, the author shared, "I've done this so that the spirit and authenticity of my stories can be maintained. I've been published in America and England, and my publisher imported my book from England to Pakistan. I think in English and Urdu both. I didn't want to compromise on that authenticity, so I used Urdu words where I felt the mood would be ruined with English."
She added further, "For example, there's a line in the book where the character says, 'Have you forgotten all about your majazi khuda.' I could have said something like, 'Have you forgotten about your god in earthly form,' but it wouldn't have felt right. So, these were editorial choices."
On how her book does not stick to the official image of Pakistan the government would like to present, Mira reflected, "Yes, I thought about this. The same way we think about the consequences of our tweets before sending them out. But I also had a level of satisfaction and peace within myself on how I must write the stories I want to write." She continued, "You can't censor art. If I was writing an essay and I was presenting an argument, I may have changed the way I said things, but when it comes to art, it should come from the heart. I didn't want to edit the idea of it. It has been criticised and that's okay. It's my art."
Mira added later on in the interview, "Your art cannot be too prescriptive. We should keep art and personal opinions separate. But, yes, it is necessary to ensure that your [writing] isn't hurting anyone. Don't propagate a harmful value system."
After the interviewer asked her whether the stories will be adapted for the screen, the writer revealed that she is open to the possibility. "Coincidentally, I was speaking to a producer just before this interview who wants to adapt the title story. But, that will require a screenplay to be written and I will have to sit with them. Let's see how this goes and whether it ends up happening or not," shared Mira. She added further, "There's a word in Pakistan that we like a lot and that word is 'bold'. So my stories are a little 'bold', and whoever comes on this journey with me will have to know what they are getting into."
After the interviewer asked her to elaborate her views on the women's rights movement in Pakistan, Mira said, "I believe equal rights are the symbol of every successful society. The oppression of women in Pakistan is getting out of hand."
Referencing the anti-domestic violence bill, Mira added, "An anti-violence against women bill wasn't passed. Why wasn't it passed? Because of the government. It should have been passed. These are things that our government should take seriously, and since it fails to do so, individuals in society have to raise their voices, especially females. We have a very long way to go."
Mira, who called out the constant criticism of women's clothing choices in Pakistan following a barrage of negativity after the LUX style awards this year, elaborated on her stance further. Sharing what exactly prompted her to speak up, Mira revealed, "That day I was on my friend and colleague Ushna Shah's Instagram page, and she was wearing a top and jeans. A man had commented underneath her picture saying, 'Ab mein ne apni mardaangi ke haathoun majboor ho kar kuch keh diya ya kar diya phir aap bolein gi [If I say or do something compelled by my masculinity, then you will complain].' This concept of being 'compelled by masculinity', what is this? Is your definition of masculinity so limited that your honour and masculinity start and end at a woman's outfit?"
She continued, "In this country, an independent woman and a tolerant man can coexist. People have restricted this definition of masculinity to the point that if you see something in a woman's outfit that you don't approve of, then your masculinity is under threat."
On how women do not criticise men's choices the same way, Mira added, "I don't understand this. Expand your mind. If a man is sitting in front of me dressed in fitted jeans, I won't go up to him and say, 'You are provoking me to sin.' Women don't say things like that. Why not? Firstly because our mind doesn't go there and secondly because society hasn't given us the right to say this to a man. But men feel like they have the right to say these things to us. Why do they police us so much?"
She concluded, "You should be confident enough in your masculinity that you live your life in a relaxed way. We all have to live within certain boundaries because we live in this society, but that comment under her picture, I found very problematic. To the men watching this interview, I would like for them to think of women as more than just mothers and daughters, as individuals. 'Why did you rape her. She's someone's mother/sister?' should simply be, 'Why did you rape her?'"
COMMENTS
Comments are moderated and generally will be posted if they are on-topic and not abusive.
For more information, please see our Comments FAQ