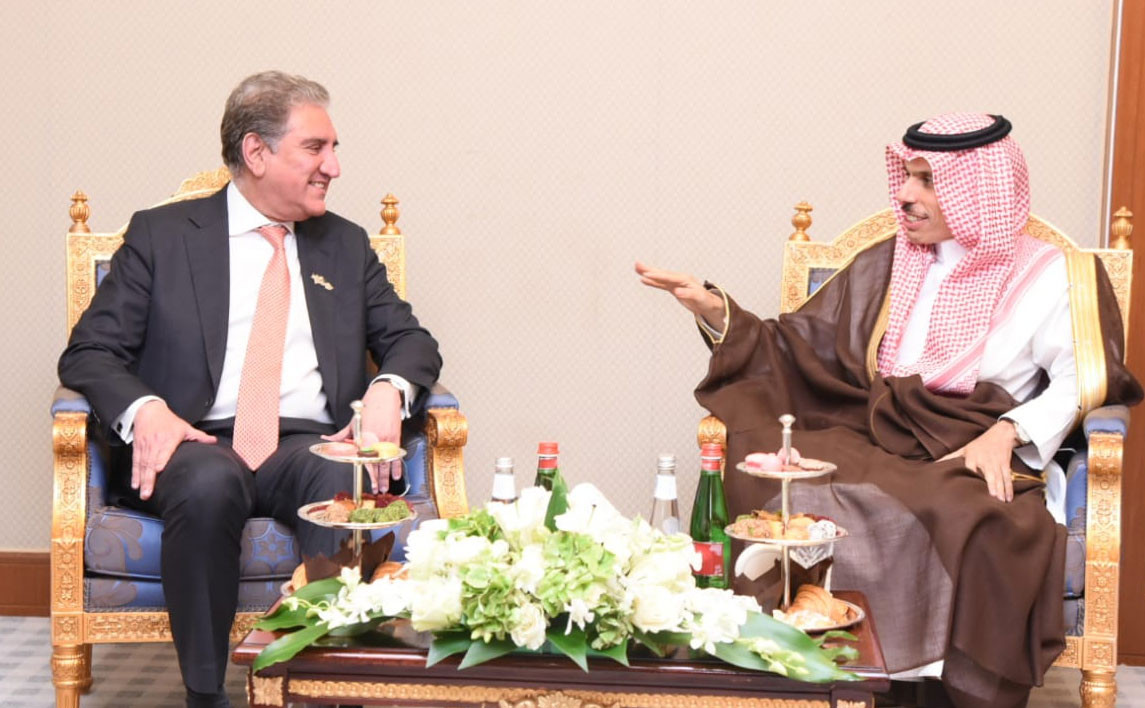 ---
Foreign Minister Shah Mahmood Qureshi on Tuesday emphasised the need for effective steps by the international community for durable peace and stability in Afghanistan as well as the region.
The resolve came during the foreign minister's meeting with his Saudi counterpart Prince Faisal bin Farhan al Saud in Riyadh.
Both leaders discussed regional and international issues as well as matters of mutual interest and agreed to enhance bilateral cooperation between Pakistan and Saudi Arabia at the United Nations and Organization of Islamic Cooperation.
"The Middle East Green Initiative Summit will help build a regional narrative to tackle the implications of climate change," the foreign minister stated.
Read More: US occupation of Afghanistan begins with arrogance, ends with humiliation: Afghans
Earlier it was reported that FM Qureshi reached Tehran to attend a ministerial meeting of Afghanistan's neighbouring countries scheduled on Wednesday (October 27).
FM Qureshi is accompanied by a delegation during the two-day official visit to Iran. At his arrival in Tehran, he was received by Pakistan's envoy in Iran, Rahim Hayat Qureshi, and senior officials of the foreign ministry at Imam Khomeini International Airport.
During the visit, Qureshi will also call on his Iranian counterpart Hussein Amir Abdollahian to discuss in detail matters of mutual interests, including regional security. He will also interact with media representatives and present Pakistan's views on important regional and global issues.
On October 5, Qureshi urged the international community to take concrete steps for the provision of humanitarian and economic assistance to the Afghan people.
The foreign minister's resolve came during a telephonic conversation with Kenyan counterpart Raychelle Omamo where he said if the situation deteriorated further in Afghanistan, it would lead to a huge outflow of Afghan refugees besides other consequences.
"Pakistan gives special importance to its bilateral relations with Kenya. Engage Africa policy is amongst the priorities of our government," FM Qureshi said in regards to Pakistan's bilateral relations with Kenya.
COMMENTS
Comments are moderated and generally will be posted if they are on-topic and not abusive.
For more information, please see our Comments FAQ