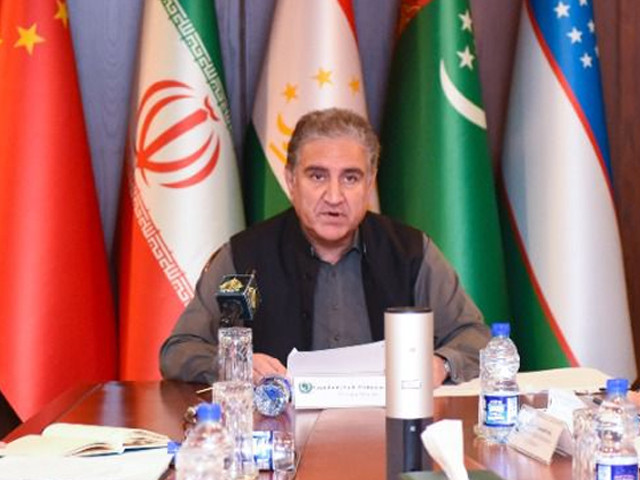 ---
ISLAMABAD:
Foreign Minister Shah Mahmood Qureshi reached Tehran on Tuesday to attend a ministerial meeting of Afghanistan's neighbouring countries scheduled on Wednesday.
FM Qureshi is accompanied by a delegation during the two-day official visit to Iran. At his arrival in Tehran, he was received by Pakistan's envoy in Iran, Rahim Hayat Qureshi, and senior officials of the foreign ministry at Imam Khomeini International Airport.
During the visit, Qureshi will also call on his Iranian counterpart Hussein Amir Abdollahian to discuss in detail matters of mutual interests, including regional security. He will also interact with media representatives and present Pakistan's views on important regional and global issues.
Multilateral forum
At the second meeting of the multilateral forum hosted by Iran, FM Qureshi will advocate Pakistan's position on Afghanistan following the takeover of Kabul by the Afghan Taliban.
The first moot of the foreign ministers of Afghanistan's neighbouring countires was hosted by Pakistan at the start of September this year. The forum comprised China, Iran, Tajikistan, Turkmenistan and Uzbekistan.
Read Malala sends letter to Afghan Taliban one month after girls' school ban
At the first ministerial meeting that was held via videolink, Qureshi had called for the international community to engage in preventing a humanitarian crisis and economic meltdown in Afghanistan, which were key priorities in the wake of recent developments in the country.
Since the takeover, Pakistan has urged the global powers to provide aid to the new regime so a humanitarian crisis leading to the collapse of the state could be prevented. According to Pakistan, in case of a state collapse, the country may witness another civil war that would turn Afghanistan into a launchpad for terror outfits, again.
The West, however, is cautious in its approach; it has asked the Taliban to fulfill their commitments of inclusive government and ensuring the basic rights of women and minorities.
COMMENTS
Comments are moderated and generally will be posted if they are on-topic and not abusive.
For more information, please see our Comments FAQ