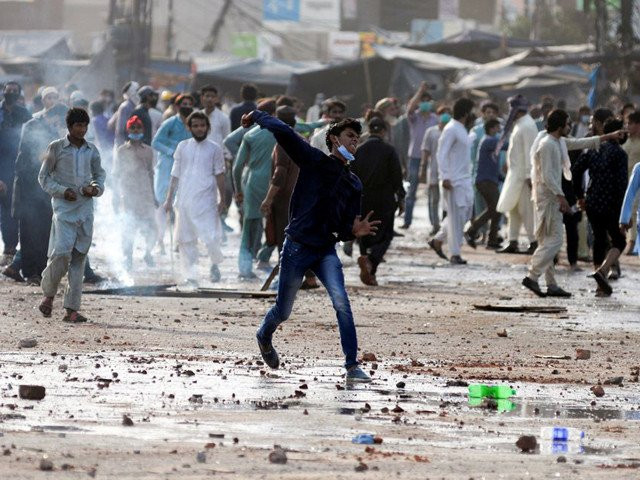 ---
RAWALPINDI:
All roads in Rawalpindi were opened for traffic on Sunday evening after Interior Minister Sheikh Rashid announced that the banned Tehreek-e-Labbaik Pakistan (TLP) will not proceed with its march on Islamabad as negotiations with the marchers had 'almost' succeeded. However, the law enforcement agencies (LEAs) remained on high alert on roads in Rawalpindi and Islamabad.
The metro bus service between the twin cities remained suspended on Sunday as the situation remained fluid. The main thoroughfares including Murree Road remained sealed until 2 pm before the local administration and the traffic police removed containers and other blockades. The Rawalpindi administration removed containers from all blocked roads including Faizabad Interchange, Liaquat Road, Iqbal Road, FC Chowk, Murir Chowk etc. The citizens took a sigh of relief after main thoroughfares across the city reopened after the curfew-like situation.
Public transport buses and vans started pouring on roads as soon as the administration removed the blockades. Metro Bus Authority (MBA) officials said the metro bus service between the twin cities could not be resumed until the overall security situation improved. They said that the district administration also did not give any orders to restore the metro bus service and it will resume service from Monday.
The security remained high at various metro bus stations including at Saddar and Murir Chowk stations. Earlier, Sheikh Rashid said that the detained TLP workers, along with those placed on the Fourth Schedule, would be released. He said that under an agreement signed with the TLP earlier, the issue of expelling the French ambassador to Pakistan will be taken to parliament for a debate.
COMMENTS
Comments are moderated and generally will be posted if they are on-topic and not abusive.
For more information, please see our Comments FAQ