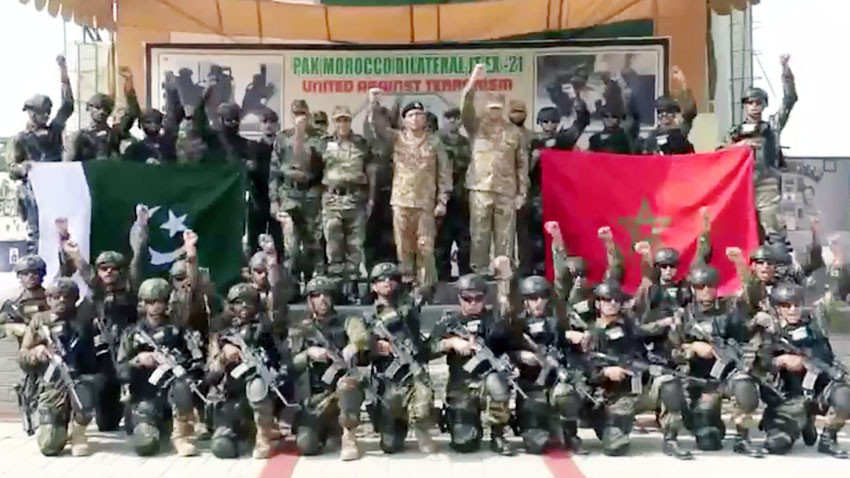 ---
The first-ever joint military exercise between Pakistan and Morocco concluded at the National Counter-Terrorism Center in Pabbi on Saturday, the military said.
According to Inter-Services Public Relations (ISPR), during the exercise, special forces of both countries practised various drills including countering-terrorism manoeuvres.
The training was aimed at sharing mutual experience in the counter-terrorism domain, rehearsing and adopting best practices and enhancing cooperation between the two armies.
On October 9, it was reported that Druzhba-VI, a military exercise in which both Pakistan and Russia took part, ended at the Molkino Training Area in Russia's Krasnodar region, the military said.
Read More: Pakistan-Kazakhstan joint military exercise 'Dostarym III' concludes
The exercise focusing on counter-terrorism lasted for a two-week period, said a statement issued by the ISPR,
Senior officials from Russia and Pakistan were present at the closing ceremony.
The two-week-long exercise (September 28 to October 9) was aimed at learning from mutual experience in the counter-terrorism domain with a view to learn and adopt best practices, said the statement issued by the military's media wing.
Special Forces of Russia and Pakistan practiced various drills involved in the joint counter-terrorism operations, it added.
COMMENTS
Comments are moderated and generally will be posted if they are on-topic and not abusive.
For more information, please see our Comments FAQ