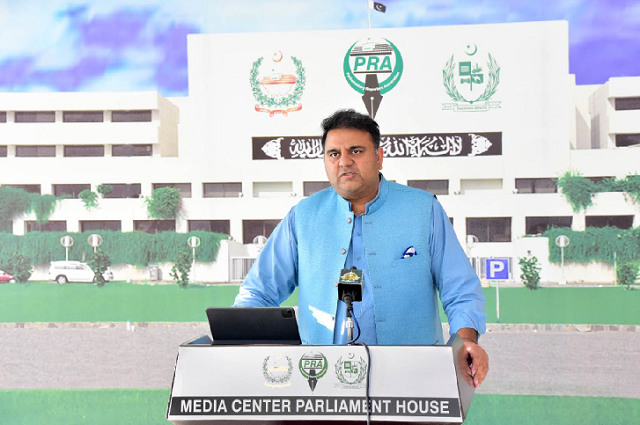 ---
Minister for Information and Broadcasting Fawad Chaudhry has said that after Khyber-Pakhtunkhwa (K-P) every family in Punjab will also get 'Sehat Insaf Card,' which will provide annual health insurance cover of Rs1 million to each family.
In a tweet, Fawad said under this "game changer" programme people belonging to all segments of the society including the underprivileged will be provided free of charge quality medical treatment.
خیبر ہختونخواہ کے بعد اب پنجاب کا ہر خاندان دس لاکھ روپے تک ہر سال صحت کارڈ کے ذریعے حاصل کر سکے گا، اس گیم چینجر ہروگرام کے ذریعے اب کوالٹی علاج غریب ترین سے متوسط طبقے تک ہر فرد کو میسر ہو گا، صحت، تعلیم اور چار بنیادی اشیاء ضرورت آٹا، چینی،دال اور گھی پر بڑا ریلیف لا رہے ہیں

— Ch Fawad Hussain (@fawadchaudhry) October 22, 2021
Fawad said the process of issuance of Sehat Insaf Cards would start in December in central Punjab and by March next year the whole province will have these cards.
Also read: Sehat card holders eligible to register complaints on citizen portal
The minister said under the government's health insurance scheme people will be able to avail free medical treatment at any private or government hospital of their own choice.
Last year in August, Prime Minister Imran Khan launched same initiative in Khyber-Pakhtunkhwa.
The K-P government and the State Life Insurance Corporation (SLIC) inked the agreement for the distribution of Sehat Insaf Card
Under the agreement, an annual health insurance cover of Rs1 million each would be provided to around 6 million families of the province, enabling the whole 40 million population to avail free medical treatment at over 250 public and private hospitals across the country.
(With additional input from APP)
COMMENTS
Comments are moderated and generally will be posted if they are on-topic and not abusive.
For more information, please see our Comments FAQ