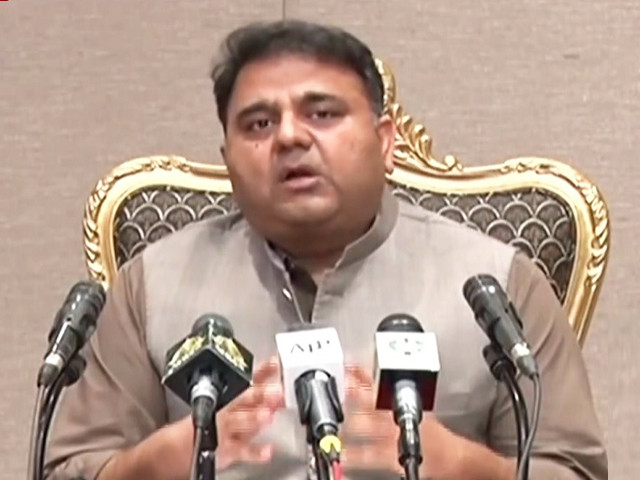 ---
Federal Minister for Information and Broadcasting Fawad Chaudhry on Friday said that a proposed law to curb fake news in Pakistan has been sent to the cabinet for approval.
In a series of tweets, the minister said that as he has been saying since 2018, Pakistan could not move forward unless there were political reforms. "Reforms concerning judiciary and media are also necessary," Fawad added.
قانون بنا کر کابینہ کے حوالے کر دیا ہے 2018 سے کہ رہا ہوں بنیادی سیاسی اصلاحات کے بغیر ملک آگے نہیں جا سکتا، میڈیا اور عدالتی اصلاحات لازمی ہیں https://t.co/ioJmEVXMSx

— Ch Fawad Hussain (@fawadchaudhry) October 22, 2021
Last week, Fawad had said the "greatest challenge" being faced by modern media was the dissemination of false propaganda through fake news.
"The phenomenon of fake news emerged after a revolution in information technology (IT) and an increase in the number of media platforms," he had told a seminar. He had said the international community would have to prepare some rules to counter fake news and the aspect of responsibility would have to be added with freedom of expression.
Read Don't lecture us on freedom of expression, Fawad tells opposition
In a comment on rising inflation, the minister said the government would soon provide "massive relief" on four items of daily use i.e. sugar, flour, ghee and pulses.
According to Fawad, the government will also provide relief on education and healthcare services. After Khyber-Pakhtunkhwa, the Pakistan Tehreek-e-Insaf (PTI) has also decided to start health cards in Punjab.
خیبر ہختونخواہ کے بعد اب پنجاب کا ہر خاندان دس لاکھ روپے تک ہر سال صحت کارڈ کے ذریعے حاصل کر سکے گا، اس گیم چینجر ہروگرام کے ذریعے اب کوالٹی علاج غریب ترین سے متوسط طبقے تک ہر فرد کو میسر ہو گا، صحت، تعلیم اور چار بنیادی اشیاء ضرورت آٹا، چینی،دال اور گھی پر بڑا ریلیف لا رہے ہیں

— Ch Fawad Hussain (@fawadchaudhry) October 22, 2021
"Now every family in Punjab will be able to get health insurance up to Rs1 million every year," he said, adding that the process to distribute cards will start in December and conclude by March.
Calling the programme a "gamechanger", Fawad said that this will ensure "best treatment" to everyone belonging to the poor and middle classes.
He added that these cards will be accepted at all hospitals, including private, across Punjab.
COMMENTS
Comments are moderated and generally will be posted if they are on-topic and not abusive.
For more information, please see our Comments FAQ