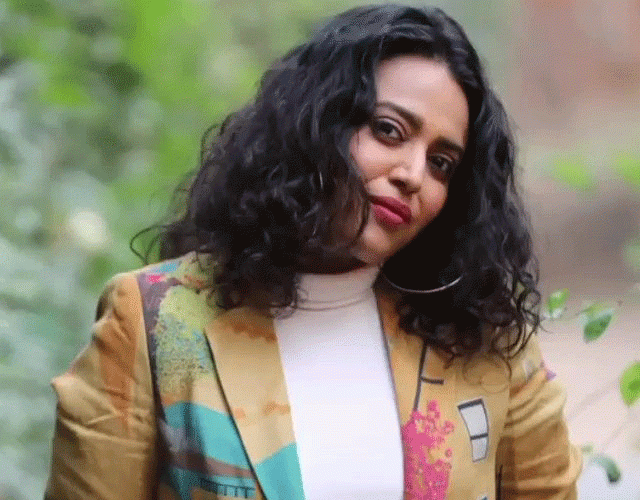 ---
Bollywood starlet Swara Bhaskar has always been a staunch supporter of Indo-Pak peace. The Ranjhanaa star has often spoken up about the cordial relationship between the neighbouring countries. Recently, the 33-year-old actor took to Twitter and shared a clip of the late Pakistani maestro Nusrat Fateh Ali Khan during one of his live performances.
The legendary qawwal performed his famous qawwali, Saanson Ki Maala. Commenting on the same, Bhaskar tweeted, "For those who are drenched in hatred, wouldn't know the beauty of this land [Pakistan], the impact that our combined histories made on the world." She added, "Pakistan's most anticipated and beloved qawwals recite the poems and anecdotes from the examples put forth by Lord Krishna and Radha. This, in turn, gives a moral saying 'hatred and despise with all their might can't even near the power of love because, in the end, love will always win the battle'."
जिनके दिलों को नफ़रत ने तंग कर दिया है.. वो नहीं समझ पाएँगे इस ज़मीन की ख़ूबसूरती, हमारे मिले हुए इतिहास का असर.. पाकिस्तान के सबसे बड़े फ़नकार सूफ़ी शायरी पढ़ते हुए श्री कृष्ण & राधा जी का उदाहरण दे रहे हैं।
हे नफ़रती चिंटुओं.. कर लो कोशिश- जीत प्रेम की, इश्क़ की ही होगी! 🙏🏽💜✨ pic.twitter.com/ZjlqHXmV3R

— Swara Bhasker (@ReallySwara) October 21, 2021
As expected, her stance was met with backlash from right-wing extremists. Unfazed by the criticism, Bhaskar continued to respond to the trolls.
Previously, the actor thanked Pakistan for their heartfelt support during the crippling Covid crisis in India. "Heartening to see Pakistani civil society and social media reach out in solidarity and kindness to India during this devastating time," the Veere Di Wedding star penned, adding, "This despite the fact that our media and mainstream public discourse have consistently mocked and vilified Pakistanis."
She concluded by saying, "Thank you for your bada dil Padosi."
Earlier, on the occasion of the famous qawwal's birth day, actor Yasir Hussain shared a throwback video of Bollywood actor Ajay Devgn from an Indian TV show, in which he can be seen recounting a story about Khan's humility and dedication. Yasir captioned the post, "Nusrat Sahab jaisa artist sadiyon mai paida hota hai [An artist like Nusrat Sahab is born once in decades]."
COMMENTS
Comments are moderated and generally will be posted if they are on-topic and not abusive.
For more information, please see our Comments FAQ