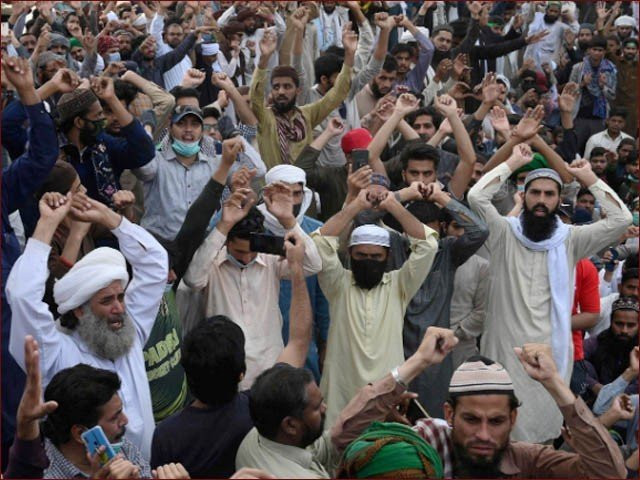 ---
The banned Tehreek-e-Labbaik Pakistan (TLP) on Thursday announced a long march towards the federal capital Islamabad on Friday (today), which, according to a spokesperson, would start after Friday prayers.
The banned TLP demands of the government to fulfil its promise made to it a few months ago. The main demand of the party is the expulsion of the French ambassador to Pakistan. However, Interior Minister Sheikh RAshid said on Thursday the government could not expel the ambassador at TLP's demand.
On Tuesday, the banned TLP announced that it would turn its main Eid-e-Miladun Nabi rally in Lahore into a protest sit-in and urged the government to ensure implementation of the agreement reached with the party in the past.
The TLP had given the government two days to fulfil the promises, saying that if the agreement reached in April was not fulfilled, the next course of action would be announced on Thursday evening.
Read More: LHC orders release of TLP chief Saad Rizvi
Meanwhile, the banned TLP continued it sit-ins in different cities of the country on Thursday. The Punjab government is on alert in case the situation deteriorates and has further issued a security alert at all entry and exit points of Lahore.
A large presence of law enforcement personnel has been reported around the Yateem Khana Chowk. Roads from Kali Kothi, Iqbal Town, Scheme Moor, Sodiwal, Niazi Ada, and Samanabad have been sealed with barbed wire and containers.
COMMENTS
Comments are moderated and generally will be posted if they are on-topic and not abusive.
For more information, please see our Comments FAQ