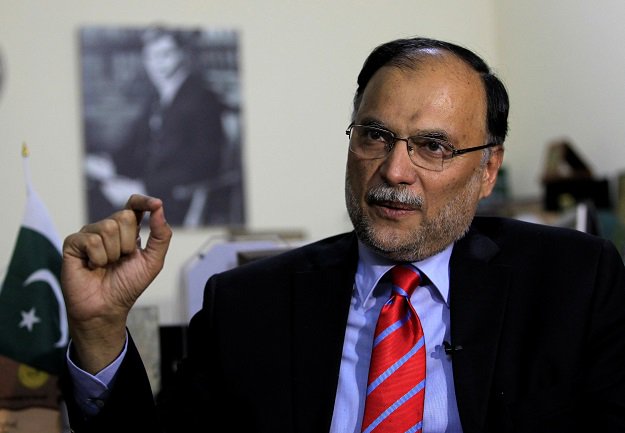 ---
PAKISTAN:
An accountability court on Wednesday adjourned the hearing of the Narowal Sports City Complex reference against former federal minister Ahsan Iqbal till November 10.
The hearing was adjourned without further proceeding due to absence of the prosecution witness in the reference. Iqbal and others appeared before the court during the hearing.
AC-III Judge Syed Asghar Ali heard the case filed by the National Accountability Bureau (NAB).
NAB had alleged that the accused misused power in the project and caused a loss to the national exchequer.
Talking to media persons, PML-N Vice President Hamza Shehbaz said, "We should always be mindful of the prestige of the institutions."
Hamza said civilian supremacy cannot be achieved by weakening state institutions. "Where a country needs free and fair elections as well as independent media and a powerful parliament for democracy, it also needs army and Rangers, who are guardians of our peace and security, and protectors of our borders."
He hailed their "spirit of sacrifice" for the protection of the country. "They are the jewel of our crown," Hamza said. "I salute them with both hands."
He cautioned that the people needed to brace for "rough times" ahead, predicting that things were going to get much worse. "More inflation is coming our way with the ongoing IMF negotiations."
He said all political parties needed to sit down and come up with a prudent strategy to sail through the "rough seas our country is in".
To a question regarding introducing a no-confidence motion with PPP's aid, he said that the PPP was an important player in parliament where they would sit with its leadership to "hammer out an acceptable plan of action".
On price hikes, Hamza said, "The government that talks about bringing a Riyasat-e-Madina style rule in Pakistan is falsely blaming the corona[virus] for inflation."
He said if coronavirus was to be blamed for inflation, then "why is it in double digits only in Pakistan and not in the rest of the region".
He said inflation in India was 4.3, Bangladesh 5.5 and Srilanka 5.7 while in Pakistan it was in double digits.
On the other hand, Hamza presided over a meeting of the PML-N to protest against price hikes.
It was decided that the first protest would be held on October 22 on Friday at Jain Mandar Lahore. (With input from app)
COMMENTS
Comments are moderated and generally will be posted if they are on-topic and not abusive.
For more information, please see our Comments FAQ