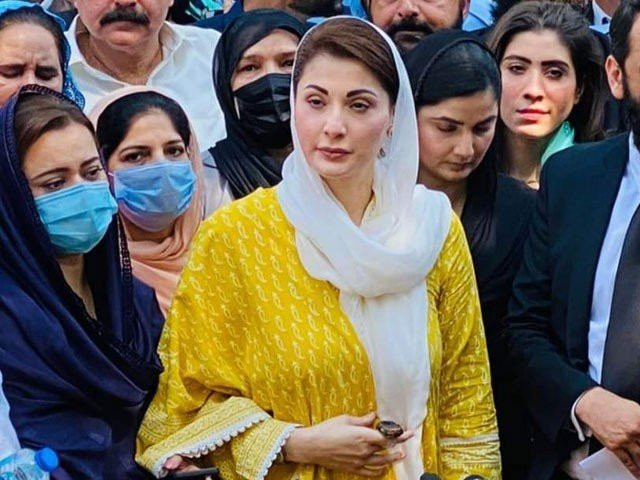 ---
Pakistan Muslim League Nawaz (PML-N) Vice President Maryam Nawaz Sharif on Tuesday came down hard on Prime Minister Imran Khan over his repeated statements regarding turning Pakistan into "Riyasat-e-Madina".
"In a country where people are dying of starvation, parents are fed up with inflation and children are committing suicide by poisoning themselves, the ruler of this country is talking about the state of Madina whose caliph used to carry sacks on his shoulders and knock on the houses of the poor?," she wrote on her official Twitter handle. "How can a person be this insensitive, deaf, dumb and blind?"
جس ملک میں عوام فاقوں سے مر رہےہوں،والدین مہنگائی سے تنگ آ کر بچوں کو زہر پلا کر خود کشیاں کر رہے ہوں،اس ملک کاحکمران اُس ریاست مدینہ کی بات کر رہا ہے جسکاخلیفہ کندھوں پر بوریاں اٹھا کر غریبوں کے گھروں پر دستک دیتا تھا؟

کیا کوئی شخص ایسابےحس گونگا بہرا اور اندھا بھی ہو سکتا ہے؟

— Maryam Nawaz Sharif (@MaryamNSharif) October 19, 2021
Taking a jibe at PM Imran, Maryam asked what does a person, who travels from one shrine to another by helicopter at the government's expense, know what people of Pakistan are going through under this regime?
ہیلی کاپٹر سے ایک دربار سے دوسرے دربار تک سرکاری خرچ پر سفر کرنے والے کو کیا خبر کہ پاکستان کی عوام پر کیا قیامت گزر رہی ہے؟جسکےکتے بھی اعلیٰ قسم کے گوشت پر پلتے ہوں اسے ریاست مدینہ کا نام زبان پر لاتے ہوئے ہزار بار سوچنا چاہیےلیکن اس سوچ کے لیے بھی دل میں درد ہونا چاہیے،بغض نہیں

— Maryam Nawaz Sharif (@MaryamNSharif) October 19, 2021
Read more: Military commanders promoted on basis of performance in state of Madina: PM
"Someone whose dogs breed on high-quality meat should think a thousand times before mentioning the name of the state of Madina. But even for that thought, one's heart must be full of compassion and not malice," she wrote in another tweet.
کوئی اس جعلی اور خدا کے خوف سے عاری حکمران کو حضرت عمرِ فاروق کا قول یاد کرائے کہ دریا کے کنارے کوئی کتا بھی بھوکا رہ جائے تو جواب دہ عمر ہو گا!عمرِ فاروق رضی اللّہ تعالی عنہ نے اپنےایک کُرتے اور چادر تک کا حساب دیا اور آپ توشہ خانہ ہضم کر گئے؟ اور ڈھٹائی سے کہا نہیں دونگا جواب؟

— Maryam Nawaz Sharif (@MaryamNSharif) October 19, 2021
"Can someone please remind this fake and fearless of God ruler of Hazrat Omar Farooq's (RA) saying that even if a dog dies hungry on river banks, then Omar (RA) will be responsible.
"Hazrat Omar (RA) despite being the caliph gave an account for his shirt and robe and you [on the other hand] looted foreign gifts from Toshakhana? And brazenly said that I will not answer?"
Maryam's scathing criticism of the premier came hours after he, while addressing Rahmatul Lil Aalameen Conference in Islamabad, renewed the pledge to continue his struggle for the rule of law in the country, saying he will fight for this purpose "till his last breath" to hold powerful and corrupt people accountable.
Also read: PM, President say Riyasat-e-Madina protected poor, minorities
The premier vowed to turn the country into a "Madina-like welfare state" to ensure merit and supremacy of law in the society. "The system of the state of Madina was based on justice and merit, even a general was promoted to the higher rank on the basis of performance," he said.
"We can rise as a nation by following the guiding principles of Prophet Muhammad (PBUH)," he added.
Lashing out at his political opponents, PM Imran said the Sharif family presented forged documents and tried to mislead the country's top court through lies and an infamous "Qatari letter" in the Panama Papers case.
"If this [Panama] case had been in a British court, they [Sharif family] would have been imprisoned immediately. There is a huge difference between the justice system of the West and Pakistan," the premier said, adding that the country can never prosper unless the powerful people are held accountable before the law.
He assured that people would be provided subsidies on food items, loans for houses and opening of businesses besides health cards of citizens would take care of their medical needs.
COMMENTS (2)
Comments are moderated and generally will be posted if they are on-topic and not abusive.
For more information, please see our Comments FAQ