 ---
Nickie Nina bring forth the cultural artistry that aims to empower women in rural areas through their latest collection 'Tribe' an ode to the artisans of South Punjab. More than 100 types of hand embroideries have originated from the South Asian region. However, due to the rise in fast fashion over the years, much of the beauty and delicateness of this exquisite craft has gone under appreciated, slowly forgotten. Tribe is a collection dedicated to the traditional Pakistani craft of kasheeda-kari. With Tribe, they aim to bring back the craft of hand embroidery to the forefront - not only for preservation of our cultural artistry but also to provide true, long term opportunities for women in rural areas to empower them and enhance their economic role especially inlight of the global pandemic. Each outfit is a unique collaboration and has been named after the woman crafting it.
MehruNisa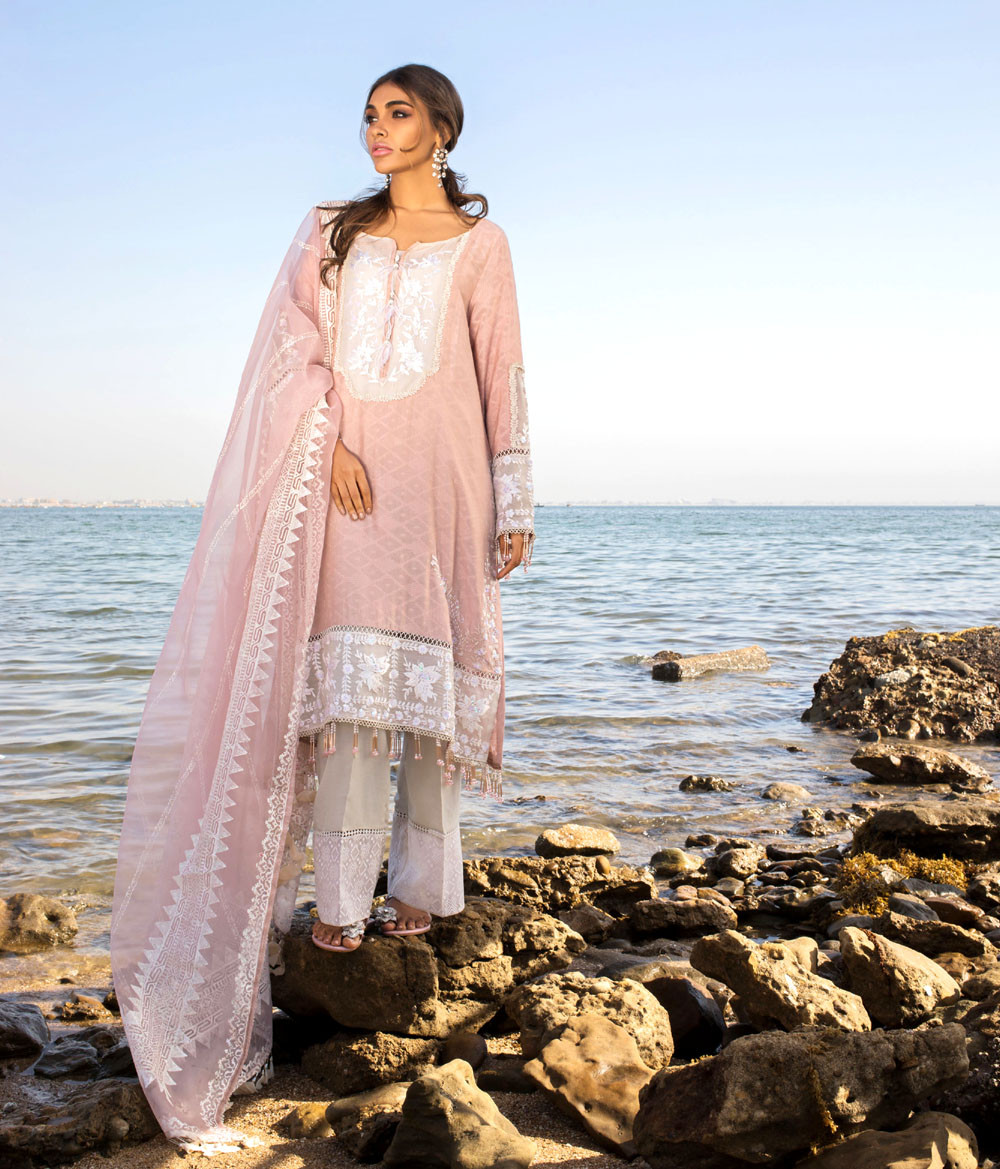 A dainty flamingo pink cotton net shirt with elegant, handcrafted kasheeda-kari embroidery and sequin embellishment with organza appliques. Paired with straight leg, raw silk trousers with a screen printed organza border at the hem and a hand block-printed organza dupatta.
Fahmeeda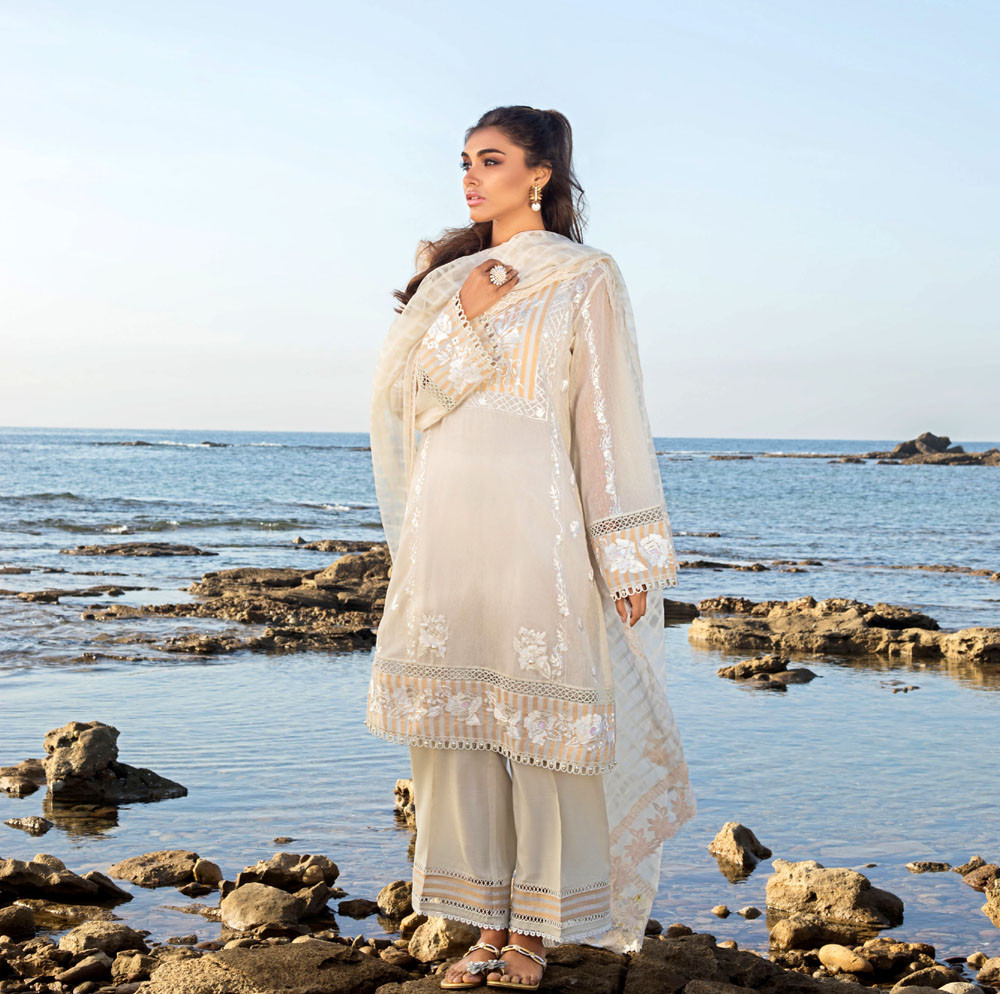 The organza karandi serves as a canvas for delicately hand embroidered kasheeda-kari floral vines in powder white, accentuated with self-sequins. Khaadi tissue appliques on the neckline and hemline and features hand embroidered kasheeda-kari floral motifs. Paired with a plaid organza dupatta and raw silk trousers with Khaadi tissue patchwork, this elegant look is perfect for the warmer season.
Mumtaz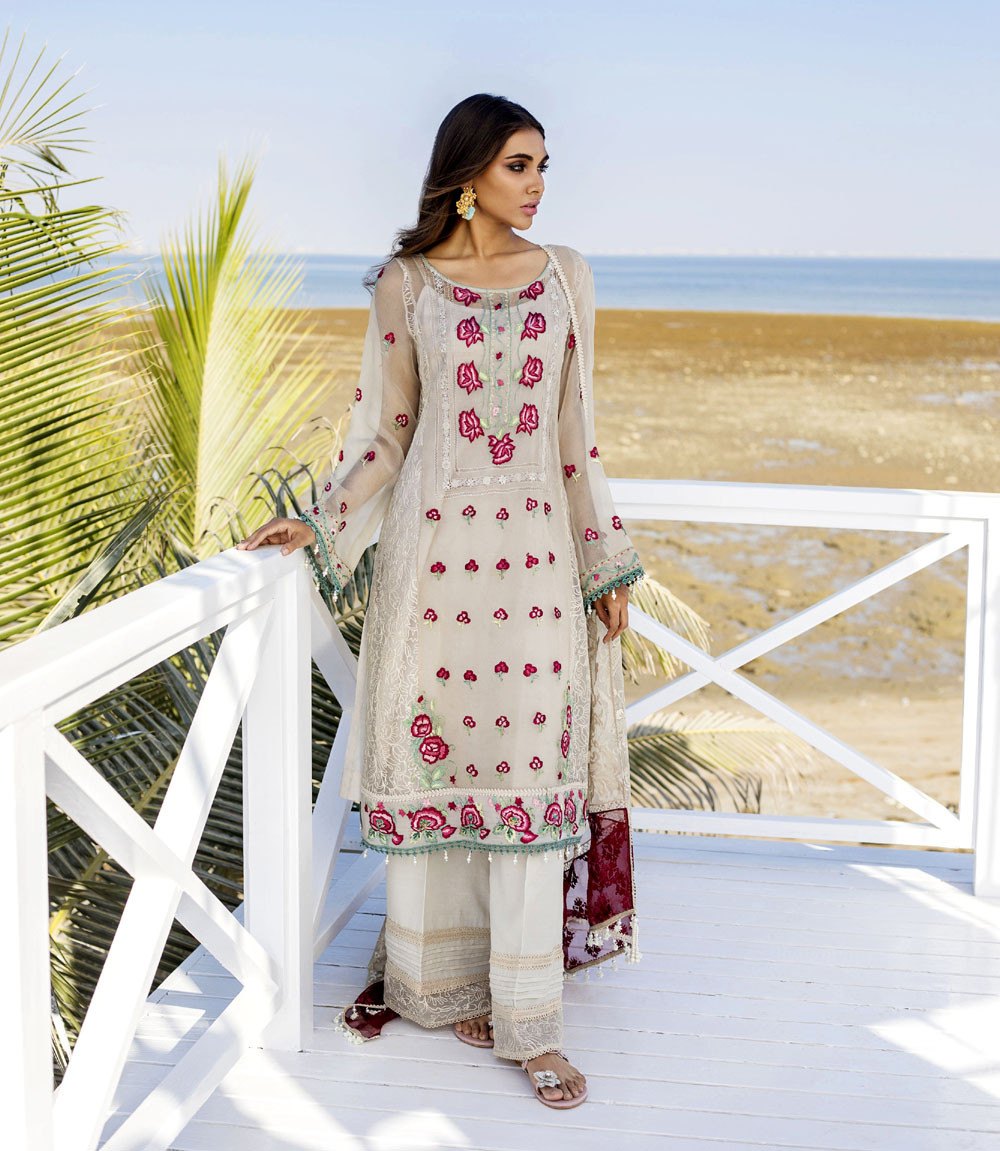 Multicoloured hand embroidered kasheeda-kari flowers blossom on a beige organza shirt with hand crafted taar-kashi details. Straight-leg raw silk trousers with embroidered organza patchwork on the hem and lace trim. Color blocking, embroidered organza applique dupatta with lace trim, adds an oomph to the whole outfit.
Zohra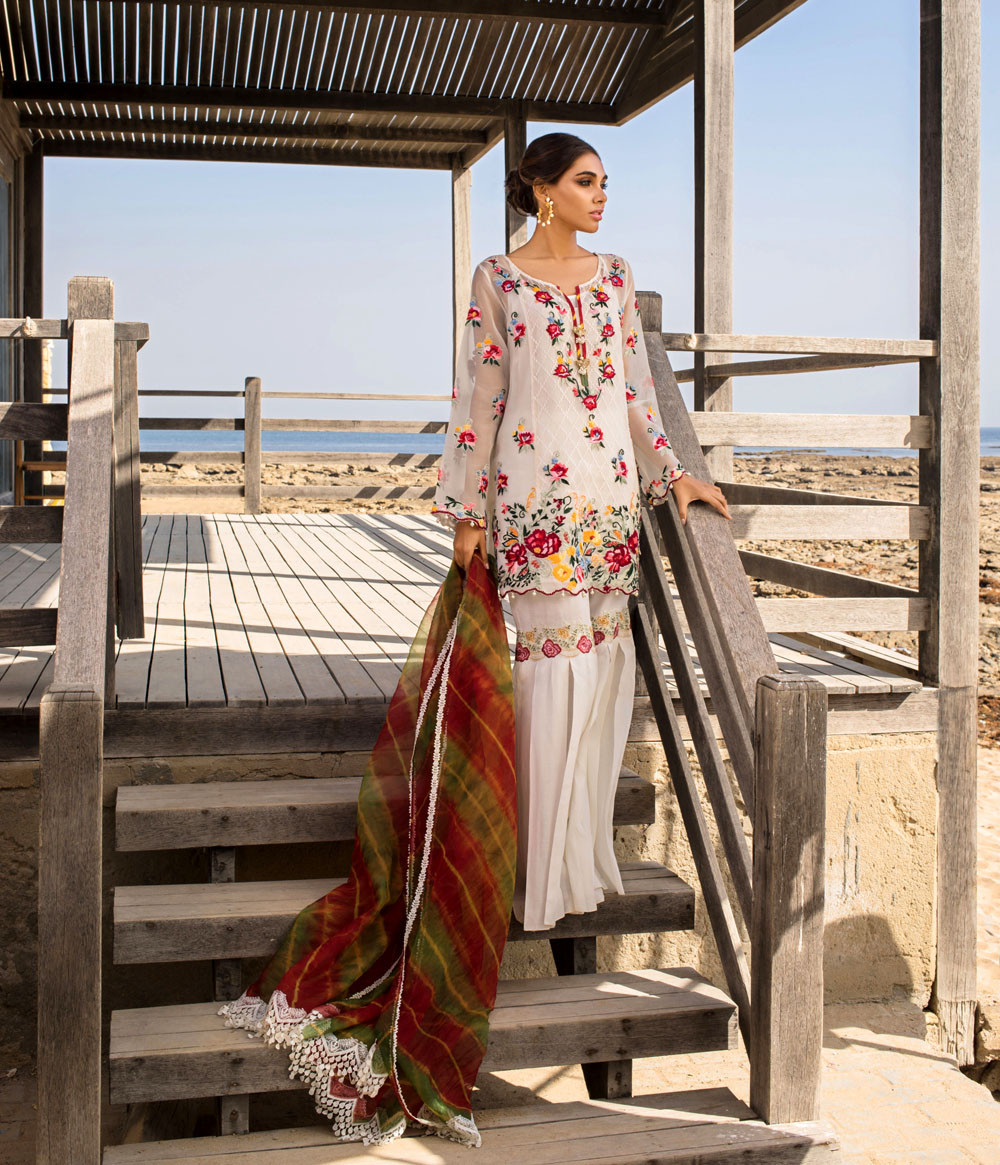 A white organza shirt with hand embroidered vibrant kasheeda-kari florals highlighted with self-sequins and finished with pearls trimmings on the hemline is paired with a contemporary gharara with hand embroidered floral appliques. The iridescent hand tie-dyed organza dupatta is giving fresh vibes.
Rubina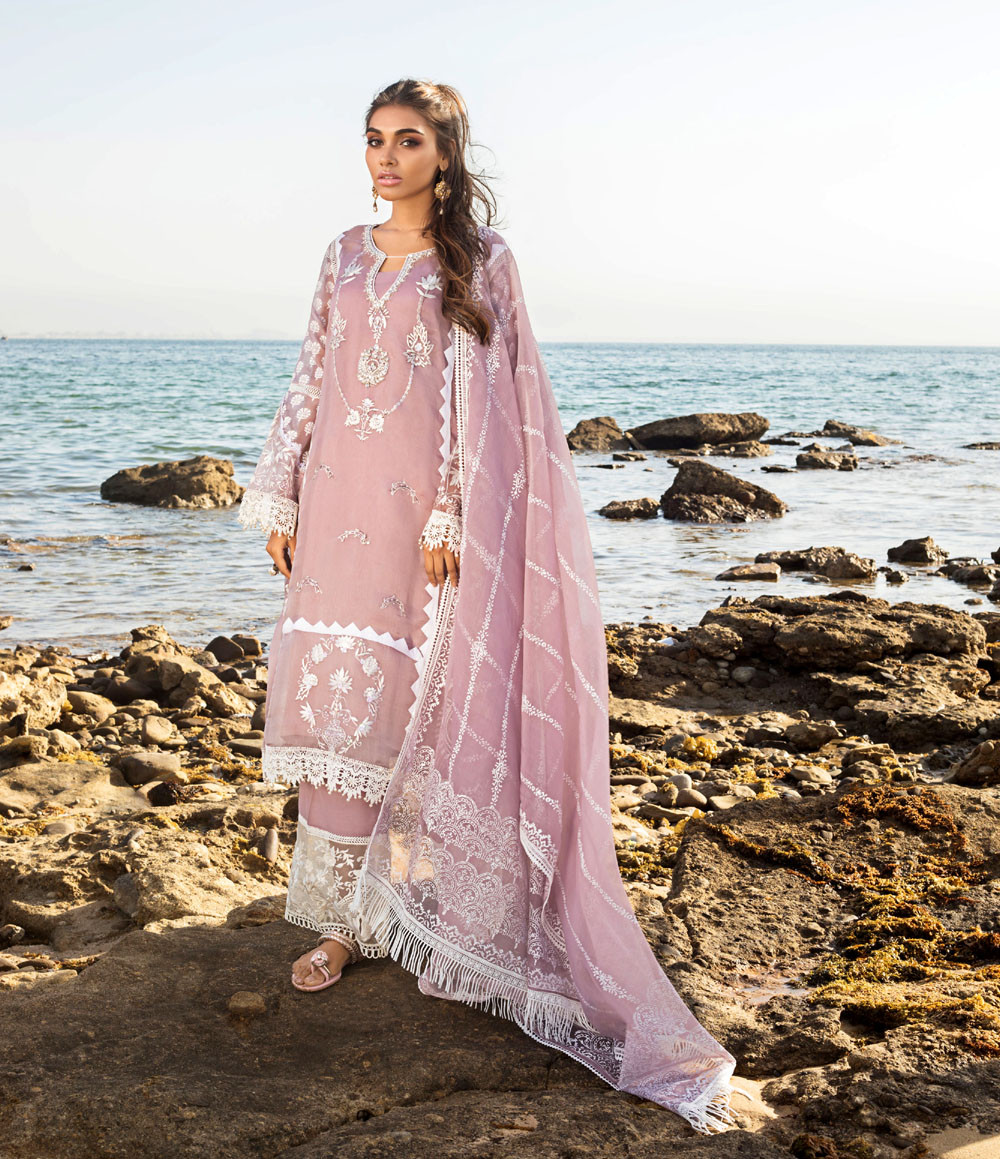 Reminiscent of idyllic lavender fields, this rich lilac organza beauty encompassing varied embroideries, including handcrafted ralli appliqués and kasheeda-kari embroidery, is accentuated with hand embellished crystals, sequins, pearls, tilla and naqshi, and screen printed sleeves with delicate lace trims. It is teamed with a hand block printed organza dupatta with lace and fringe trims and raw silk trousers with embroidered organza border at the hem.
Zubaida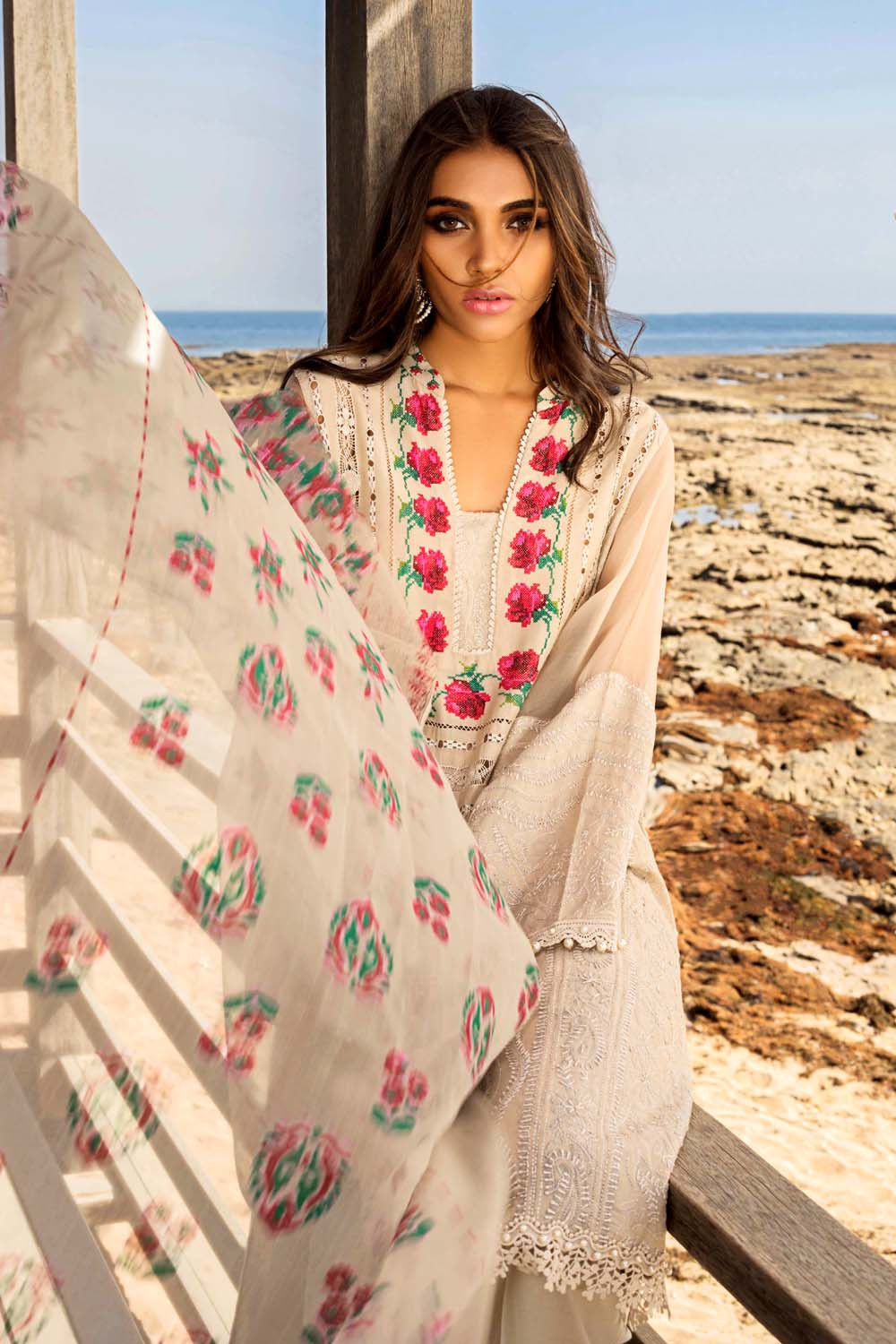 A raw silk shirt featuring subtle hand crafted chikan kari all over is brought to life with exquisite tarkashi encasing vibrant cross stitch rosettes. Coupled with raw silk trousers with embroidered organza patch work on the hem finished with lace trims. Block printed organza dupatta with lace trims adds style to this subtle looking outfit.
COMMENTS
Comments are moderated and generally will be posted if they are on-topic and not abusive.
For more information, please see our Comments FAQ